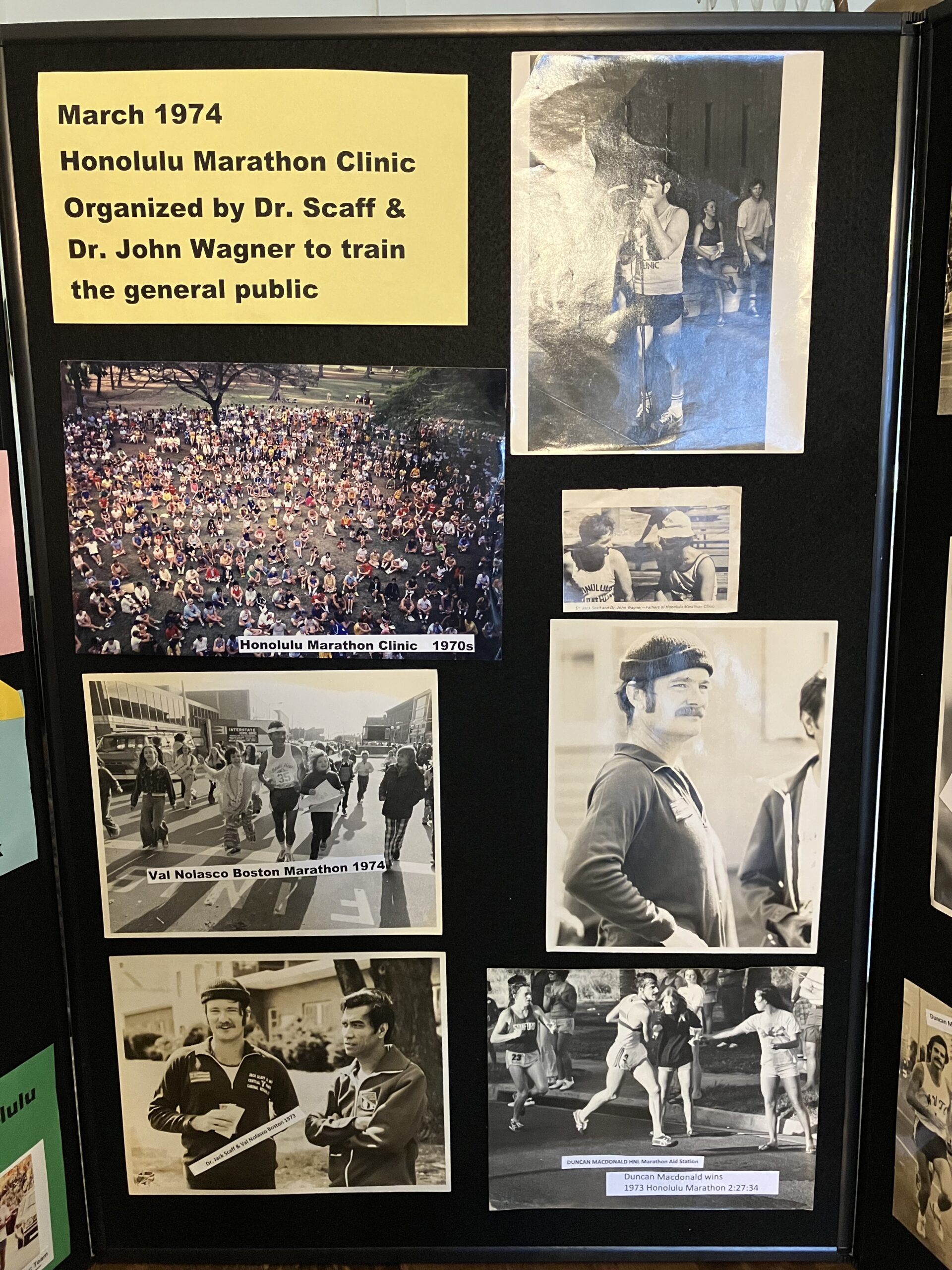 Photo Submitted By Christine Blanchette
Known as the Father of Running in Hawaii, the late Dr. Jack Scaff once said, "You don't have to do a marathon, just live like you could."
A marathon which lasts for several hours is just the carrot. What's most important is the rest of the year of training. The habitual activity to stay fit, be outdoors and interact with others creates a fun and healthy environment.
Heart disease is still the biggest killer and by getting more people into a regular walking/running program we are able to change lives. Dr. Scaff would say,"Marathoning is like eating potato chips, you can't have just one."
Nobody was more connected to the Hawaiian running scene than Dr. Jack Scaff. 
He created his Honolulu Marathon Clinic back in March, 1974 which continues to this day, several months after his passing.  
A renowned cardiologist and author of the book, Your First Marathon: The Last Word in Long-Distance Running, passed away in September 2022.
Dr. Scaff's widow, Donna Scaff, who lost her husband after a long illness says, "I lost my coach, my friend and the love of my life."
In our recent email interview, Donna talks about his work and legacy with the Honolulu Marathon Clinic that offers training for all levels of abilities. Read on for our Q & A:
In 1973 while dating Dr. Scaff, he introduced her to running.
She says, "He presented me with a pair of Adidas and gently instructed me to "go out and run slowly for half an hour and then come back".  It surprised me that I barely made it to the tenth of a mile mark and was forced to walk!   There were no women running the streets in those days and I was met with several carloads of hoots and howls from passing motorists.  I was 25, not overweight but just out of shape!  Dr. Scaff's comment was, 'It will get easier'.  And it did! Six months later when Dr. Scaff started the Honolulu Marathon Clinic I was already running eight miles at about a 10 minute pace.  My fellow nurses were amazed at my new running "phase" and referred to me as the "jock".  This made me chuckle as I was one who was always chosen last on a team in grade school because of my poor athletic ability.  I completed my first marathon in 1974 in 4:03 and went on with Jack's help and our marathon clinic to complete a 50 miler, 100km and about 32 marathons.  I felt confident, strong and excited!"
Donna is the President of the Hawaii Sports Foundation of which the Honolulu Marathon Clinic is her educational project. She oversees the management and board of directors of their public 501© (3) Nonprofit. "My goal is to continue his work offering the public an opportunity to develop an exercise program using running as a tool with the ultimate goal of maintaining fitness and preventing premature deaths from cardiac disease," Donna said, adding, "You are cordially invited to join us!"
Q: How did the Honolulu marathon clinic begin?
Dr Jack Scaff was the first to train a post heart attack patient to complete a marathon in 1974. Because of this success he felt the training program could benefit the public and organized the Honolulu Marathon Clinic and the Honolulu Marathon. For the past 50 years we have trained thousands of runners to complete a marathon, for free!
Dr. Scaff doubled his marathon clinic in size from 170+ to an impressive 30,000 in the late 1990s. It truly became the "Boston of the Pacific" and continues to be an alluring destination event. A
though not an easy or flat course and because of the high humidity and heat it is quite the challenge but one of beauty and prestige. The course also is attractive because of its tradition of "staying open" until the last runner crosses the finish line.
Q: Tell us about the training programs offered?
The basic of the program is one hour three times a week of steady state walking/running eventually leading up to a minimum of thirty miles per week, a month before the marathon. With this nine-month regiment we have had a 90% completion rate.
We have had a variety of people with varying levels of fitness or ailments, medical challenges and severe physical disabilities train with us and successfully finish one or more marathons.
Diabetes, renal failure requiring dialysis, polio, personality disorders, Down's Syndrome are just a few of the medical challenges of people who have joined us and who have had success.
Long distance running may not be a cure all, however our clinic provides the opportunity to engage safely in an activity that is available to all who want to try. The group's supportive attitude is also the major draw.
Many friendships and even marriages have occurred over our 50 year existence.
Q: What are the benefits of joining this free clinic?
Our nine-month program is free of charge and the 10-minute lectures on different aspects of running are delivered by experienced marathoners, some of whom are also professionals in the medical and nutritional fields.
Members who have completed at least one marathon with us return as volunteer leaders in the next year's clinic.
As a nonprofit, we always welcome donations which we receive from members and friends of our clinic. 
Our only other source of income is from sale of clinic merchandise, tee-shirts, Dr. Scaff's book, and Turkey Trot fees.  Turkey Trot is our yearly "predict your time" 10 miler on Thanksgiving Day. We also organize "bus runs" to familiarize runners to the marathon route. 
Each runner pays $3 and he is dropped off at designated mile markers along the marathon route according to ability and gets to run back to the park!
The Honolulu Marathon is a destination event for many, to train for a special event and to meet fellow runners, enthusiastic run leaders, and Donna Scaff, who lovingly carries on a special legacy that was established by a legendary cardiologist, Hawaii's own, Dr. Jack Scaff.
Our Fitness Friday weekly feature is submitted and written by Christine Blanchette so please follow her on Twitter as well as her Run With It Youtube Channel.