Each year Global TV put together an impressive fundraising telethon for the Variety Club of BC and this year marks a milestone 55 years, but this year it was online for the time ever in the history of the event.
Since the start of this Pandemic this year saw a change to what has been the normal event which normally takes place at the Queen Elizabeth Theatre in Vancouver with an overnight performance by many talented individuals in BC.
The fundraiser helps kids that are less fortunate than many and works to get them set up with equipment which includes electric wheelchairs and many, many more medical devices to help improve the lives of these amazing kids.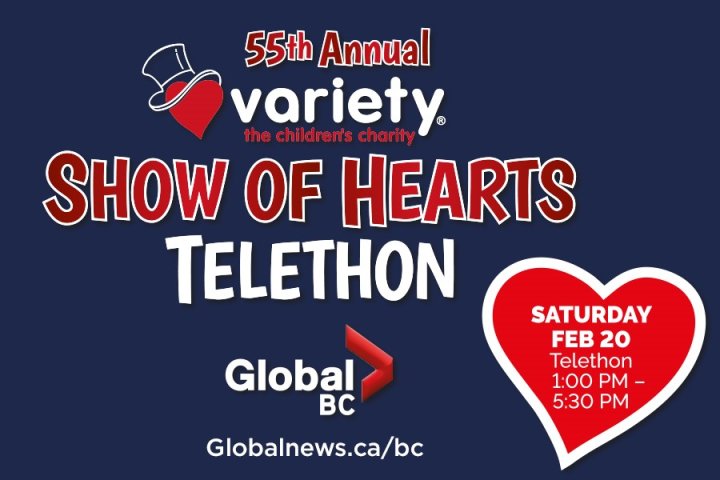 The Variety Club Telethon first aired in 1966 with the station then known as BCTV and proceeds raised to assist physically handicapped kids with funds raised going to the BC Children's Hospital giving them hope to strive to make their lives better.
This year's five hour Telethon marks 55 years and is on-air from 1-6 p with all donations helping kids improve their lives. 
The five-hour event includes live talent from many talented BC musicians such as Victoria Born and Grammy Award winner David Foster, Loverboy and artist Pia Toscano.
The show has been hosted by big names in the entertainment and television industry since the beginning while in its original Variety Club Telecast and has helped by making a huge impact in this Province. 
The event as mentioned this will run and please help out these amazing kids in trying to improve their lives Variety the Children's Charity – Helping Kids be Kids!  
If you wish to make a donation of pledge to brighten a child's life visit:
 Variety Show of Hearts 2020 telethon raises $5.5 million for B.C. kids in need | Globalnews.ca.
Help make British Columbia proud and only if you are able continue to support these amazing kids helping make their lives better!!!