While we are eagerly waiting each evening for yet another NHL "Bubble" Stanley Cup Final with other teams still wondering if hockey will ever return to what might be normal.
While this is going on I am hearing that Kelly McCrimmon, Owner and Governor of the Brandon Wheat Kings has transferred ownership to Jared Jacobson  as reported by WHL Commissioner Ron Robison.
When you look back McCrimmon has been involved with the Wheat Kings, longer than most fans have been born as a player, GM and Owner.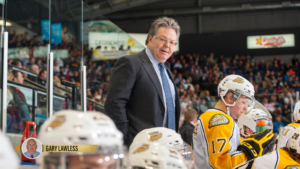 Apparently the decision was extremely difficult, but to take it off his plate given the fact he's in Edmonton with the Golden Knights evening the series at one as we post the article.
The new group is the J&G Group and is led by Jared Jacobson who has roots in Brandon as he was born there and been actively involved in the Jacobson and GReiner third generation family business from an early age..
He organization has a strong vision and the organization has seen growth and have expanded to 32 companies in all areas of construction.
They have been a strong supporter of the Wheat Kings and the WHL for years and as he mentioned "THis is a very exciting day for myself, my family and our business partners."
He continues by saying "Our ownership group are looking  to adding a new energy and new ideas to one of the most storied franchises in the Canadian Hockey League."
He mentioned that he wants to thank Kelly for this opportunity as the Kings mean everything to Brandon and fans across Western Canada and look forward to moving forward."
The new ownership group will officially take over September 15th.
We wish them nothing but success moving forward.