Each year, well not this one due to COVID-19 the City of Delta plays host to what is commonly called the Boundary Bay Airshow.
It features displays from aircraft throughout North America each offering up some unique aerial displays entertaining the close to 75,000 plus fans attending the one day event.
This is somewhat a preview to those planning on attending the Abbotsford Airshow in August, but this one has the small town feel only unique to Delta.
Arrival is early for everyone, especially the media looking at grabbing some one on one interviews with pilots, crew or the Boundary Bay airfield.
We manage to get out early making sure that we have a parking spot for the large mobile TV truck with having the proper viewing area for cameras.
Once set up we walk around and grab some interviews with performers or some of the many faces in the crowd looking to be entertained on the tarmac.
One event that the fans love to watch is when a Ford GT races a plane along the runway and who knew that cars could go that fast, but such it is with today's technology.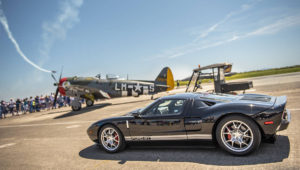 Once this is out of the way we can relax until it's time to get some interviews with the announcer, who until now was busy, but we managed.
This one adds to the other cancellations that have been cancelled this year or postponed due to the COVID-19 pandemic and the list is below.
Spring 2020 free compost week (March 28 – April 5)

North Delta Lions Club Easter Egg Hunt at Sunbury Park (April 12)

28th Annual Earth Day Pilgrimage (April 19)

Spring Clean-Up – Tsawwassen (April 20)

Spring Clean-Up – Ladner (April 21)

Ladner Easter Parade and Egg Hunt (April 21)

Spring Clean-Up – North Delta (April 29-30)

Delta Triathlon (May 2)

OWL Open House (May 2-3, tentatively postponed until June 6-7)

North Delta Lions Club Ladies Diamond Night (May 6)

Ladner May Days (May 22-24)

North Delta Family Day (June 14)

Tour de Delta (July 10-12)

Boundary Bay Airshow (July 18)

Delta Community Animal Expo (Aug. 16)
The program that Kevin Adlem has put together is one of the best, considering for the most part, it's a one or two person crew.
Enjoy the Airshow and should it return again next year make plans to attend.
Stay Safe!!!