Cancer Society Team With Ice Hawks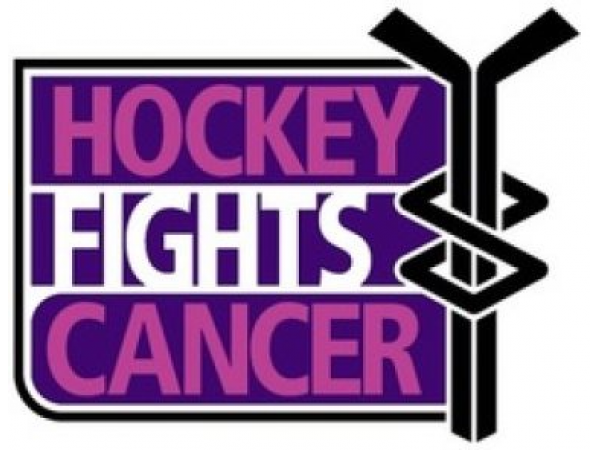 The old cliche of saying "Out like a Lion and in like a Lamb" certainly described the play of the Ice Hawks as they entered the second month of the season.
Having a perfect or undefeated record of 7-0 to start the season off what the Ice Hawks were hoping for, but never really expected, but they won't shy away from the stat column.
As they focused on moving ahead they knew that this game was a rematch of last season's final where they dropped the PJHL Championship only to have the Kodiaks move on to represent the league at the Cyclone Taylor Cup.
Having made that statement and in conversation with Ice Hawks "bench boss" Darren Naylor prior to the game he mentioned "the boy's know what they have to do and have one thing in mind – defeating the Kodiaks."
Clearly not wanting to disappointment they played as aggressive as they ever have and given the special night they had planned, it was imperative they put a "W" in the win column.
This night was extra special as is the month of October as it's the beginning of Breast Cancer Awareness for the Cancer Association.
Attending the game to represent Breast Cancer and a survivor was Vonda Dickman who was diagnosed at the young age of 41 and was in shock.
She underwent several tests and to the grace of God she has been Cancer free for eight years and as she told me "If I learnt anything from this – it's get tested and surround yourself with friends who offer nothing but support."
In respect to this cause the team wore pink laces as well as had pink tape on their sticks in a way of showing respect and support for the Canadian Cancer Society.
Funds raised through the 50/50 draw went directly to the Cancer Society and the Delta Ice Hawks are pleased to announce that they not only raised, but donated over $600.00 to the Society.
In continuing their winning ways they were hoping to get a quick jump on the Kodiaks, but hopes were quickly dashed as it was Kodiaks Ty Pickering that put them up 1-0 a short 4:22 into the first.
Known the speed shown thus far Delta TV's team of experts knew it was only a matter of time that Delta would rebound and not only with one goal but three in a span of 56 seconds.
Dhaliwal started route by hammering one past Kasdorf, followed by a second from Pelletier and a third while on the PP by Visram giving Delta a commanding 3-1 lead after one.
Kasdorf was yanked after the third at 9:32 and replaced by Davidson who did everything but stand on his head in hopes of bringing his team some life.
Despite the fact that Delta were leading by a 3-1 margin after one, the shots were tied at 12 with more quality shots directed at the Kodiaks goal, than Delta's.
Speed is definitely an asset for the Ice Hawks and it was on display in this contest and came to life at 12:54 of the middle period when Jonathan Stein was sent to pop one past a shocked Davidson, putting Delta up 4-1 and taking this lead to the dressing room after two.
The third saw Delta continue where they left off in the second and it only took 13 seconds to see Jonathan Rees give Delta a 5-1 lead on a howitzer of a shot.
Confidence is one thing, but over confidence can deflate anyone or any team and such was the case a short 41 seconds later when Delta "took time off" allowing Kodiaks Vetterl to hammer one past Naylor getting the Kodiaks within three.
The crowd of onlookers knew it was a matter of time when Delta's offensive would explode and it was at 13:34 when Mark Epshtein broke in on the right side and put one "top shelf" giving Delta a commanding 6-2 lead and in the driver's seat.
With the back end playing strong not allowing many shots at Naylor, it was only a matter of time for Delta to get another taking control of the game at both ends of the ice.
Rees used his speed, which he is known for and got his second of the game at 9:50 only to be followed by Delta's 8th of the game from Tetsuya Prior a short minute later.
It wasn't just the score that was getting to the Kodiaks, it was the overall control that Delta displayed in both ends of the ice and as one could or should expect, the game became more physical.
Referee Ben Kiang made the "impact calls" necessary to keep the game from getting out of control and while Delta was on the PP, Eric Bourhill flew in giving Delta their 9th and final goal of the game.
Delta skated away with a commanding 9-2 victory while also grabbing all three stars on the night, while keeping minimal shots directed at Naylor.
Both Kodiaks "Tenders" faced a total of 50 shots through three, while Naylor faced 28, turning aside 26 with a couple that could have made life difficult.
Delta has outscored its opponent by a 18-3 margin in the last two games and have their sights on keeping this streak going.
Three Stars;
1st Aiden Hansen-Bukata
2nd Magnus Cheung
3rd Gary Dhaliwal