This is written with no bais toward any individual, community and/or culture and is not directed toward anyone!!
This past weekend saw broadcast legend end up in the "sin-bin" for comments he made regarding Canadian's who do not wear a Poppy for Remembrance Day in support of those who gave their lives for us to have our freedom.
Given the changing climate in today's society the comments were unjust and yes he could have used a different choice of words for his rant, but that is who he is and we have come to expect it.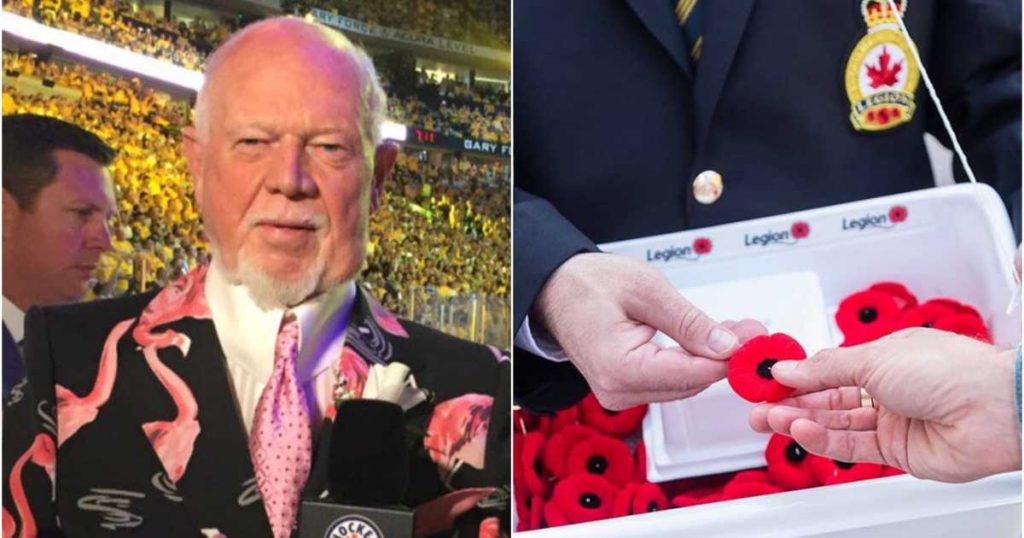 He comes from a generation where being politically correct was not the normal thing to do or say as you simply said what was on your mind, which he did.
Don said what he meant to say, but it is obvious that it was not said in the proper context of language for today's world.
He has and continues to support Canada's Military and is a proud Canadian and while some don't or won't believe this, he has put Canada on the world stage in the broadcast world.
Thousands would turn in on a regular basis just to hear "Don't Rant" to which he literally "pulled no punches" with any of his comments.
Well you may not have agreed with his comments and lord knows and I never; especially when it came to the officiating world, but that's because he has never officiated the game and would have a hard time grasping the concept of what is and isn't a penalty.
His idea of hockey was the old style of "Rockem-Sockem" rough fights that never ended until the final punch was thrown.
He lives in Ontario and his comments were specifically directed at those living in Toronto and Mississauga who do not support the Canadian Armed Forces by purchasing a poppy for Remembrance Day.
To be fair his remarks were direct stating "You people you come here you love our way of life, you love our milk and honey, at least you can pay a couple bucks for a poppy or something like that."
He continued "These guys paid for your way of life that you enjoy in Canada, these guys paid the biggest price."
His words of "You People" seemed by many to imply a racial slur directed at a specific nationality
Regardless of your thoughts, he was or most thought was the "voice" of the NHL when it was his turn to take to the air waves along with Ron McLean.
It goes without saying that those living in the region of Toronto and Mississauga did not appreciate being called unpatriotic. \
One thing for certain is that Don is and has always been a supporter of the Canadian Armed Forces at times traveling abroad to visit the troops over the Christmas Season, but it's obvious that those trips are a thing of the past.
Clearly his comments hit a nerve with the viewing audience which quickly progressed to station management, but not all was negative as there was some praise for him speaking his mind, but not all.
Following the controversy over his remarks Sportsnet officially released a statement which condemns the comments he made on National TV.
The statement reads as follows: "Don's discriminatory comments are offensive and they do not represent our values and what we stand for as a network."
It continued "We have spoke with Don about the severity of this issue and we sincerely apologize for these divisive remarks."
It was signed by the President of Sportsnet Bart Yabsley, President at Sportsnet and since then he along with Sportsnet have come under criticism fire for not disciplining Cherry but rather firing him for his statement.
Everyone has their own personally feeling on this subject and right or wrong they are yours to keep to yourselves.
Conversation since then has surrounded the comments made on National TV November 12th by Jess Allen host of "The Social" calling hockey players "white boys" and "bullies" scolding parents for spending money on the sport.
These comments were made to her co co-hosts Melissa Grelo, Cynthia Loyst and Marci Ien stating that the reason she said this was "a certain type of person in my mind, in my experience, who does" and "they all tended to be white boys who were, let's say, not very nice."
Its obvious to many that her remarks about Don and hockey players in general are seen by many to be even more outlandish than comments made by Cherry over the past 38 years on air.
Say what you will if you remember what Cherry said this past Saturday is he clearly never mentioned or refer to any race or skin colour of any culture.
Since this aired, I have been asked by various individuals if this is not a negative connotation that is derogatory toward a part of society?
I was told by a couple at the coffee shop and yes they are from the older generation that today's society would have a field day watching shows like Married With Children, The Jefferson's or Sanford & Son's.
Lastly – what will happen with the CHL Orr/Cherry Prospects Game come this spring held in Hamilton and will Hockey Canada get involved???
This is the statement from Bobby Orr on Don Cherry (@CoachsCornerDC) fired from Sportsnet: "I know Grapes better than anyone. He's not a bigot and he's not a racist"

You be the judge! Enough said!!