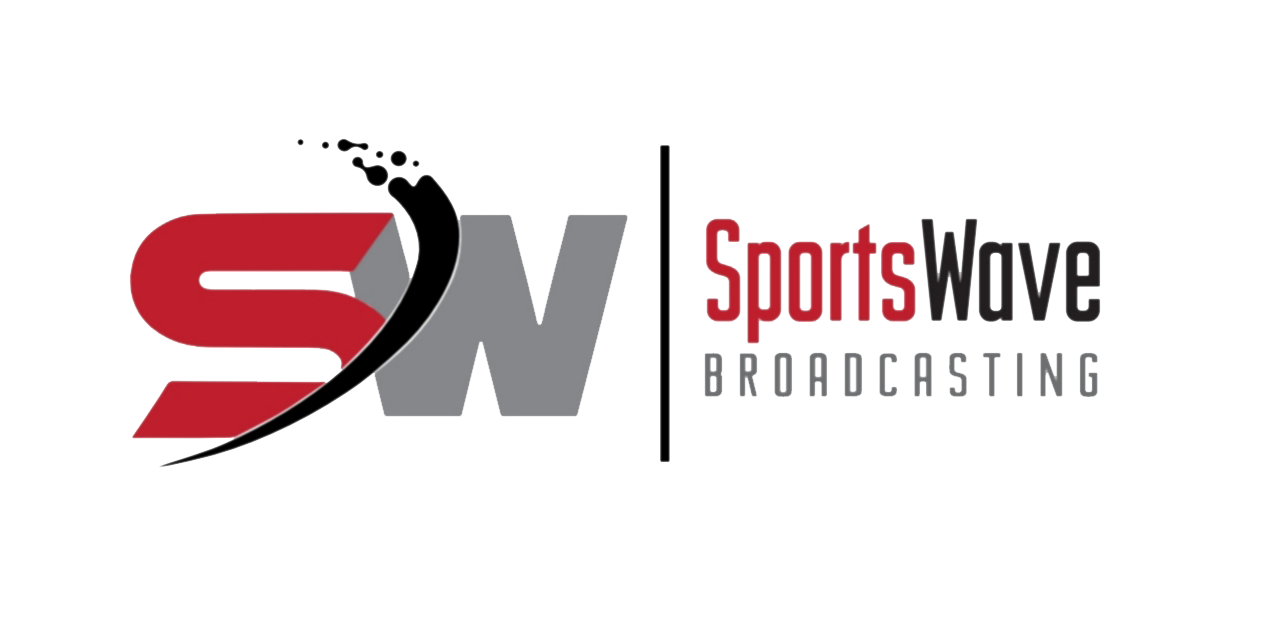 U18 Girls' XV Team On The Move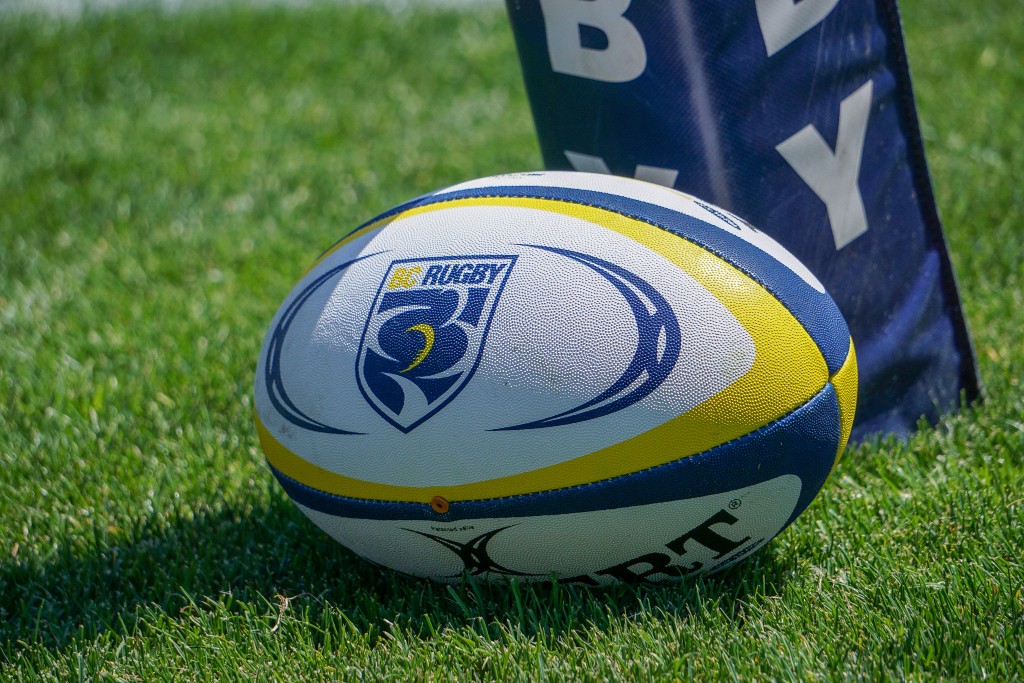 Photo Rugby BC
Keeping up with community involvement has Sportswave receiving this notice from Rugby BC regarding their upcoming trip testing their skills in England and we thank them for the information.
Enjoy the read:
As part of the tour, taking place between August 8-19, the team will test itself against three teams in the South East of England including Surrey County, Old Albanians RFC and Pulborough RFC.
The tour is a continuation of BC Rugby's commitment to seek out challenging and meaningful competition for the Province's top athletes, ensuring they continue to be developed for top-level rugby.  
The team will be led by Head Coach Stuart Crowley who was at the helm of last year's highly successful tour of Ireland, defeating teams from Munster and Leinster in the process.
This year's team features an entirely new roster of players, but many with an established pedigree.  Ten of the named team were part of the Bronze medal winning BC U17 Girls XV team from last summer's Canadian Rugby Championship in Calgary (a significant accomplishment as they were competing against U18 teams).  
These players include Kashish Arya, Tayler Bailey (both from Abbotsford) Madison Blusson (Williams Lake), Hailey Chambers (Kamloops), Karen Garcia (Surrey) Brittany Gardiner (Victoria), Jordyn Myers (Langley), Makenzie Myles (North Vancouver), Nicola Smith & Rachel Smith (both from Surrey).  
There are also a couple of promotions from last year's BC U16 Girls' XV team in the form of Emily Meier (Abbotsford) and Zoe Williams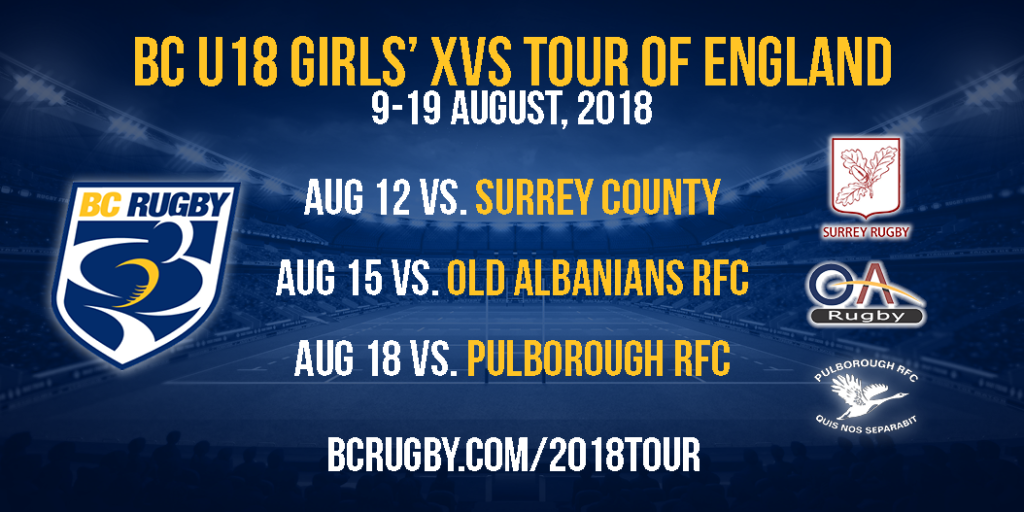 (Victoria).
Crowley was very positive when discussing this new look side, stating "This is a great chance for an entirely new group to get the benefits of touring and reap the rewards of a high level of competition."  For some of the players, their performances at the 2018 Provincial Regional Championships (PRCs) were crucial in singling them out for selection, with Crowley stating that some of the younger athletes really shone in those matches."
Annabel Kehoe, CEO of BC Rugby mentions "This Tour is an opportunity for our next generation of players to be challenged by top programs from Tier One nations, challenging BC players to play as hard, fast and as smart as required to be competitive on the world stage."
She continued "It's important that we're benchmarking ourselves against world standards to ensure we're setting up these future National players for success."
If you would like to help support players going on the 2018 England Tour, please do so via their individual funding pages – Click Here
2018 U18 Girls' XV Tour Itinerary (Provisional)
Aug 9 – Flight to London, England
Aug 12 – BC U18 Girls' XV vs. Surrey County
Aug 15 – BC U18 Girls' XV vs. Old Albanians RFC
Aug 18 – BC U18 Girls' XV vs. Pulborough RFC
Aug 19 – Flight to Vancouver, BC
BC U18 Girls' XV Roster:
Kashish Arya – University of Toronto (Abbotsford, BC)
Tayler Bailey – University of Victoria (Abbotsford, BC)
Madison Blusson – University of British Columbia (Williams Lake, BC)
Anna Castillo – University of Toronto (Surrey, BC)
Hailey Chambers – Kamloops RFC (Kamloops, BC)
Chloe Cullen – St. Francis Xavier University (North Vancouver, BC)
Karen Garcia – University of Victoria (Surrey, BC)
Brittany Gardiner – Castaway Wanderers RFC (Victoria, BC)
Melissa Jongedijk – University of the Fraser Valley (Langley, BC)
Kyla Knox – University of the Fraser Valley (Abbotsford, BC)
Trinity Knox – University of the Fraser Valley (Abbotsford, BC)
Ally Marti – Elgin Park Secondary (Surrey, BC)
Emily Meier – Abbotsford RFC (Abbotsford, BC)
Jordyn Myers – University of Victoria (Langley, BC)
Makenzie Myles – Acadia University (North Vancouver, BC)
Ella O'Regan – James Bay AA (Victoria, BC)
Emily Parker – Castaway Wanderers RFC (Victoria, BC)
Maelle Reed – Castaway Wanderers RFC (Victoria, BC)
Nicola Smith – University of Victoria (Surrey, BC)
Rachel Smith – Bayside RFC (Surrey, BC)
Kaylee Wolflinger – Richmond RFC (Richmond, BC)
Zoe Williams – Westshore RFC (Victoria, BC)
Liriel Yurick – Abbotsford RFC (Abbotsford, BC)
Staff:
Coach: Stuart Crowley
Asst. Coach: Deanna Baker
Manager: Kyle Barry
Therapist: Morgan Sangster