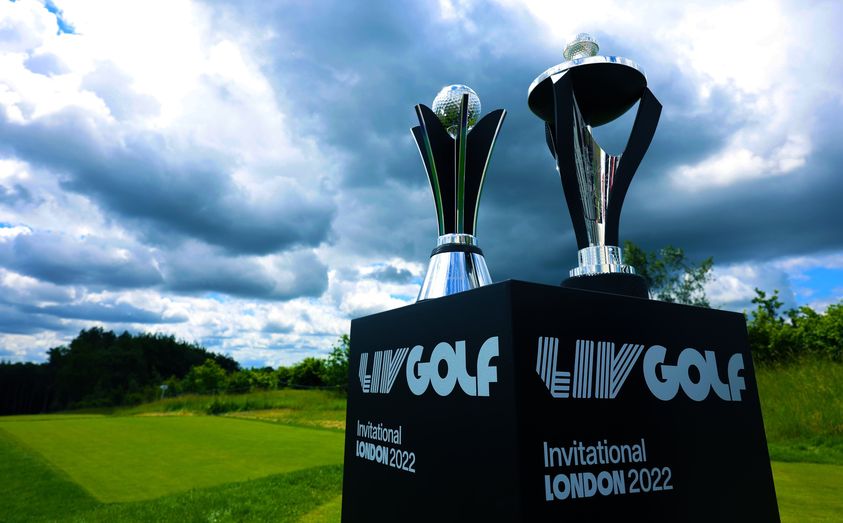 Photo Credit LIV Facebook
Some might call for a victory lap for the upstart LIV Golf while others call it a defeat depending on which side of the club you stand on.
Looking back on the way golf has taken various twists and turns, having a new professional golf the past year of civil war in professional golf has proven reality varies depending on the beholder.
Like it or not no one really thinks that LIV will go away in the foreseeable future given that they have signed a multiyear deal with the CW network, which see's the Saudi-backed circuit to TV networks in the US.
For those unfamiliar with the new pro LIV league is a professional golf tour funded by the Public Investment Fund, Saudi Arabia's sovereign wealth fund.
The name "LIV" relates to the Roman numerals for 54, which is the score total if every hole on a par-72 course was missed, as well as the number of holes played in all of the LIV events.
Patrick Rishe, the founding Director of the Sports Business Program at Washington University mentioned "There's a lot of different ways to look at it and I guess it depends on one's perspective as it relates to anything that has to do with LIV versus the PGA Tour.
In the first season LIV golf was on TV in over 150 territories worldwide, but in the US you were only able to watch coverage only on YouTube, Facebook and/or their Golf website.
It's fair to say that some if not all of the major stations in the US were against promoting any LIV golf events in the first few months from the initial first "T" shot from hole one.
I did hear that the one that showed an interest was FOX probably in part due to the relationship between Robert Murdoch and LIV Golf CEO Greg Norman who tried to kick-start a "World Golf Tour" in the mid 90ties which would have had Fox Sports own all TV rights.
I hear that at the beginning of 2022 LIV Golf hired former FOX Sports President David Hill who was able to help with any broadcast rights having aimed toward Fox News at their third event held at Bedminster property in New Jersey.
Reportedly last fall discussions between Fox and LIV Golf apparently broke down or stalled over rights fees where Fox Sports wanted to be paid for airing or showing products which were similar to an ad-buy.
Fast forward to seeing CW being purchased by Nexstar in 2022 where CW indicated that they had over 200 affiliates in the US being able to reach over 120 million viewers.
Deals are deals and money talks with players taking a hard look at moving from the PGA for what is reported guaranteed money from LIV and like it or not some think that it's not going away anytime soon.
It's interesting to note that the first seven events of LIV Golf's inaugural season saw prize payouts of $25 million which was combined for its individual and team competitions.
For LIV's eighth and final event of the 2022 season the tour doubled with Dustin Johnson winning which included $18m for winning the season-long individual title finishing with a total payout of $35,637,767.
It reminds me of when the WHA first started up and the NHL were fighting the players and officials to remain loyal, which eventually saw the NHL give in taking teams.
Golf is a seasonal sport for some areas, but in the lower mainland of BC it's a year-round sport that continues to produce top notch players who eventually make the pro circuit.
It's almost time to hit the first tee for the 2023 season, so clean up the clubs and dust off the cleats and remember it's your sport of choice.
Bunkered Golf lists the top 20 money payouts for 2022 for LIV which are below:
Includes money earned through team standings.
1. Dustin Johnson – $35,637,767*
2. Branden Grace – $16,634,666**
3. Peter Uihlein – $12,814,786***
4. Patrick Reed – $12,210,714
5. Talor Gooch – $10,374,500
6. Brooks Koepka – $8,276,100
7. Charl Schwartzel – $8,135,000
8. Pat Perez – $8,023,500
9. Cam Smith – $7,378,500
10. Eugenio Chacarra – $6,932,000
11. Carlos Ortiz – $6,135,314
12. Sergio Garcia – $6,128,786
13. Henrik Stenson – $5,566,000
14. Louis Oosthuizen – $5,395,167
15. Joaquin Niemann – $4,524,286
16. Matthew Wolff – $4,226,167
17. Paul Casey – $4,543,367
18. Hennie du Plessis – $4,530,000
19. Abraham Ancer – $4,445,500
20. Chase Koepka – $4,328,964