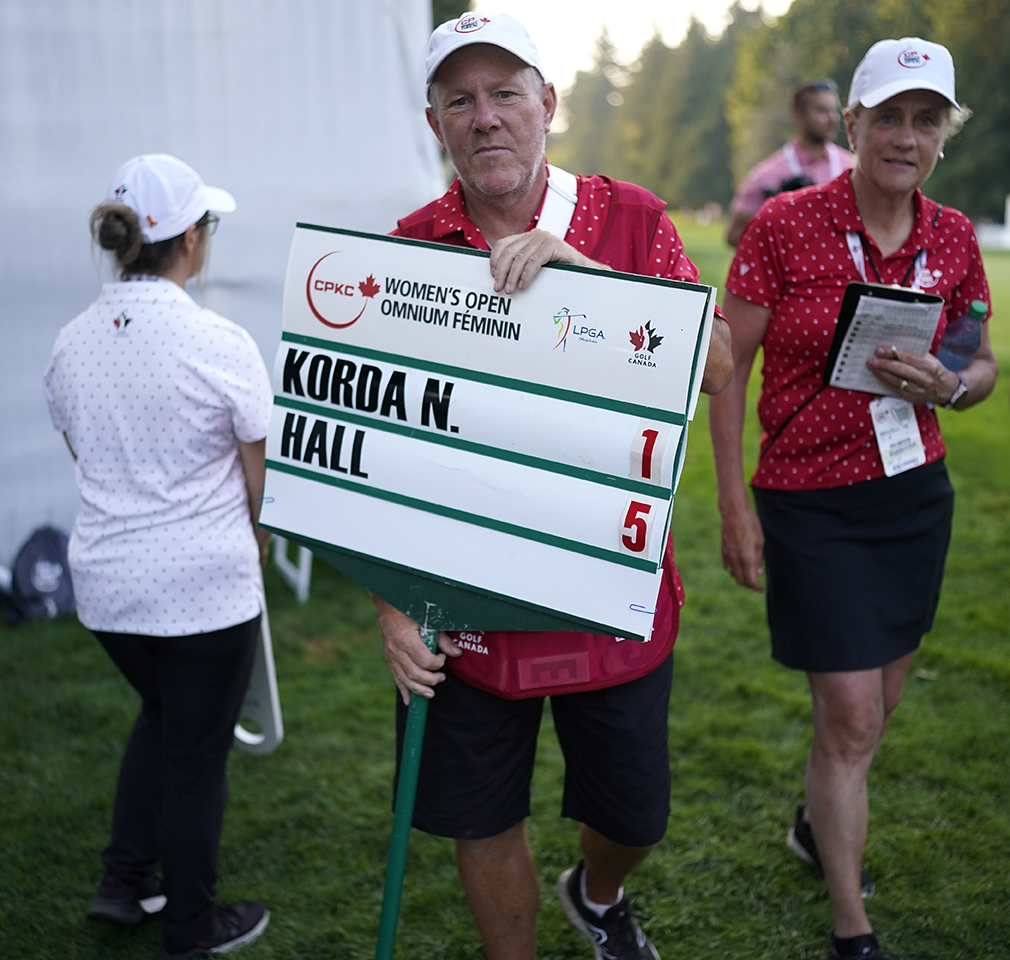 Photo Credit Wes Shaw Shotbugpress
2023 Women's Open, at the Shaughnessy Golf and Country Club, in Vancouver, British Columbia, August 26, 2023.
If you're talking about pressure you need look no farther than day three for the CPKC Women's Open played at the Shaughnessy Golf & Country Club that has world class players competing for the coveted trophy..
During the event I had the opportunity to catch-up with Assistant Tournament Director Leanne Schellenberg and Diana Maughan who is one of three tournament co-chairs representing Shaughnessy.
Knowing that there are three curiosity got the better of me so I had to inquire who the other two were and found out that they are Ken Woods who was the top volunteer as Chair in both 2005 and 2011 with the other being Past President Ian MacLean.
Diana has been working with Leanne ever since she arrived at Golf Canada and has stayed in touch with what decisions have been made starting back in April in addition to using Zoom calls for all the Chairs and Vice Chairs to stay in touch.
CPKC is the title sponsor and they help determine where they would like to have the event year to year as their railway runs across Canada so they like to make sure that the event is held across Canada.
CPKC has been the title sponsor of the Women's Open for the past nine years managing to raise over $13.5 million to support children's heart health in the event's host communities with this year's charitable beneficiary being the B.C. Children's Hospital Foundation.
Tournament Director Ryan Paul spent time visiting Shaughnessy Golf and Country Club which they previously knew about and the club had to indicate they were interested and then they started planning.
The one thing they were looking for was that the venue was one that was played on by the men as well knowing it's historical, family friendly, accessible for everyone including Sportswave photographer Mark Steffens.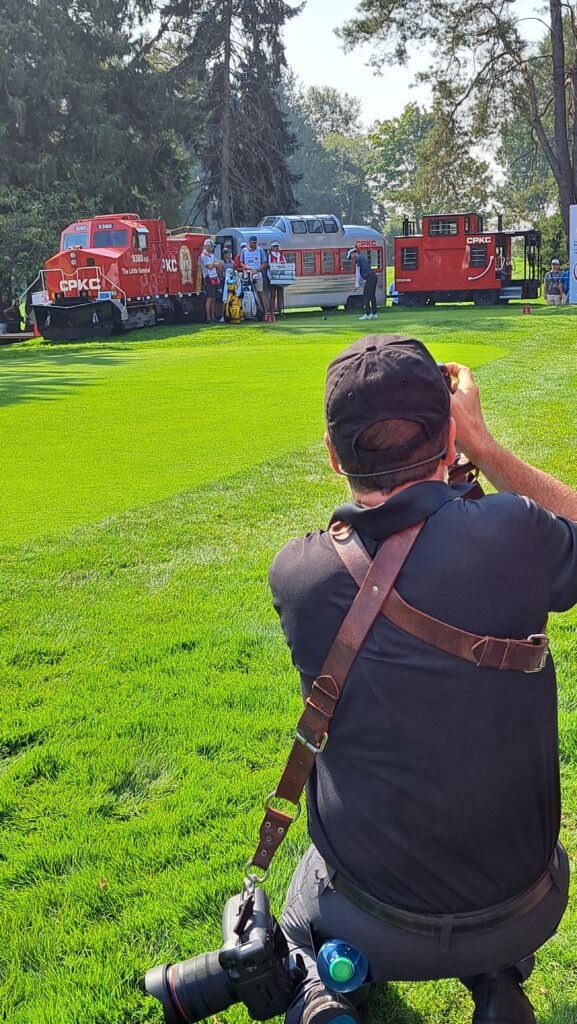 While the event focuses on Women's Golf the event could not be a success without the overall support of the over 1000 volunteers who have traveled from various areas of Canada to make this event successful.
Not just for Golf in Canada and CPKC but also golf in BC which shows how the game has not only changed but also continues to grow in the lower mainland.
In conversation with not only the volunteers but some of the younger fans the one thing they enjoy is the interaction with the players who ironically are being billitted with families for their time here.
One golfer mentioned "It's so nice to be with the family as they are not only telling me about the area but also teaching me about life on Canada's West Coast."
In conversation with one of Golf Canada's media personnel it's nice to hear that this is the largest women's event hosted by Golf Canada.
The growth for women's golf clearly depends on the development and training for the young girls who are playing the sport regardless of where you live or play.
The training of young girls in any sport depends solely on the teaching, instruction and knowledge of the instructor or pro who has come through the system knowing what's required to achieve success.
Not all instructors can grasp this, but the ones that do will advance to the higher level of the game all for the betterment of their student, which only leads to success.
The young players today have far too much on their mind given the outside pressures put on them and fitting into today's society isn't the easiest for some and to be successful you have to believe in yourself.
Canadian's flocked to the course on Saturday knowing that Brooke Henderson made the cut hitting the first tee at two following a rough start that saw her have to climb up the leaderboard to make the cut.
We forgot to mention that on hole 17 it's truly Canadian being set up with a hockey theme "The Rink" that some of the players had a hard time understanding, but eventually understood our pastime.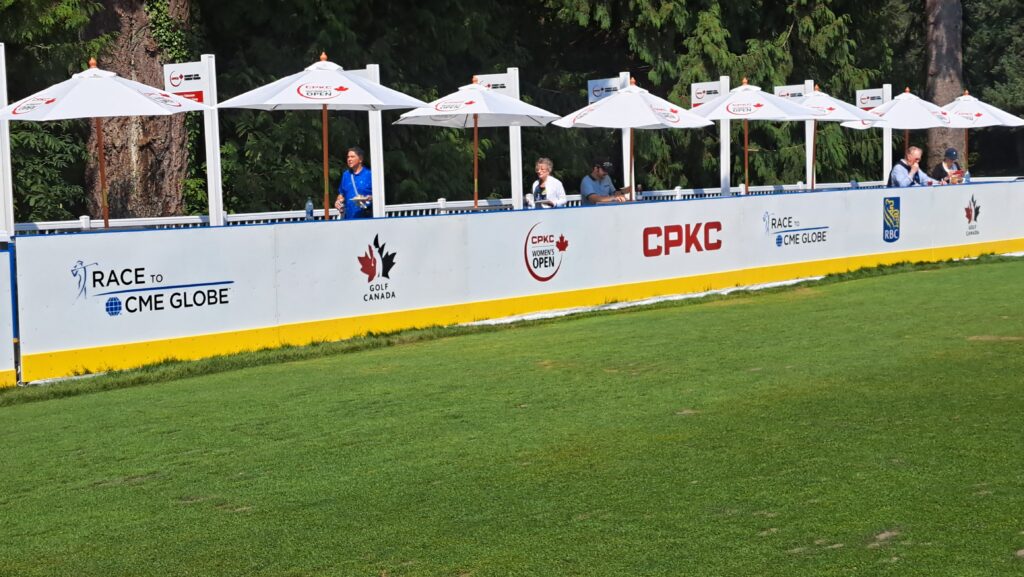 Known as Canada's pride and joy she has a personality that bubbles with excitement and never has a down-side that shows through, yet her overall demeanor was what one described jokingly as one of a kind.
We should remember that this was on the schedule to be on the docket to be played in 2020 but due to COVID-19 and cancelled twice as was put on hold along with other sporting events.
So realistically it's been a three year battle to get to the first tee and as we were doing the interview there were about 1000 volunteers all working in different areas such as planning, scheduling and knowing their goals as well as getting oriented.
Being a volunteer isn't a nine to five job, it's all about getting here early driving players, setting up the practice range and doing what's needed to make the day a success.
The shifts are long and one volunteer mentioned that he arrived at 5 and finished about 10:30 Thursday evening then only turned around to do it all over again the next day.
Stay tuned Part Two Sunday!!