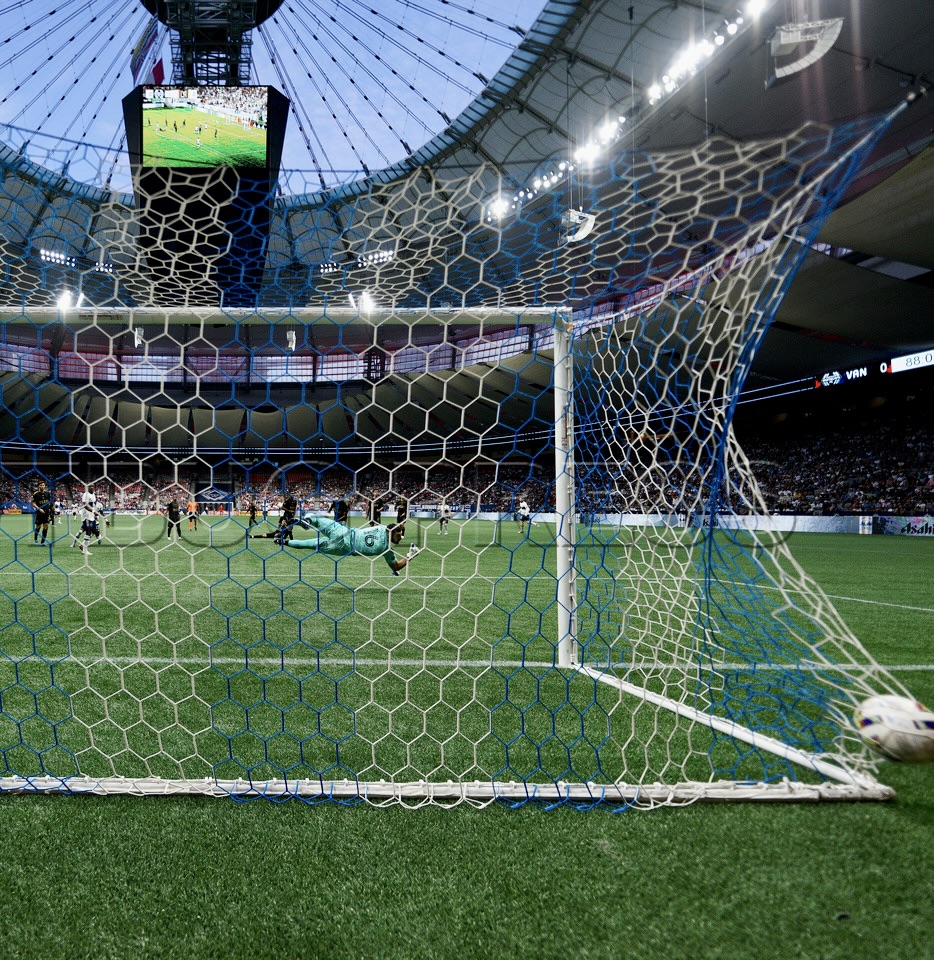 Photo Credit Wes Shaw/Shotbug Press
With the Whitecaps season over that saw the local club play some impressive matches at BC Place it's time to look forward to next season.
The men's game for the most part seems to take centre stage and the overall promotion isn't as much as they would like, but they do get limited press.
One might think it would get more press considering that Canada's Nation team player Christine Sinclair calls Burnaby home and makes no mistake that everyone knows about it.
The Canada's National Women's team is one of 32 finalists for the FIFA Women's World Cup Australia & New Zealand, they will know who their opponents will be Saturday 23 October (19.30pm local / Saturday 02.30am ET / Friday 23.30pm PT) at the Official Draw held in Auckland, New Zealand at the Aotea Centre.
We received the following press release from Soccer Canada and regardless if you are a soccer fanatic or not, this is one event you will want to watch.
Enjoy the read:
Canada qualified for their eighth consecutive FIFA Women's World Cup after finishing second in the Concacaf W Championship in July 2022 and will enter the tournament as the Gold Medalists from the 2020 Tokyo Olympics.
Canada was ranked seventh in the FIFA Women's World Rankings following October's international window.
They have been placed in Pot 2 which means that they will not face the Netherlands (8), Brazil (9), Japan (11), Norway (12), Italy (14), China PR (15) and Korea Republic (17) in the group phase.
This draw is a major milestone as it marks the first-ever FIFA Women's World Cup that will feature 32 teams.
There will be anticipation from fans around the world as they find out who and where their teams will play in their three group-stage matches.
The 32 teams (including three to be confirmed in the inaugural playoff tournament in February) will be allocated into eight groups of four.
The FIFA Women's World Cup Australia & New Zealand 2023™, which will be held from 20 July 2023 to 20 August 2023, will see 30 nations join the hosts Australia and New Zealand who have already qualified for the biggest women's tournament in the world.
The FIFA Women's World Cup 2023 will be a tournament of firsts. In 2023, fans will see 32 nations playing 64 matches across nine host cities in Australia and New Zealand for the first time in Women's World Cup history.
Where to watch the draw
Fans around the world will be able to watch the draw live on FIFA's YouTube channel and in Canada on TSN1 and TSN3.
Two-time FIFA Women's World Cup champion Carli Lloyd along with CNN sports anchor Amanda Davies will be conducting
Saturday's draw. Together they will lead the technical component of the event, which will start at 19.30pm Auckland local time (Saturday 02.30am ET / Friday 23.30pm PT).
The presenters for the evening have been confirmed as Sky Sports Kirstie Stanway and Channel 7's Mel McLaughlin.
FIFA Women's World Cup Australia & New Zealand 2023™ draw procedures :
The line-up of draw assistants features former Football Fern Maia Jackman and former Matilda Julie Dolan, along with former England international and TV/radio personality Ian Wright, FIFA World Cup 2002 winner Gilberto Silva from Brazil, Alexi Lalas from the USA, and former Cameroon star Geremi.
Canada Soccer Women's National Team head coach Bev Priestman and Canada Soccer's General Secretary Earl Cochrane will be in attendance to represent Canada.
Around 800 guests will be in attendance including the FIFA President and Secretary General, Aotearoa New Zealand Prime Minister Jacinda Ardern, Australian Federal Minister for Sport Anika Wells, representatives from the qualified teams, FIFA Legends and international media.
CANADA SOCCER'S WOMEN'S NATIONAL TEAM
Canada are Olympic champions (Tokyo 2020), two-time bronze medal winners (2012 and 2016), and two-time Concacaf champions (1998 and 2010).
In all, Canada have participated in seven consecutive editions of the FIFA Women's World Cup™ (1995 to 2019) and four consecutive editions of the Women's Olympic Football Tournament (2008 to 2021).
At Tokyo 2020, Canada Soccer's Women's National Team became the first Canadian team to win three consecutive medals at the Summer Olympic Games and just the third nation in the world to win three medals in women's soccer.
Canada Soccer's Women's National Youth Teams, meanwhile, have won four Concacaf youth titles: the 2004 and 2008 Concacaf Women's Under-20 Championship, the 2010 Concacaf Women's Under-17 Championship, and the 2014 Concacaf Girls' Under-15 Championship.
Canada have qualified for eight editions of the FIFA U-20 Women's World Cup (including a silver medal at Canada 2002) and all seven editions of the FIFA U-17 Women's World Cup (including a fourth-place finish at Uruguay 2018).
CANWNT Results at the FIFA World Cup:
Sweden 1995/ Suède 1995 – 10th place / 10e place –