Given the turn of the weather we are experiencing throughout the lower mainland with the rain slowly leaving there are many focusing on that of golf which locally can be played year round.
Sportswave has covered various Golf Championships played in the Lower Mainland but the one that stands out for us was the 2015 Canadian Women's Open held August 17th to 23rd with a prize purse of $2.25 million USD.
The return of this championship marks only the fourth time that the club hosted the LPGA Tour including the (former) du Maurier Ltd Classic which was held in both 1988 and 1991.
The event was played at the Vancouver Golf Club and hosted an impressive field, but the one that stood out for us was the young 15-year old Lydia Ko who calls New Zealand home in the offseason and our first story on Lydia was August 26, 2012
When we approached her to talk about her career being at such a prestigious event at the young age of 15, she was more than willing and extremely proud to talk about her home country and those who helped her career take off.
She did mention that when she started her new venture there were those who simply did not believe she could amount to anything, mostly due to her size but if you watch her drive no one has the right to question her.
While she was the youngest at the event the one that caught the eye of everyone was 17-year old Brooke Henderson who hails from Smith Falls Ontario located about 45-50 minutes outside of Ottawa, depending on how you drive.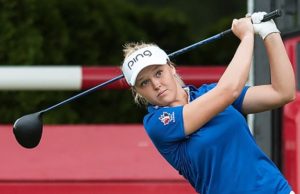 At that time she was  a member of Golf Canada's Young Pro Squad and was ranked 51st in the world. 
This would see her make her fourth consecutive appearance in Canada's National Women's Open Championship event. 
While playing In her first ever year as a pro you should know that the former World No. 1 ranked amateur has accumulated $317,470 in LPGA earnings which include $132,725 for her (tie) for 5th finish at the KPMG Women's PGA Championship.
Looking back she led a Canadian group that includes Charlottetown's Lorie Kane the four-time LPGA Tour winner and Canadian Pacific Ambassador in addition to LPGA Tour players Alena Sharp (Hamilton), Sue Kim (Langley, BC) and Toronto's Rebecca Lee-Bentham.
In a manner so as to attract future young golfers, it's noted that Golf Canada and CP offer free admission to the Canadian Pacific Women's Open to any spectator aged 17 and under.
Who knows, you might see the next Canadian Women's Champion at this event?
At press time it should be noted that Lydia Ko finished playing at Dinah Shore finishing  short of her third major championship
Patty Tavatanakit -18 through 18
Lydia Ko -16 through 18
Nanna Koerstz Madsen -11 through 18
Nelly Korda -11 through 18
Sei Young Kim -11 through 18
Shanshan Feng -11 through 18