Photo Credit Wes Shaw/Shotbug Press
Vancouver continued their resurgence in their last eight games (6-1-1) knocking off the first place LAFC at BC Place with the winner in the 89th minute coming off the foot of midfielder Andres Cubas in front of 18,292 fans.
The opening half saw the teams play a cat and mouse style match with few chances in the first 45 plus minutes with no real scoring opportunities.
LAFC's Latif Blessing had the best chance early in the match, sending one over the top of the box striking the crossbar in the 11th minute.
Vancouver did however have chances with some clear passing getting deep into the LA territory creating problems for ex-Whitecaps "tender" Max Crepeau and his defenders.
The Caps came close in the 39th minute that saw Brian White connect with Ryan Gauld only to have his shot collected by Max Crepeau that saw both clubs taking a scoreless draw to the dressing room after the opening 45.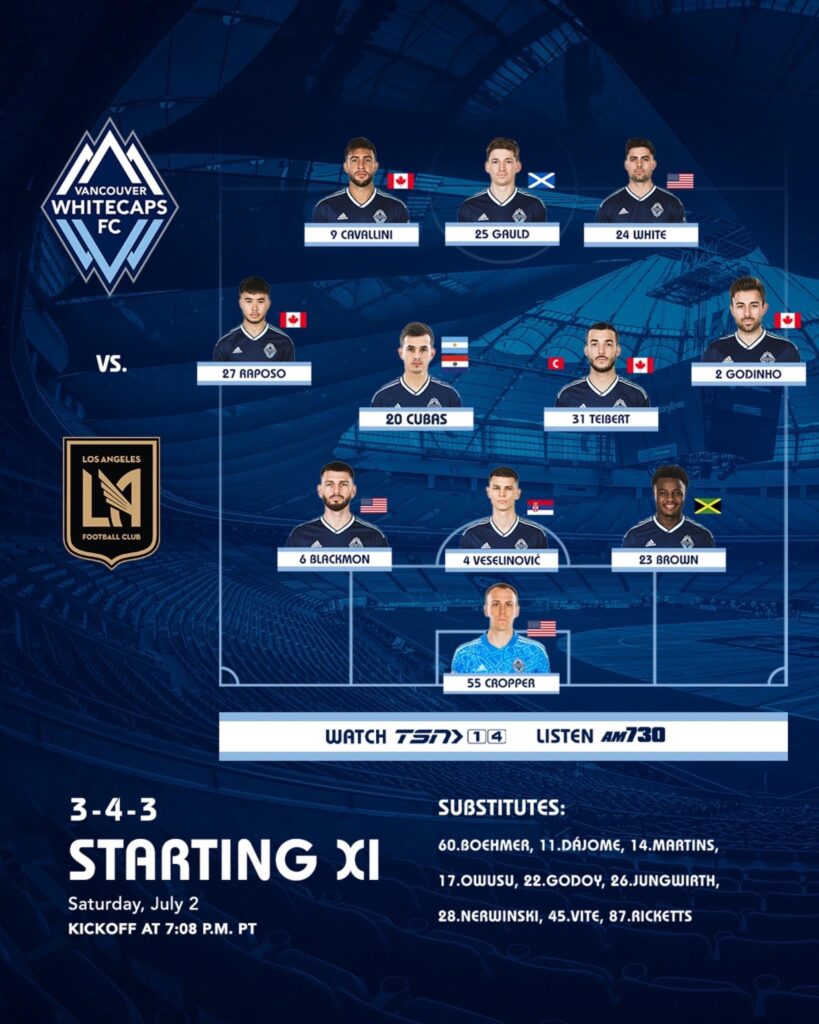 The second half saw both clubs make substitutions that impacted the Second half, while Vancouver sent in Cristian Dájome for Lucas Cavallini while LAFC sent in Eddie Segura for Jesus Murillo.
Brian White had a chance in the 50th when a cross from the left flank was smothered by Crepeau that saw a Yellow Card to Ryan Gauld for a late run in LA's penalty area.
Vancouver continued to dominate with continued pressure in the second half creating problems for LAFC's back four forcing them to clear away some dangerous crosses.
Vancouver continued to pressure LA which resulted in several corner kicks awarded to the home team frustrating LAFC defenders.
A late goal in the 89th minute following a mistake by the LA "Keeper" Max Crepeau who was pressed while attempting to clear the ball, only to have it go off a defender and from 25 yards.
The ensuing kick sent it in the top left corner delivering a blow to the visitors from south of the 49th in what proved to be the game winning goal.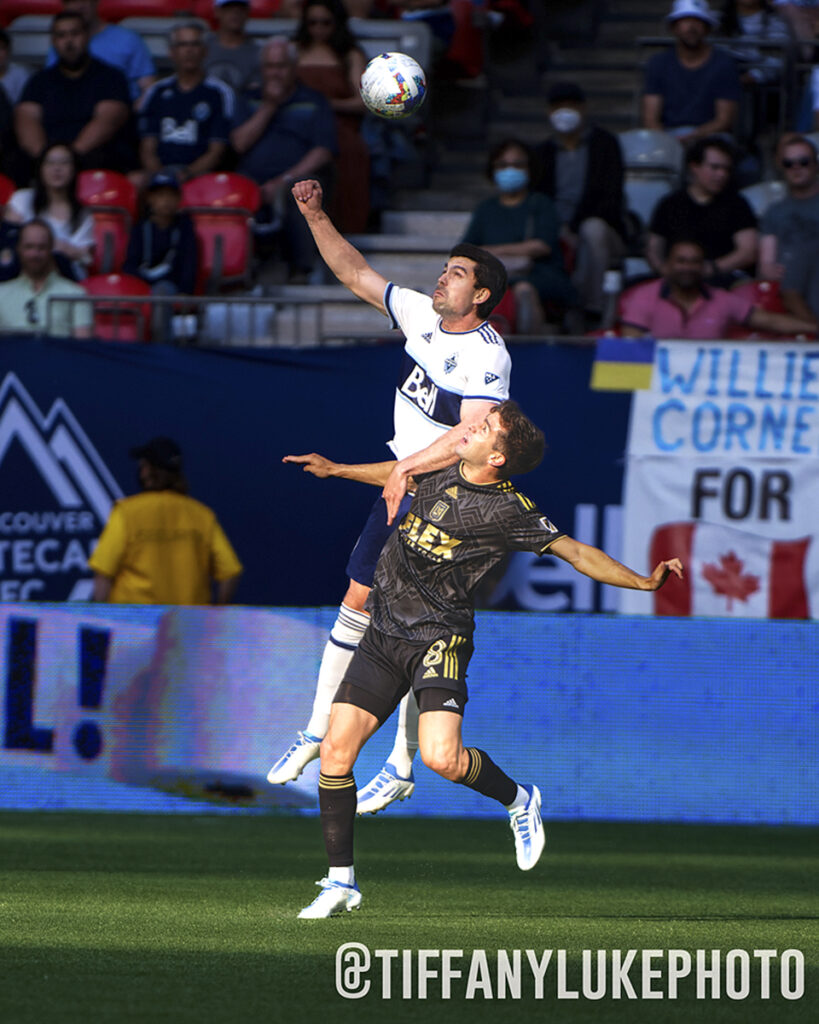 Vancouver now improves to 7-8-3, knocking off the top team in the west getting 3 huge points in the standings.
It was interesting to see the interaction between some of the Cap's players and former Whitecaps Head Coach Marc Dos Santos and twice as nice to see the interaction with both coaches after the match.
The win for the Caps gave first place LAFC their 4th loss of the year through 18 game's while Vancouver moved into 8th place in the West on the outside in goal differential.
Vancouver's next match in this homestand continues when they take on Minnesota United FC on July 8th kickoff time set for 7:30pm at BC Place tickets are available by visiting whitecapsfc.com/tickets.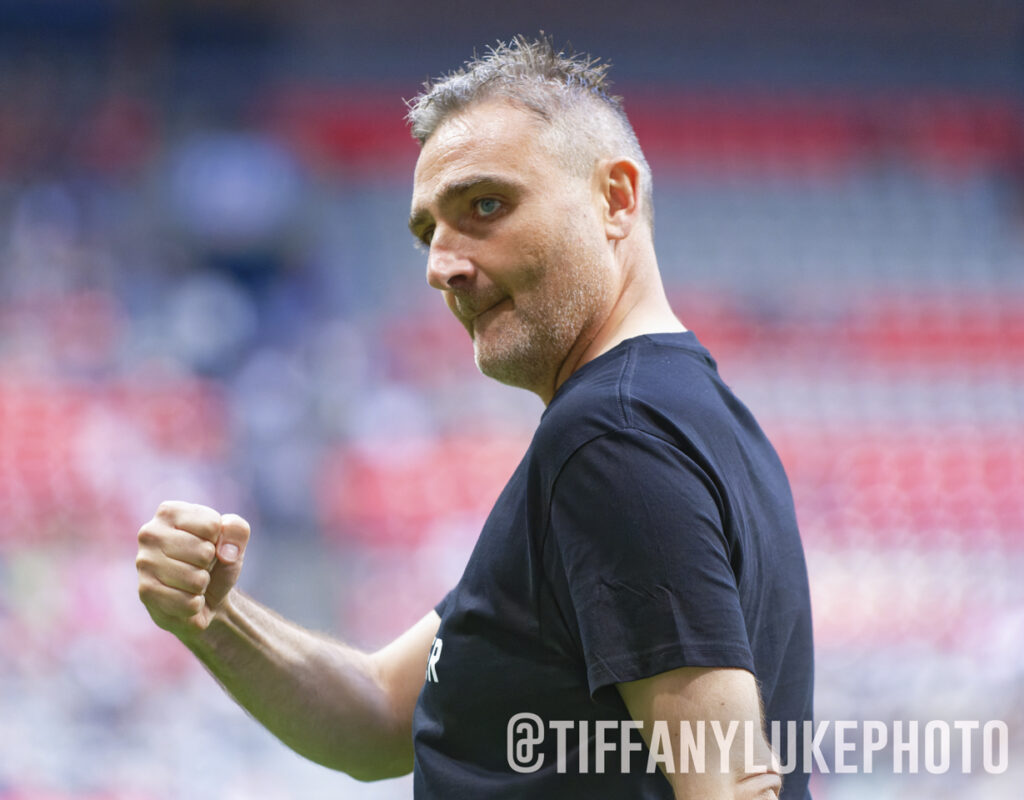 MATCH DETAILS
Player of Quality: Andrés Cubas
Attendance: 18,292 Referee: Guido Gonzales Jr
Scoring Summary 89' – VAN – Andrés Cubas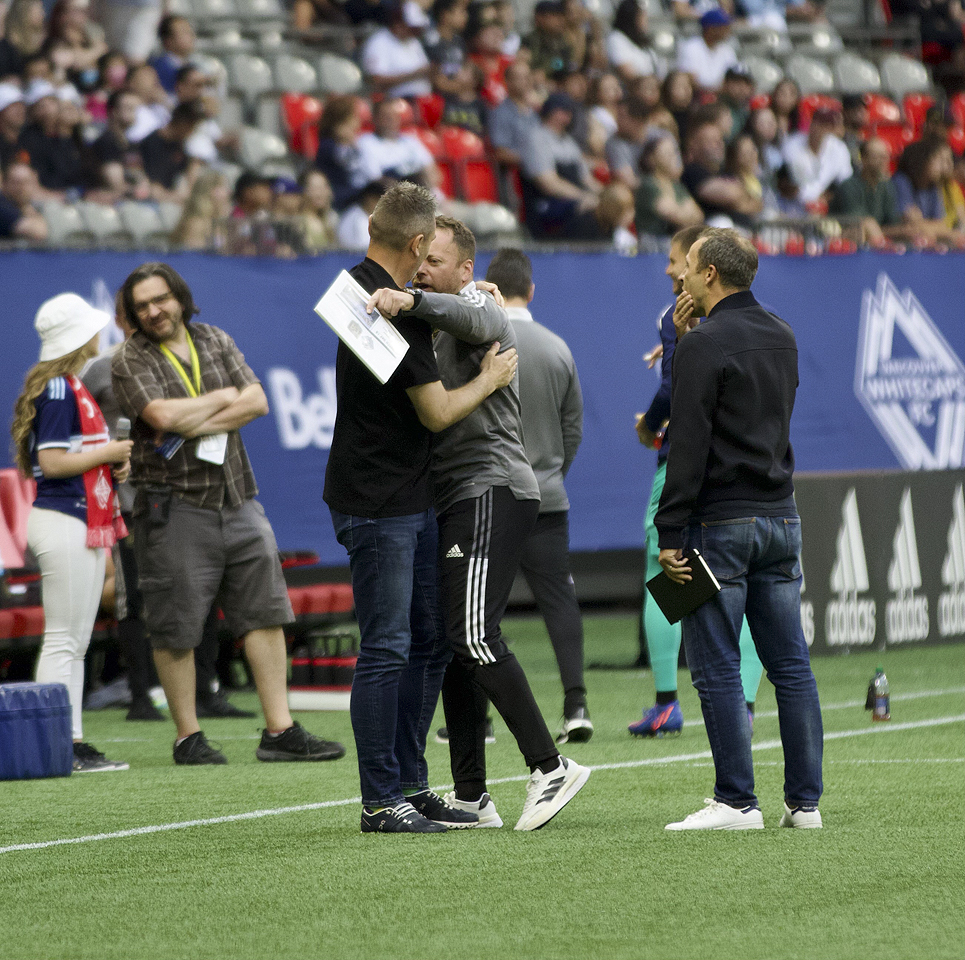 Statistics Possession: VAN 42.3% – LAFC 57.7%
Shots: VAN 10 – LAFC 7 , Shots on Goal: VAN 2 – LAFC 0 ,
Saves: VAN 0 – LAFC 1 , Fouls: VAN 14 – LAFC 12
Offsides: VAN 2 – LAFC, Corners: VAN 12 – LAFC 0