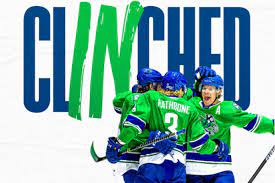 Photo Credit Abbotsford Canucks
Playing on home ice for the Abbotsford Canuck (31-21-5-1) gave the team more of a chance to have a "jump start" the first weekend of April, who were cheering the (31-22-3-2) Laval Rockets.
Hype means everything in sport and for many living in the Fraser Valley the theme for the game was Country Night and the third game of a six game home stand for the Canucks.
Saturday's game had a record number of 6,017 on hand to take in the game that saw them fight for not just a playoff spot, but home ice advantage in the first round.
With the playoffs getting close teams welcome injured players back to their line-up so they can get the past chemistry once again rolling or hitting peak form as playoffs loom.
The "baby" Canucks are no different and welcome the return of Jack Rathbone was injured February 16th while taking on Bakersfield and returned the previous night grabbing three assists in the 6-1 win.
Sunday's game theme focused on "Women in Sport" that reflected such with four young women who referee minor hockey, while the game featured one official as a linesperson and held her own in various situations.
At times the game was somewhat "heated" but with home ice on the line for the playoff, Abby could ill afford any foolish penalties and/or suspensions.
The win isn't just huge but instrumental to the success of the franchise that will see fans make their way through the turnstiles for playoff games.
Following the game Head Coach Trent Cull (22) told the media "It was great and we just had a little chit-chat in the locker room and said how proud I am and what we've done and how many guys have been part of us making the playoffs."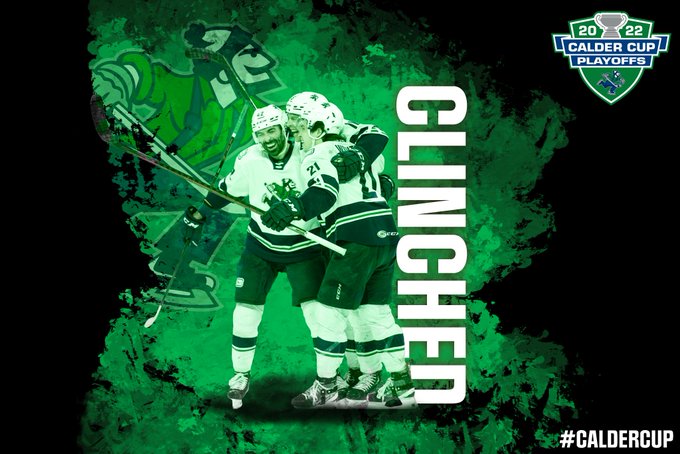 He continued "Whether they were here now or weren't here to start with but have come and joined us… just that next man up. We talked about the opportunity. It's not easy getting into the playoffs. I'm ecstatic that we gave ourselves a chance to play in the postseason."
Those attending the game were entertained with some sporting red Montreal sweaters and wearing them very proud throughout the concourse.
Retro Names Of Yesteryear
If you're a hockey fanatic of years past you'll be able to relate to the following names who were on the bench for Laval, such as Head Coach Jean-Francois Houle and Kelly Buchberger and Martin Laperriere as assistant coaches.
For those who are familiar with the game, ponder the names above as Jean-François Houle is the son of Rejean Houle, former player with Montreal who won five Stanley Cup's while with them going on to serve as their GM.
Kelly Buchberger is also a retired NHLer who played Major Junior with Moose Jaw in the WHL and went on to play with Edmonton in the NHL, while Martin Laperriere has been working in the QMJHL with the Remparts since 2005-06.
In the post game with Rathbone he was asked about the win and stated "It's huge and that's been our goal ever since we started here and I know Trent was happy with the win."
Future Canuck "tender" Michael DiPietro played solid stopping shots from various angles despite being outshot 33-24.
Game Stars:
1st Jack Rathbone (1 goal/1 assist)
2nd Michael Dipietro (32 saves)
3rd Xavier Oullet (1 goal)

About Steve Erickson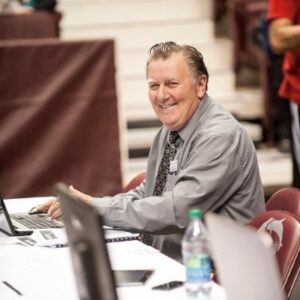 Sportswave Productions is located in Delta, BC.
Sportswave promotes/broadcasts Amateur Sports within the Lower Mainland to promote your sport.
He was also recognized by Ravi Kahlon, BC's MLA Minister for Jobs, Economic Recovery and Innovation in September 11, 2017.
For additional information:
Contact
Phone: (604) 916-4593 cell/text
Calendar
July 2022
M
T
W
T
F
S
S
1
2
3
4
5
6
7
8
9
10
11
12
13
14
15
16
17
18
19
20
21
22
23
24
25
26
27
28
29
30
31