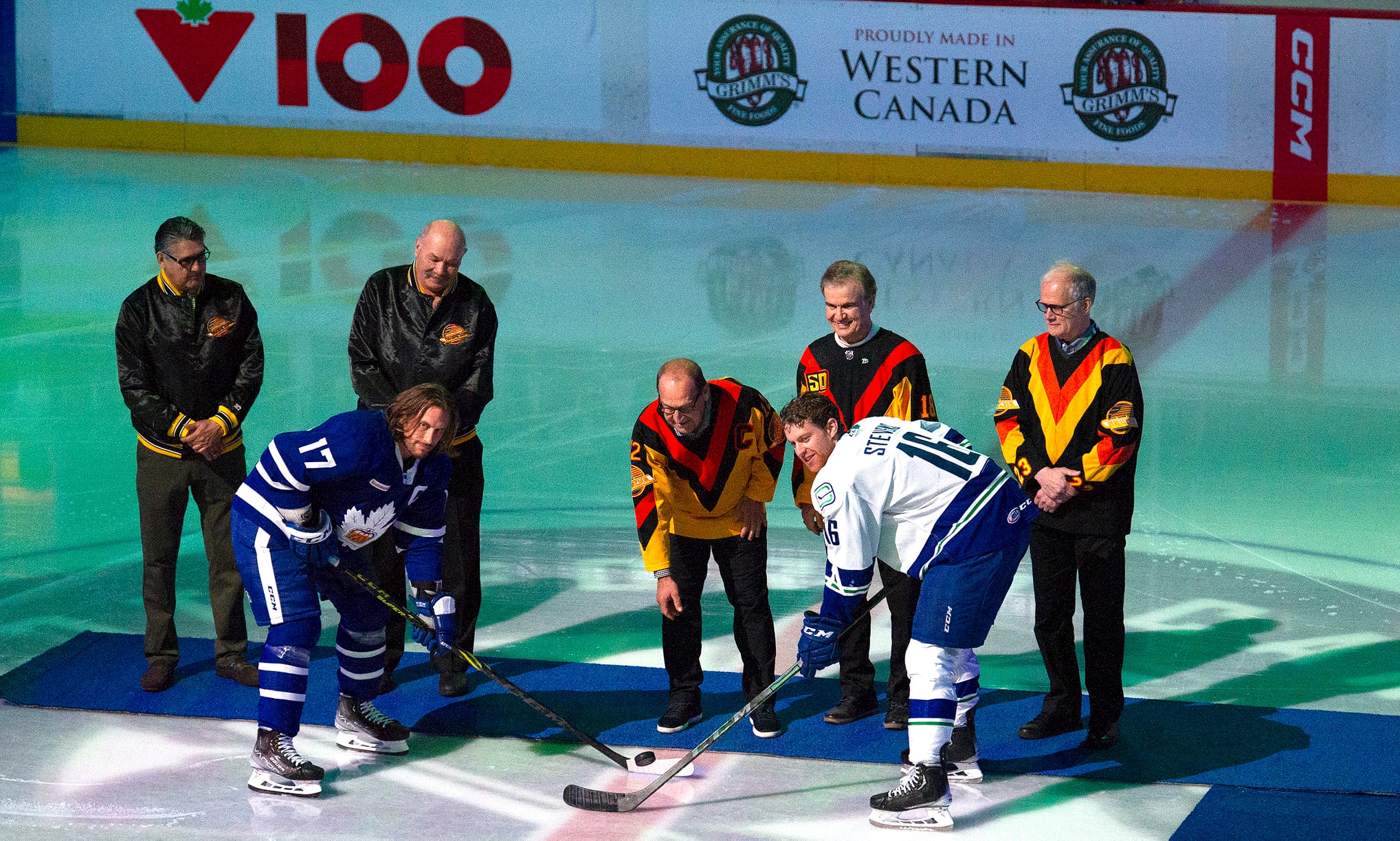 Photo Credit D. Laird Allan/Sportswave
Retro night returns, but this time it's for the Abbotsford Canucks who are playing host to the Toronto Marlies that have Spencer Martin (16-3-2-2) suited up for Abby, while Talor Joseph is between the pipes for the visitors.
Pre-game ceremonies featured a tribute to the1982 Vancouver Canucks and their road to the Stanley Cup featuring five players of the 82 roster that saw a crowd of 4,729 frantic fans cheering
On hand in the pre-game ceremony were Thomas Gradin, Darcy Rota, Ron Delorme,, Harold Snepsts and fan favorite Stan Smyl.
Canucks finished with a 30-33-17 record which had ranked him No. 2 in the Smythe Division which saw the end result see them lose in a best-of-seven series 4-0 to the New York Islanders.
Vancouver's captain was Stan Smyl who managed 34 goals, 44 assists in 80 regular-season games while collecting 9 goals and 9 assists in 17 playoff games.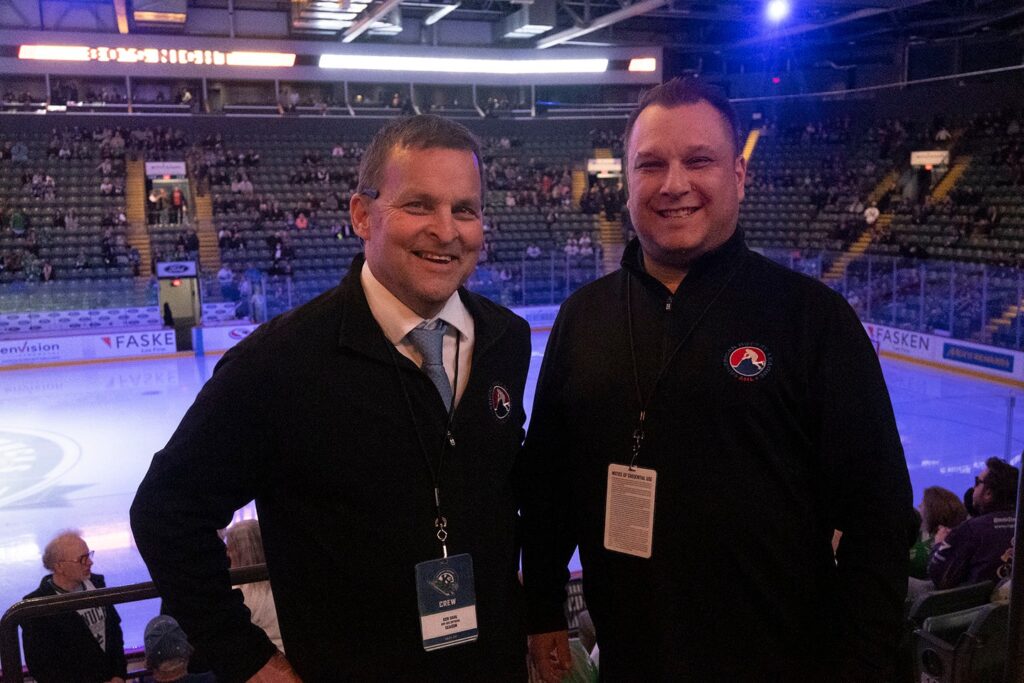 Twenty-five year old Thomas Gradin managed to lead with 86 points including 49 assists and also managed 19 points in the playoffs.
Fan favorite Darcy Rota had 20 goals and 20 assists while adding 6 goals and 3 assists in the playoff run.
Along with the pregame it was impressive to turn back the clock and listen to Richard Loney who sang the first anthem for the home game.
Richard sang the anthem at the first Canucks NHL game in 1970 and his rendition of our National Anthem remained a long standing tradition at Canuck home games for over 40 years.
Toronto sits third in the standings in the North Division with a record of 30-23-3-1 good for 64 points through 57 games with 15 games remaining, while Abbotsford has 30-20-4-1 through 66 games with 13 remaining.
Focusing on local talent was Toronto dress and start Trinity Western University goaltender Talor Joseph who is from Sherwood Park and in his second year at TWU where he has played 14 games with a GAA of 5.79 and a SV% of .874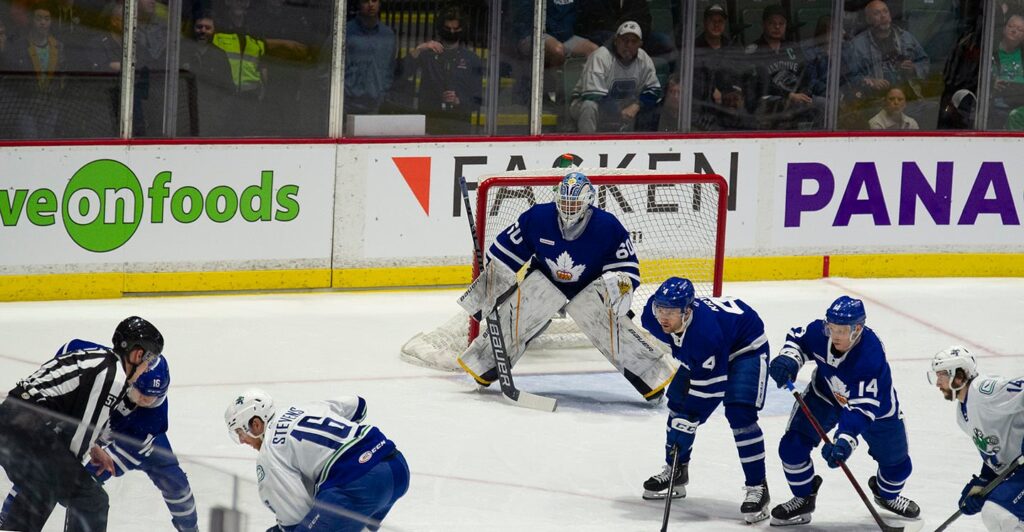 He was called up to play for the Marlies on this night due to a shortage of goaltenders in part due to injuries and pending recalls to the parent club the Leafs.
Once all the pregame ceremonies were concluded it was game on that saw Toronto take control of the first jumping out to a three goal lead after one.
The second saw Abbotsford come out with more of a jump managing to pressure the Marlies that saw them take a pair of minors while the Canucks doubled up taking four minors that saw Abby get outshot by a 14-8 margin.
Vancouver came out in the third with much more jump than the first two albeit any quality shots were turned aside by Joseph.
Despite being down 4-1 after two the Canucks came out with more of a jump in the third and it wasn't until 7:06 that Sheldon Dries managed a PP goal pulling them within one.
Penalties in any game can prove costly and such was the case again as Dries got his second of the game notching another PP goal at 16:42 making it a 4-3 game.
Abbotsford continued to press but as much as they pressed pulling their "tender" late in the third, Toronto's Alex Steeves jumped on a loose puck inside the blueline and sent a long shot into the middle of the net pulling out a 5-3 win.
Both teams play their second back to back games with the Canucks looking at rebounding from the loss the night prior.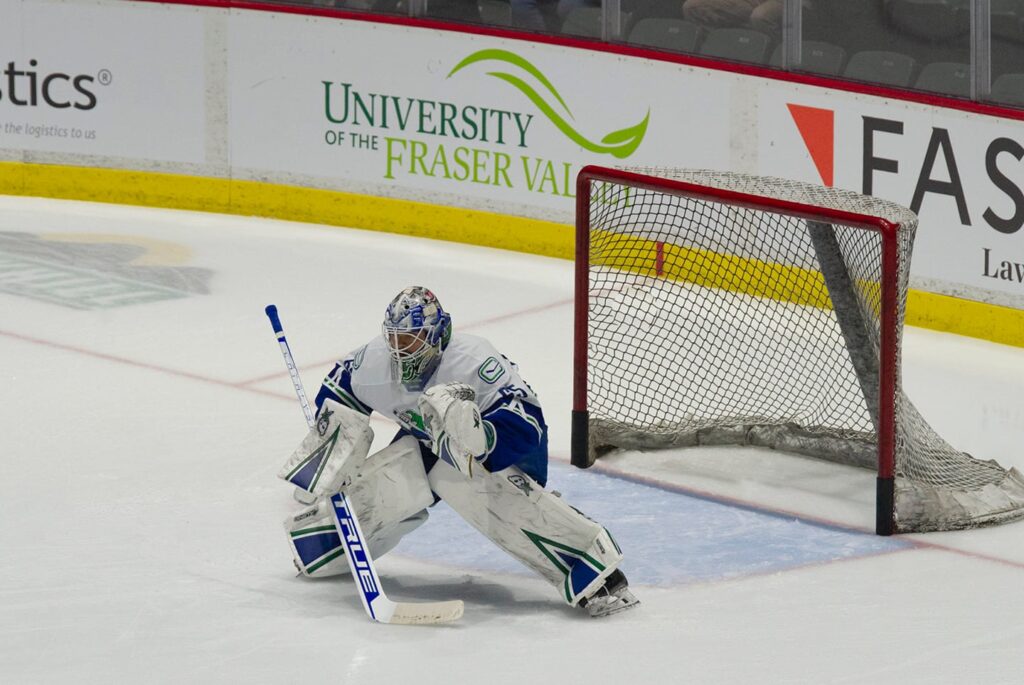 The game saw Toronto take four minors, while Abbotsford managed only five on a night that featured four officials from out of town, two of which were signed.
Abbotsford head coach Trent Cull mentioned "We weren't playing our game and we weren't winning puck races, we weren't doing the right things. We kind of lost structure. I thought our guys got a little bit goal hungry. I think they were thinking that we would have a dominant night. I think it kind of got us off our game. We reap what we sow, I guess."
Game Stats:
https://theahl.com/stats/game-center/1023573
Game Stars:
1st Alex Steeves (Toronto)
2nd Sheldon Dries (Abbotsford)
3rd Nick Robertson (Toronto)