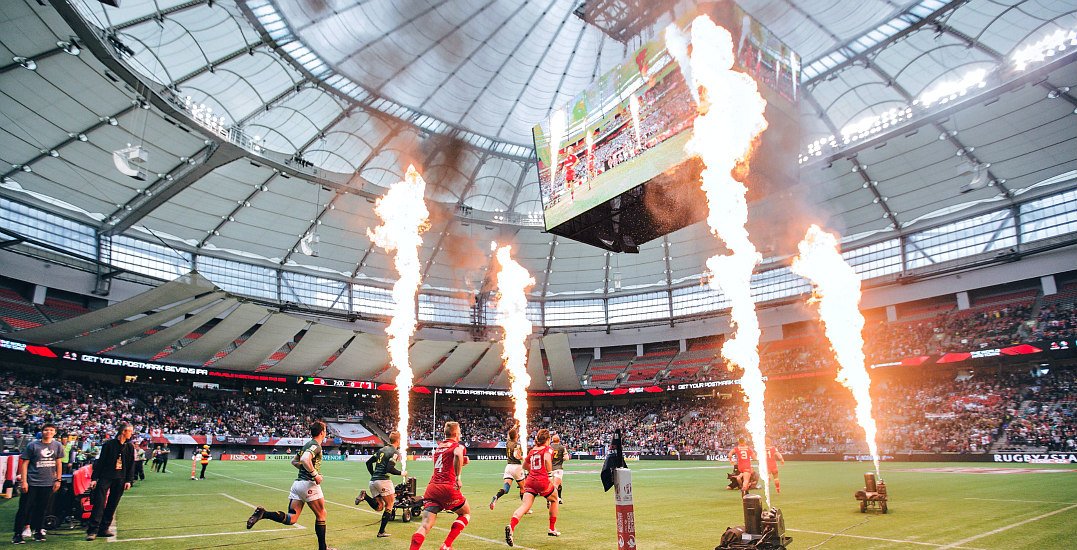 Photo Credit Rugby Canada
The Vancouver Rugby 7's returned after an extended 19 month layoff when COVID-19 abruptly stopped the world as mentioned as sung by Merle Haggard in his 1981 release.
This year has a drop in teams reducing them from the previous 16 teams to 12 which has 12 men's squad's and 4 Women's teams all showing a mutual level of respect for each other.
The Women's teams are from the United States, Mexico, Great Britain and host Canada, while the men's divisions are without Fiji, Australia, New Zealand and Samoa, which sees a drop in attendance.
This year has seen a slight drop in pool number moving from four pools to three pools that kicked off on a soggy, wet September and played in front of a crowd seated in the lower bowl only.
This year's 7's tournament kicked off with a full day of matches beginning at 9:45 that saw Ireland play Hong Kong in what was a close match with the luck of the Irish on their side coming out on top by a score of 17-7.
This was followed by the second match of the day with Great Britain playing Jamaica with a huge difference in play between the countries given their various traditions and history as the Brits pulled out a 24-5 victory.
Kenya, which has been a participant from year one of Vancouver Rugby sevens took on Spain in a pool matchup with Kenya coming out on top 17-7 in a close match between the counties.
South Africa played their first game of this year's tournament hammered Mexico by a 53-0 thumping which was followed by Canada who defeated their opening match 24-5 over Germany while the US defeated Chile 33-5 in morning games.
Canada won their opening match over a tough Germany squad 24-5 to improve to 1-0 and United States were 33-7 victory over Chile to open the tournament with a record of 1-0 as both teams were tied for top spot in the group.
In the afternoon portion of the men's group that continued Ireland took on Jamaica and in a dominating performance in a one-sided game saw them defeat Jamaica 50-0 as they improved to 2-0 in Pool B and the Jamaicans fell to 0-2 in the tournament.
This was followed by Great Britain taking on Hong Kong in both teams second match of the day winning by a score of 31-5 to improve to 2-0 in the tournament and Hong Kong fell to 0-2.
Kenya dominated Mexico the Kenyans dominated as they defeated Mexico 45-0 Kenya putting them in a tie with Russia in Group A.
South Africa managed an impressive 34-7 win over Spain moving them into a first-place tie with Russia 2-0 in group A having outscored their opponents 87-7.
Canada improved to 2-0 in this year's tournament in Group C with a 19-14 win over Chile taking top spot against the US outscoring their opponents 43-19 with a plus 24 in the points difference and Chile fell to 0-2.
Afternoon Games:
The afternoon started with the US defeating Germany 26-7 maintaining their undefeated record through two games managing to outscore their opposition 59-14 with a plus 47 in the points difference.
Canada also has a 2-0 record with a points difference of 24 setting up a match for top spot in their pool as Hong Kong crushed Jamaica 60-0 capturing third place in pool B finishing 1-2 while Jamaica finished fourth.
The third match of the afternoon saw Ireland play Great Britain for top spot in pool B which was more of a defensive struggle with each squad not being able to score until late in the second half. Ireland opened the scoring with a try in the last two minutes giving them a 7-0 lead only to Great Britain get the equalizer in the dying minutes.
Final score finished at 7-7 as Ireland and Great Britain each finished with 2-1 records and 8 points in Pool B with the Irish edging the Brits in the points difference 53 to 45 taking first place in the group and Hong Kong finishing third and Jamaica fourth.
Spain had an excellent game against Mexico dismantling their opponents 57-0 ranking them third in Pool A improving to 1-2 in day one of the two-day tournament.
South Africa went undefeated in opening day with a hard fought 33-14 win over Kenya finishing in top spot in Pool A with a 3-0 record with 9 points while Kenya finished second with 7 points.
Germany defeated Chile defeating 36-12 capturing third place in Pool C while Chile finished fourth.
Canada came up short, dropping a hard fought 29-19 loss to US in the final game of day one falling to 2-1 allowing the Americans to take top spot with an undefeated 3-0 record.
I am frequently reminded of the old saying that soccer is a gentleman's game played by hooligans, while rugby is a hooligan's game played by gentlemen – truth be known.
While I am on this subject it was interesting to chat with some of the fans on hand with many mentioning if these were soccer players they would still be lying on the ground rolling around, while these players just jump up and go at it again!!
Sunday kicks off the playoffs on day two for another outstanding event put on by Rugby Canada!!