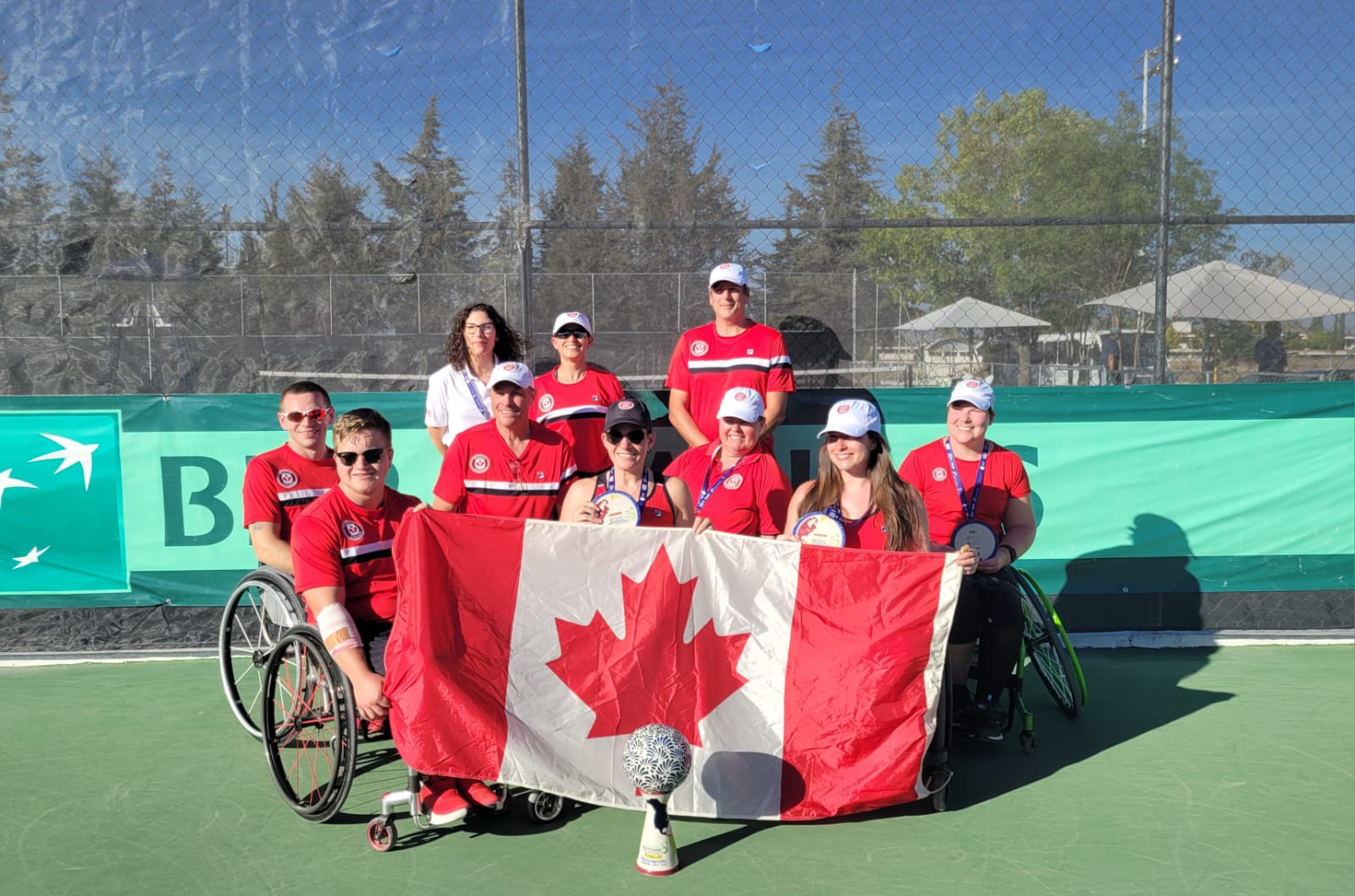 Photo Credit Sarah Hunter
When we think of tennis we think of the sport that is played by able bodied persons who are able to play without any disabilities to overcome.
Not everyone has this luxury and plays despite all obstacles and knowing this makes me wonder why so many are wrapped-up in their own world.
Driving around the area at various locations I see markings in various parking lots that have wheelchair accessible stalls, but have you ever taken a hard look at these??
We have the luxury to cover the Odlum Brown VanOpen each year at the Hollyburn Country Club and I for one know that this would never happen to anyone arriving or leaving in a wheelchair.
Yes – it's great to have them for persons who require the wheelchair, but as strange as it sounds some parking stalls are small with no real distance between them and the car beside them.
Other stalls have the ramp actually located in front of their vehicle so they are unable to access them at all, while others are poorly marked and unable to see the markings on the ground.
Being poorly marked shows me that their City simply doesn't care and gives us the impression that they are left to deal with parking on their own.
Now I am hearing that upon returning home from the recent event that the air carrier actually either lost or forgot to deliver a chair following the flight.
I can see if a suitcase gets lost, but have never figured out how – but really how do you lose a wheelchair and what happens when the flight arrives late?
Simply put; that is completely unacceptable by anyone's standards, not just because they were representing Canada on the world stage, but shows that the airline could care less about anything other than booking flights.
Recently Canada sent a team to the Americas qualification for the World Cup in Puebla Mexico and this year marks the return to competition for Canada after they were kept out in the 2022 event due to Covid-19 restrictions.
This year Canada sent their top three players in both women's and men's wheelchair rankings who are eager to out play all other opponents.
The men's side is represented by Anmore BC's Thomas Venos who is ranked 59th, Mission BC's Barry Henderson (ranked 88th) and Toronto's Shawn Courchesne who is ranked 191, with the Men's best result coming in 2000.
Venos mentioned to the media "It's good to be back representing Canada at a World Team Cup event and it's been a few years since the last time and I feel like the team has improved a lot. We will have a good chance at qualifying for the finals."
The Women's team haven't played in over a decade and are captained by good friend Sarah Hunter, who is a true leader and competitor.
The Women's side has Toronto's Anne-Marie Dolinar who is ranked #48, Montreal's Natalia Lanucha ranked 56th as well as Barrie Ontario's Candice Combdon.
Canada's best end result on the Women's side was placing fourth in 2006 and this competition will be tough considering that there are eight countries competing on the men's side, while there are six on the women's side
I'm hearing that Canada is only one of five countries that are represented by both women's and men's competition with the others being from Peru, Costa Rica, Ecuador and Mexico.
Chile is represented by only their women's team, while Colombia, Brazil and Guatemala are only sending their men's team.
For anyone wanting more information visit wheelchairtennis.ca and be sure to check out the upcoming Vancouver International Wheelchair Tennis Tournament in Vancouver taking place from July 13th to 16th.
2021 marks the 50th year of BC Wheelchair Sports and in hopes of expanding their reach to everyone they are rolling into the archives to bring you stories and articles of past athletes as well as historic events on the sport.
So I ask you – how can an Airline lose a Wheelchair????