We had a request for the re-print of a post that we posted last December and never want to disapoint those who contact us for information, so enjoy the read.
Noel Paine is an avid runner, running dad and author, and he shares here in a Q&A the launch of his first children's book, Run Daddy Run: For the dads who run and the kids who wait.
Q: What was the process like in writing your first children's book?
A: Writing the book was a lot of fun as I got to have fun and think about wording that would be fun to read for children – while still explaining from a dad's perspective.
I really thought about what I would want to say to my daughter about why her daddy runs. I also wrote a little introduction piece at the start speaking directly to dads and the kids.
I had planned to write a more serious book for dads but when this idea popped into my head, I ran with it.
Q: What is the book about and how is your book different from other books?
A: My book is a book about running for dads who run to read to their children. It's a dad explaining why they run and what they love about it – and why other dads might run.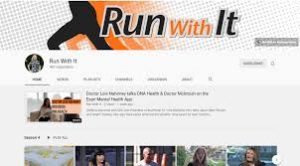 There are lots of books for kids but I am not sure how many books specifically written for dads who run – they are.
Q: What has the feedback being like?
A: The feedback has been great but it is hard to get the book into book stores and out to let people know it's available.
There are a lot of dads who run out there but there are so many posts, news feeds, and distractions in the world – well its hard to get people's attention!
The book is available on Amazon and Running Room has it for sale on their website.
Q: Is there a special section you like in the book?
A: I love the whole book. The illustrations by Evan Raz (a running kid) are amazing and really light up the words.
Q: The book is geared for what ages?
A: The book is simply written with rhythming language so its really aimed at the younger kid who still likes to sit with dad for a story.
Q: What do you want people to get from your book?
A: I want dads to read the introduction and know they are not alone and that being a dad can be both hard and fun.
I want dads to know that by sharing with their kids they can connect, they can share something they love with their children and connect.
I want kids to learn more about their dads and why they lace up and head out the door. I hope people love the writing and the amazing pictures.
Q: What does your daughter Morgane think of your book?
A: My daughter's first language is French but I think she liked the book. She knows daddy runs as we have spent a lot of time together running with her in the stroller when she was really young.
I think I got her 5-year old approval but sometimes it's hard to tell.
Q: Where can buy your book and your other books?
A: My book is available on Amazon.ca and on Running Room's website. I am hoping to get in into book stores in 2021.
https://www.amazon.ca/Run-Daddy-dads-kids-wait/dp/B08KPZSGT8/ref=sr_1_1?dchild=1&keywords=noel+paine&qid=1607109004&sr=8-1
https://ca.shop.runningroom.com/en_ca/run-daddy-run.html
Thanks to Christine Blanchette for our weekly features.
Follow her on Twitter as well as her YouTube channel.
Have a great weekend and stay safe!!