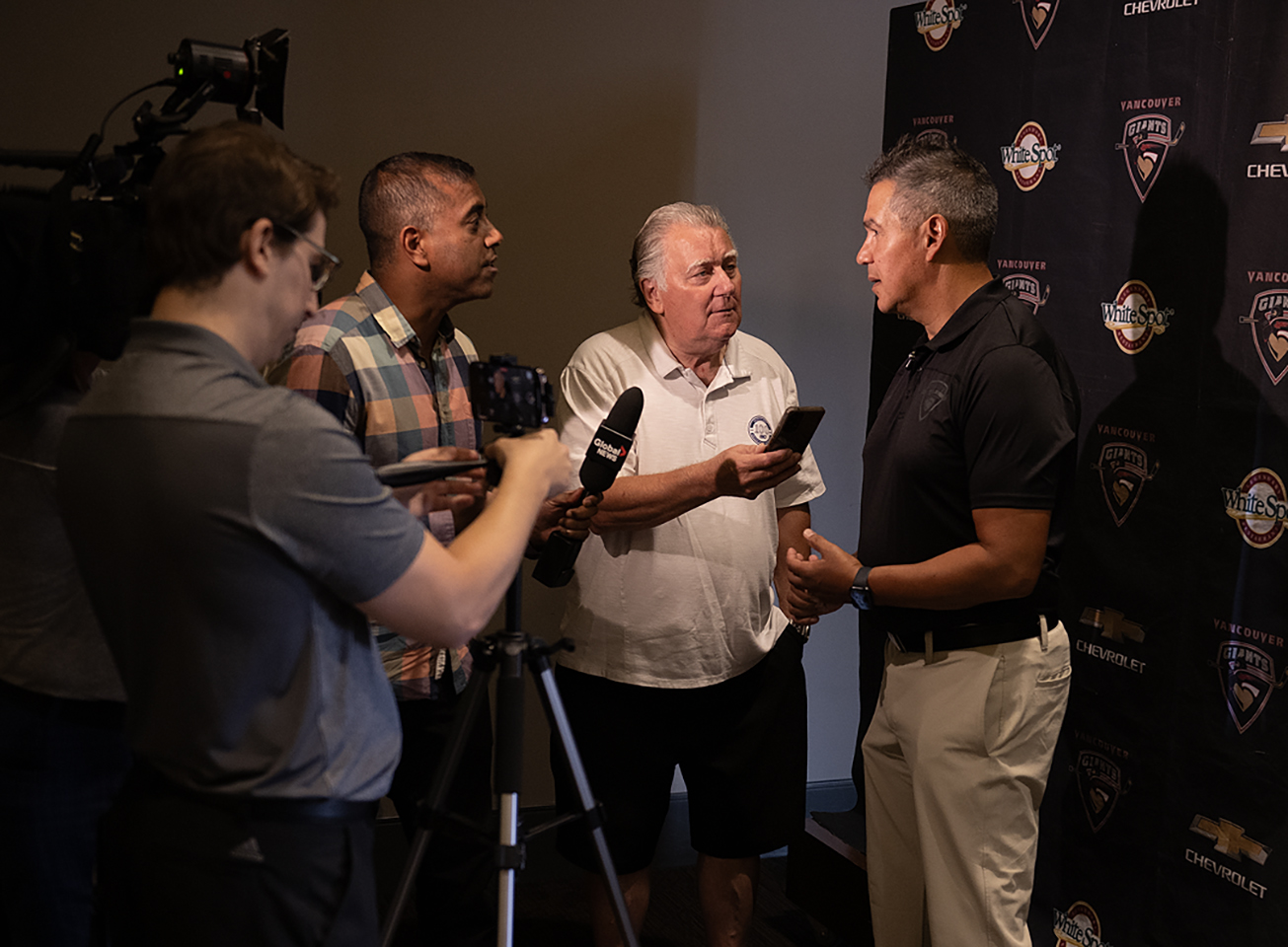 Photo Credit D. Laird Allan/Sportswave
When we reflect back on the longevity of the Vancouver Giants there is no question that one word that stands out with the organization is professionalism.
From the time they got their start in 2001-02 they have won the Ed Chynoweth Cup in 2006 and one Memorial Cup in 2007.
From the start they have called Delta or now the City of Delta home with their practice facility the Ladner Leisure Centre that gives them the "small town Canada" feel.
Over the years they have produced extremely talented players as well as having various team staff advancing to the pro ranks.
With the recent departure of MIchael Dyck (54) to the Toronto Marlies as one of the assistant coaches who will be working with Eric Wellwood in hopes of putting a winning product on the ice.
That being said the Giants were now looking for a new "bench boss" to keep their winning product a success as they have been over the years.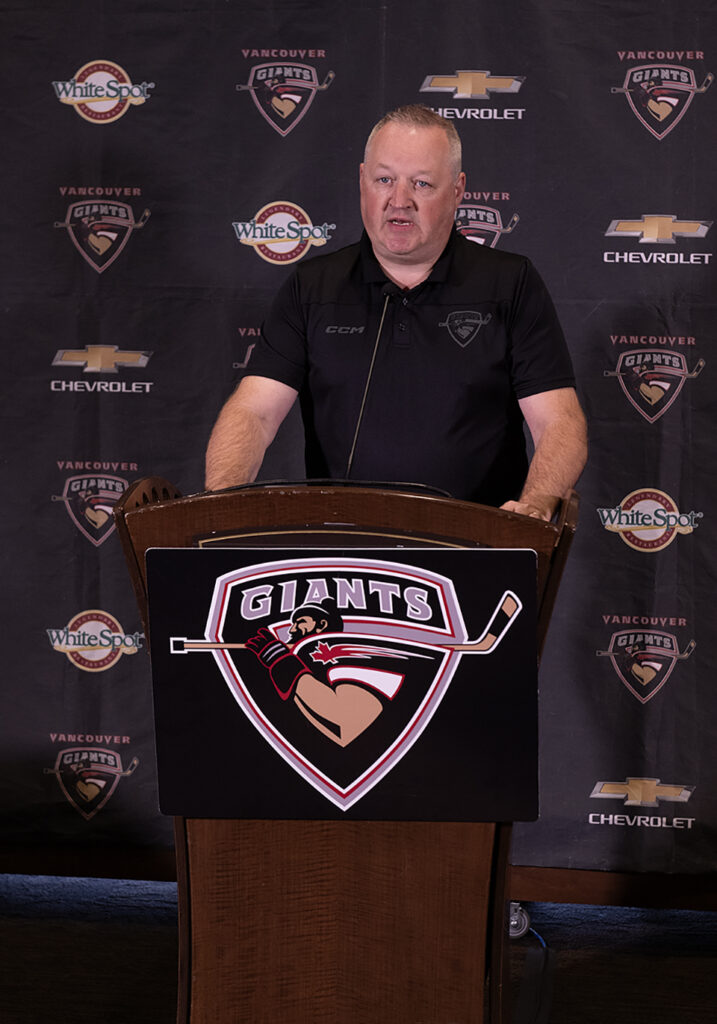 Michael has over 25 years in coaching and management at Junior and International levels and compiled a record of 144-120-17-7 through five seasons with the G-men.
The announcement was made official with Giants GM Barclay Parneta introducing  Manny Viveiros as the ninth Head Coach as well as introducing Nathan Kanter as their new Media Relations/ Play by Play person.
Nathan will be working alongside long-time Giants Color person Bill Wilms who has a vast amount of knowledge unlike no other.
Manny brings not only excitement to the team but also was thankful for the Giants for being patient in the wait for him to finish his cancer treatments.
We are pleased to report that he is Cancer free and he thanks his Family for standing beside him during his tough times as well as the Giants.
In a recent conversation with Barclay he mentioned "the summer has been extremely busy for himself as they had to replace various key personnel so time was spent finding the right person for the positions to be filled."
The overall process was long and tedious but the team had a criteria and given the fact that the kids are different in today's world it was important for the Giants to get the right person who could relate with today's players.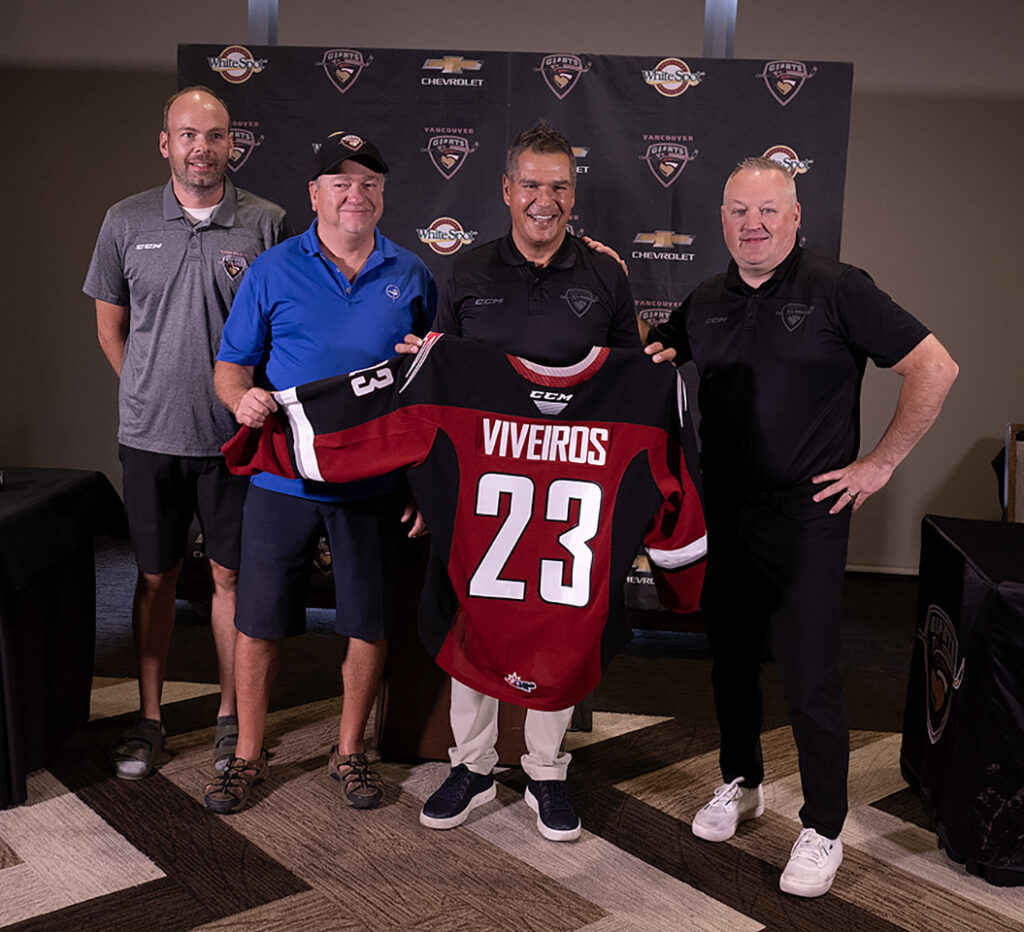 Manny himself had some things he had to sort out and along with his wife Lori came out a couple of weeks back so the Giants played tourist/media person and for the Giants it was important for them to sort out the identities of what they needed.
For the Giants in this time of transition this was an important move bringing in Manny as he hits a mark with the pro guy's and he also has the junior guys covered so where this team is headed he'll be able to help bring them along.
The connection with the NHL say's a lot about the professionalism of the team given the fact they have had the past three move on to the NHL so having both an NHL and AHL team based locally that helped the process.
It was interesting to note that Michael had a long conversation with Manny considering that he's a new era coach and it's fair to say that communication is number one overall.
In conversation with Manny asking about his discussion about the making process to come to the Giants he mentions "As far as the hockey side of it I checked all the boxes and that was pretty easy but I wanted to make sure that all was healthy and I wanted to get back as healthy and strong as I could."
It wasn't about how he felt physically but more important mentally and that's something that I've never felt better about which is encouraging and I can't wait to get going."
He loves coaching and for him it's easy as you get a chance to coach at a level you enjoy and how you can influence these young men as they move forward.
He did have a chance to talk with Michael who he said was extremely supportive and he knows he has "big shoes" to fill and he feels the transition will be easy.
He hasn't set any goals for the season but wants the team to improve over this past season from last year and he feels that his time spent in the AHL will help bring success to the Giants.
I found it interesting to hear him say that he won't say anything to these young men that he wouldn't say to his son and he knows that given the world today, it's important to understand that communication is the key to success for any organization.
He feels that he has learned lots from each pro player he has worked with over the years and as he said you leave the game at the rink and his wife is good to keep him grounded.
He was proud to let us know that he recently became a Grandparent for the first time and he is looking forward to coming home to spend time with his "beautiful Granddaughter."
The new generation of kids want to know and it'll take time to explain it to the player and regardless of the conversation he has with any player, respect comes first.
The cycle for Junior hockey is on a reset and he's looking forward to having a team of young players who all want to continue to learn each step of the way.
I asked him the one single thing he has learned over his career and he mentioned in one word that being patient as everyone learns at a different level and speed.
Today's young players are in a "now society" and want everything NOW and to be a good athlete it takes time and you have to be a good student.
He ended by saying that he is an impatient person and he still has to learn about being patient which he is looking forward to, especially that he lights up when you ask him about his Granddaughter.
His granddaughter Emmy is only two months old and clearly his little bundle of joy!!
We wish him nothing but success!!!!