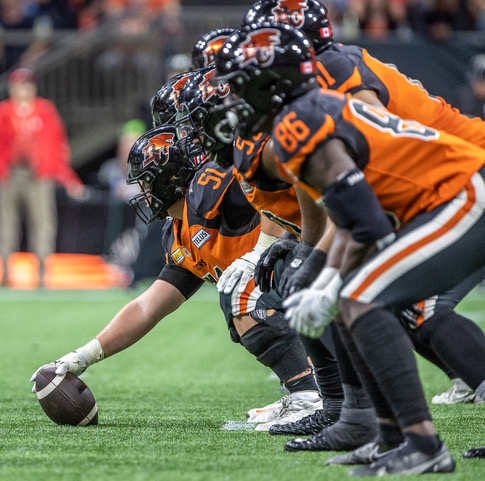 Photo Credit Mark Steffens
To the surprise of many the BC Lions defeated the Stampeders by the score of 30 – 16 in a game filled with emotion with many concerned about the health of Lions QB Nathan Rourke.
It was obvious that if his health wasn't 100% there is no reason that the Lions would have put him in a position that could have long term issues.
Rourke wanted to return to the line-up from the start as he had something to prove to all the "nay-sayers" who thought of him as their lucky charm.
That notion would soon be put to rest with him taking to the turf to the cheers of the crowd that extended to the upper bowl for the afternoon contest.
When you are comparing stats we note that the Stampeders hold a CFL record of: 73-29-2 (11-5 v BC) along with 3-2 in the playoffs while the Lions record is 61-77-2 (5-11-2 v CGY); 3-1 in playoff action.
Stats for starters in the record books have them listed for BC's Nathan Rourke at 9-3-0 against Stampeders Jake Maher with a career record of 7-5-0.
Many thought the game would be a ground game but both QBs were capable of showing what they could deliver when the time counted.
BC's passing yards overall per game was an impressive 300.3 to Calgary's passing yards per game of 246.7 but rushing yards per game has the Stamp's at 135.3 to BC's 99.7.
As we all know stat\s mean nothing and it's how the players approach the game that counts and in this game it was BC that controlled the game sending the Stamp's home with a 30-16 loss.
Next up is a trip to the Western final against the Bombers is what we know will be played in snowy, cold conditions.
A win in this game would punch their ticket to the 109th CFL Championship final in Regina