We are hearing that Surrey's Juvraj ("Juvy") Kooner (2002) who raised on the soccer pitch in Surrey recently signed to play in Portugal pro club with S.C. Braga.
He was born in Vancouver that saw his Family move to Surrey when he was in Grade 2.
He was at his home in  Newton under Quarantine over the holiday's and will return to Braga after the holiday's.
There was a video posted to the Lank Football Club channel on YouTube, documents his (Kooner) signing to S.C. Braga where the team plays in the Primeira Liga, which is Portugal's top soccer league. 
The facility is home to some 30,000 seats at Estádio Municipal de Braga and it's fair to say that he is impressed with the arena.
The video sent out begins with a Scout named Tanou talking as well as S.C. Braga's Technical Director, Hugo Vieira.
I am told hearing that the video was done this past October and not released until the signing and told that he was told to keep it quiet, which he has done.
Kooner signed a three-year contract with S.C. Braga and mentioned to the media "People started slowly finding out, people close to me, and now it's out there."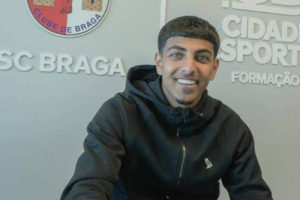 Kooner plays the role of central defender with Surrey United in the BC Soccer Premier League prior to August 15th when he joined the Whitecaps FC residency program according to a bio on whitecapsfc.com.
He attended Grade 8 at Tamanawis Secondary then moved on to Burnaby Central attending  the Whitecaps program, but  graduated from Burnsview Secondary in North Delta.
He studied online for a year while playing in Sweden before Kooner, who turns 19 on Jan. 2, first met with a Lank Academy rep in Toronto while at a showcase with Canada Soccer, he said.
Kooner mentioned "An agent there from Sweden was looking to start an academy to promote players from Canada and send them on to Europe." 
He continued "He saw me play and then talked to me afterwards – it's an academy that moves players on to the next platform."
"I was in Lank Academy the season before, in a tournament against Braga, and that's where they saw me play, and they've been watching me since then. And this season they decided to sign me.
Kooner mentioned "I was supposed to sign last year but then I tore my ACL, but that was a tough blow but I just kept in touch with them, and Lank kept in touch with them and provided everything I needed. The rehab went really well and yeah, it was exciting to finally get the chance to sign."
He is required to quarantine for another couple of days here, and then I'm leaving around January 10th, for training and while the season has yet to start he's still playing with the U19s and U23s."