With virtually all sports on hold with the exception of pro sport it's important that the governing bodies of amateur sport keep everyone up to date with the on-goings of what they are offering.
Whenever we ask anyone about sporting events it's fair to mention that everyone has a different answer as to what will be happening for their sport with many telling me "there is simply not enough communication from the Government to let the families know" and that is very valid.
Many of our National teams are doing a great job keeping us informed, but locally – yes even in BC the info coming out for all minor sports groups and/or organizations is non-existent with everyone having a different understanding.
So in light of the above I have received the following press release from Canada Soccer letting us know what is happening with the Women's National Team.
Enjoy the read!
Canada Soccer have announced the Women's National Team roster ahead of a two-week preparation camp leading into the 2021 SheBelieves Cup presented by Visa. 
The pre-competition camp will provide Canada's players who are currently out of season an opportunity to connect on the pitch before the four-team international tournament kicks off Canada's 2021 season in the build up to the Tokyo 2020 Olympic Games.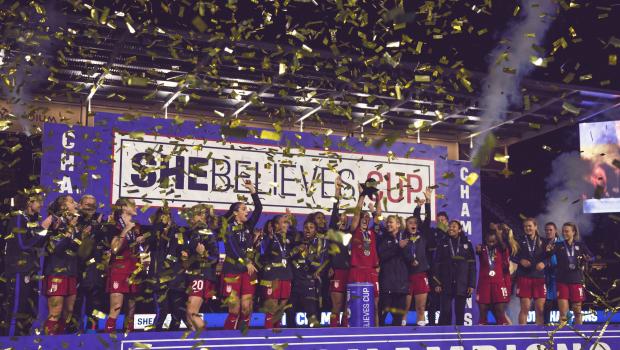 Canada's final 23-player roster for the 2021 SheBelieves Cup will be released in the days leading up to the opening match.
The international tournament takes place 18-24 February at Exploria Stadium in Orlando during the upcoming FIFA international window. 
Canada Soccer will continue to closely monitor all COVID-19 developments in consultation with the Public Health Agency of Canada and relevant governing bodies through the Canada Soccer Sport Medicine Committee.
"The pre-competition camp is designed to provide any players not in season with the chance to get in valuable preparation heading into the SheBelieves Cup," said Bev Priestman, Canada Soccer's Women's National Team Head Coach." 
She continues "It also provides us with an opportunity to see where players are ahead of selecting our final 23-player roster for the SheBelieves Cup. The tournament will provide us with a great platform to start our short journey towards the Tokyo 2020 Olympic Games, where we can introduce some new concepts and operate in a tournament setting which replicates the schedule of an Olympic tournament. We're all really excited to get together and get to work as well as to see some new faces among the squad." 
Canada is scheduled to face the USA, Japan, and Brazil at the sixth edition of the international tournament. All four nations competing in the 2021 SheBelieves Cup reached the knockout phase of the last FIFA Women's World Cup France 2019™ and have all since qualified for the 12-nation Tokyo 2021 Women's Olympic Football Tournament.
The Canada camp features a mix of established veterans and young players, including 5 players who have earned their first-ever call up to the Women's National Team. 
Veterans include the world's all-time international goal-scoring record holder Christine Sinclair, and two-time Olympic bronze medalists Diana Matheson, Desiree Scott, and Sophie Schmidt with goalkeeper Erin McLeod earning her first call-up since returning from injury in 2019.
The roster also includes the two most recent Canadian Players of the Year Kadeisha Buchanan (2020) and Ashley Lawrence (2019), as well as the most recent Canadian Youth International Players of the Year Jade Rose (2020) and Olivia Smith (2019).
Rose took part in two camps with the Women's National Team but is one of six players that has yet to make their first international "A" appearance. Other potential debutants are Evelyne Viens of Sky Blue FC, Bianca St-Georges of Chicago Red Stars, Jordyn Listro of Orlando Pride, Rylee Foster of Liverpool FC and Samantha Chang of University of South Carolina.
The Canada camp will also feature goalkeepers Stephanie Labbé and Kailen Sheridan; centre backs Vanessa Gilles and Shelina Zadorsky; fullbacks Gabrielle Carle, Allysha Chapman, and Jayde Riviere; midfielders Jessie Fleming, Julia Grosso, and Quinn; and forwards Janine Beckie, Jordyn Huitema, Adriana Leon, Nichelle Prince, and Deanne Rose.
OLYMPIC MEDAL WINNERS & CONCACAF CHAMPIONS
Canada are two-time Olympic bronze medal winners (2012 and 2016) and two-time Concacaf champions (1998 and 2010). 
In all, Canada have participated in seven consecutive editions of the FIFA Women's World Cup™ (1995 to 2019) and three consecutive editions of the Women's Olympic Football Tournament (2008 to 2016). 
At Rio 2016, Canada Soccer's Women's National Team were the first Canadian Olympic team to win back-to-back medals at a summer Olympic Games in more than a century.
Canada Soccer's Women's National Youth Teams, meanwhile, have won four Concacaf youth titles: the 2004 and 2008 Concacaf Women's Under-20 Championship, the 2010 Concacaf Women's Under-17 Championship, and the 2014 Concacaf Girls' Under-15 Championship.
Canada have qualified for seven editions of the FIFA U-20 Women's World Cup (including a silver medal at Canada 2002) and all six editions of the FIFA U-17 Women's World Cup (including a fourth-place finish at Uruguay 2018).
CANADA
GK – Rylee Foster| ENG / Liverpool FC
GK- Stephanie Labbé | SWE / FC Rosengård
GK – Erin McLeod| USA / Orlando Pride
GK – Kailen Sheridan | USA / Sky Blue FC
CB – Kadeisha Buchanan | FRA / FCF Olympique Lyonnais
CB – Vanessa Gilles| FRA / FC Girondins de Bordeaux
CB – Jade Rose| CAN / Super REX Ontario
CB – Shelina Zadorsky | ENG / Tottenham Hotspur
FB – Gabrielle Carle| USA / Florida State University
FB – Allysha Chapman | USA / Houston Dash
FB – Ashley Lawrence | FRA / Paris Saint-Germain
FB – Bianca St-Georges| USA / Chicago Red Stars
FB – Jayde Riviere | USA / University of Michigan
M – Samantha Chang| USA / University of South Carolina
M – Jessie Fleming | ENG / Chelsea FC
M – Julia Grosso | USA / University of Texas at Austin
M – Jordyn Listro| USA / Orlando Pride
M – Diana Matheson| USA / Kansas City NWSL