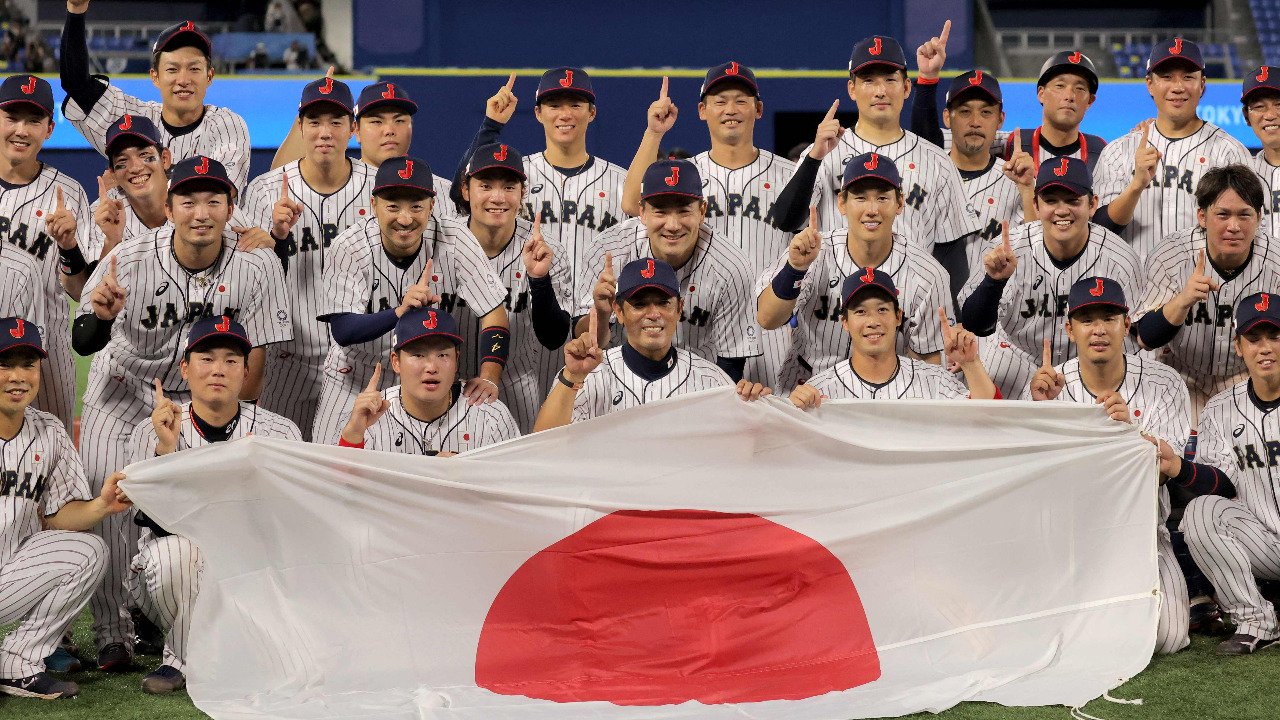 Credit: AFP Photo
Players from Team Japan ran to the mound and hoisted their manager beaming when Gold medals were placed around their necks.
This along with the sense of personal pride in the 2-0 Gold medal championship win over the US, knowing that they completed their overall goal with the first Olympic baseball title in the history of Japan.
Watching the final it was as if the American players weren't too frustrated considering the fact that they released prospects, veterans and some career minor leaguers from the rosters.
Munetaka Murakami (21) was Japan's youngest player in their starting lineup and managed to hit an opposite-field homer over the 16-foot wall in left-center on a 2-2 pitch from Martinez (1-1) in the third. .
"I thought we had him set up nice for a changeup there," Martinez said. "Just a nice piece of hitting,"
Japan also managed to add an unearned run in the eighth after Tetsuto Yamada singled in a game that saw 23-year-old right-hander Masato Morishita was stingy giveing up three hits over five innings, struck out five and walked none.
Kodai Senga, Hiromi Itoh, Suguru Iwazaki and Ryoji Kuribayashi finished a six-hitter, and the Japanese men (5-0) matched the accomplishment of the women's softball team, which upended the Americans by the same score, for their second straight gold medal.
Former All-Star and batting champion, Japan manager Atsunori Inaba mentioned "the medals seemed shiny and felt heavy."
He was very proud the Samurai showed off their brand of baseball, which we are told relies on defense, bunting and advancing runners, but in defeating the American variety dependent on power and increasingly dominated by the Three True Outcomes: home runs, strikeouts and walks.
Japan defeated the US twice in six short days, while rallying August 2nd in the ninth and winning 7-6 in 10 innings.
Scioscia told the media "Our team played really under such different circumstances than they usually face back i0n the States in a normal season and every game was a Game 7,"
Several hundred people who appeared to be team staff and Olympic volunteers cheered on the host nation in a largely empty 34,000-capacity Yokohama Stadium, some wearing orange Japan jerseys and matching facemasks on the warm and humid night.
Interesting to note that it was America that introduced baseball to Japan in 1872, finishing 4-2.
Teams were denied access to all 40-man roster players and many eligible top prospects by Major League Baseball and its clubs, putting a stop with other countries whose top players are in MLB.
Baseball was contested in the Olympics for just the sixth time, with the first dating back to 2008 and was restored at the request of Japan as the host nation.
With the Olympic body constantly changing sports every four years, we are hearing that it already has been dropped for the 2024 Paris Games; but could possibly return for 2028 in Los Angeles and 2032 in Brisbane, Australia.
"Baseball is played in so many countries around the world and it continues to keep growing," Scioscia said. "And I think that it's an incredible oversight not to have baseball included as a perennial sport in the Olympics."
To no surprise the American pitchers led the Olympics with a 1.58 ERA to Japan's 2.28, while US batters hit .236, which was below Japan's .287 and South Korea's .302.
The US stranded nine in the Gold-medal game and were hitless in four at-bats with men in scoring position.
Frazier hit .143 (3-for-21) with one RBI and fell short in adding gold to the Little League World Series title he won with Toms River East American in New Jersey in 1998.
Second baseman Eddy Alvarez became just the third American and sixth athlete overall to win medals at the Winter and Summer Games.
He was hoping to take home Gold but went 6-for-24 allowing three RBI's which equaled the silver he earned as a speed skater in 2014.
"It's a tough pill to swallow when you're so close to winning and you fall short, but at the same time it's one of those things that I know will hit me eventually, of how incredible and blessed I am to be a part of this."
Japan's Masahiro Tanaka got to beat his former New York Yankees teammates, Frazier and Tyler Austin. Frazier asked the pitcher for a Japan team pin.
"It is kind of a strange feeling," Tanaka said through a translator.
Following the initial celebration, all of Japan's players lined up on the third-base line and bowed to their supporters, then to the US team.
Japan's baseball players and coaches pose for a family photo after their victory during the Tokyo 2020 Olympic Games baseball gold medal game between USA and Japan at Yokohama Baseball Stadium in Yokohama, Japan.