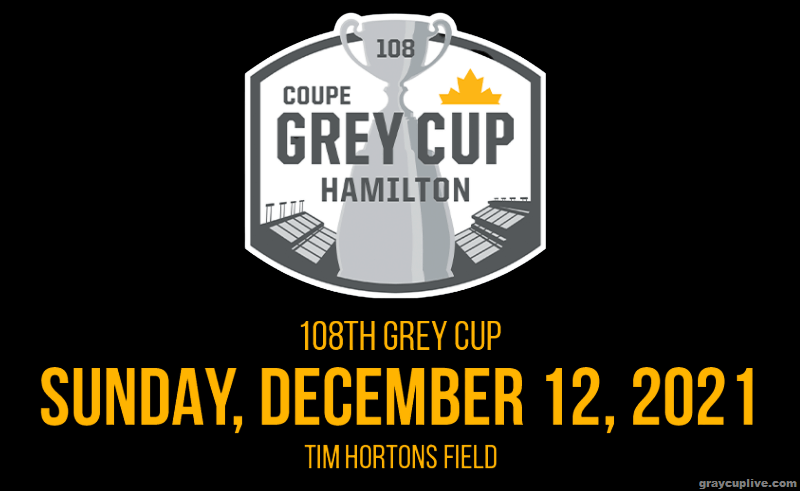 Photo Credit CFLGreyCup.com
After the long extended CFL regular sseason as well as division finals; this year's final while being played in Hamilton at Tim Hortons Field see the hometown Tiger Cats play host to defending champion Winnipeg Blue Bombers
Hamilton solidified their place in this years 2021 Grey Cup Championship with a 27-19 win over the Toronto Argonauts in the Eastern final, now setting their sights on the defending League Champion Winnipeg Blue Bombers. 
The Bombers advanced in a heated match-up against their rival Saskatchewan Roughriders by a margin of 21-17; and while the weather was cool, tempers were heated more than on one occasion.
The West final was nothing more than a game of turnovers, fumbles filled with momentum swings that was dominated by Bombers Andrew Harris who was playing in his first game back from an injury.
This game saw a total of six turnovers for the Riders while allowing three interceptions, while Bombers Zach Collaros nailed 17 of 21 passes for 229 yds as well as one TD which included three interceptions, while Cody Fajardo completed 19 of 27 passes for 265 yds and one TD.
This year's championship will be the first since Covid-19 with the last championship played November 24th, 2019 that saw the Bombers defeat Hamilton by a 33-12 margin that was played at Calgary's McMahon Stadium
The Bombers finished the regular season with a record of 11-3 -0 after an O/T win over Calgary by a 33-30 in the semifinal match-up.
The Tiger Cats finished second in the East in the regular season play with a record of 8-6 in 14 games advancing against the Alouettes in the east semifinal pulling out a 23-12 win 
Hamilton's last Grey cup win came November 28th 1999 pulling out a 32-21 win over the Stampeders in front of 45,118 fans at BC Place in Vancouver.
Grey Cup Statistics
The Bombers defeated Hamilton at McMahon Stadium in 2019 in front of 35,439 fans making this the clubs first title since November 25th 1990 with an impressive 50-11 over the Eskimos.
Grey Cup Records in the championship game attached Canadian Football League (CFL) Grey Official Kickoff is 6:30 EST and 3:30 PST in Vancouver
Halftime is the Canadian group the Arkells