Back in 2018, I interviewed ultra runner, Shanda Hill for The Record, on overcoming extreme obstacles after recovering from a traumatic brain injury. 
It was May 9, 2003, when Hill, the 21-year-old national-ranked BMX racer was riding her bike to Silver Star Mountain in Vernon, B.C., and was struck from behind by an SUV. Hill had suffered physical trauma throughout her body, as well as her brain injury.  
She's since made a successful comeback, having reached the pinnacle of women's Ultra Triathlon in 2017.  
Fast forward, Hill now 38 and mother of 15-year-old son Tyrese, gave an update over the phone from Vernon for our Q&A. 
She talked about staying motivated during the Covid-19 pandemic, her passion for extreme distances, and cross training on a paddle-board with each of her five goats… on a rotation basis. That's confirm; Shanda on paddle-board with goat.
When did your passion begin for long-distance running?
A: I had felt a little lost since my accident in 2003, a few girls at the gym (in 2010) were training for a half marathon and were going to run it that coming week; I decided if they could do it, I could too. I did
t have half a clue about running but managed to rope my Dad into signing up to race it with me; we survived it and finished… that year in the six months of the summer racing season I signed up for every race I could find in B.C. and Alberta.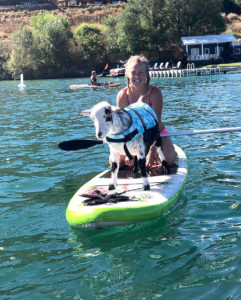 Q: What drives you to be successful in running extreme distances?
A: I feel all of the difficulties I have faced in life have refined me over the years and made me tenacious, approaching sport with a sense of gratitude just for being able to be out there competing is one of the reasons I believe I have been successful.
Q: What tips would you give to others who would like to train for these types of distances?
A: I can only tell you what has worked for me but if I could say one, it is less can be more, not over training but putting everything into shorter, concentrated workouts; for example, rather than doing swim specific training, 
I'd go to the gym and climb peg board a lot to prepare my shoulders for the beating I was going to take on the 76 km swim at the Double Deca.
Q: How important is nutrition and sleep?
A: Having had a TBI, Trauma Brain Injury, my biggest struggle in continuous competitions is sleep; I need more then most athletes so I've learned to work around it, sleep more but force higher output in the hours I'm awake.
I've watched poor nutrition take many athletes out of races over and over, if you don't have good nutrition or are self aware at all times as to what your body needs, you are bound to end up on the sidelines quickly!
Q:  What is next for you?
A: I want to go back and smash my previous Double Deca time! And complete 10 Decas.
In November 2019, Shanda did an ultra-triathlon as in 20 Iron-mans. 
She says, you have 28 days to complete it. The swim is 76 kms, bike, 3600 kms and the run is 844 kms. 
Hill swam, cycled and ran 4,520 Kilometers, and she became the first Canadian to finish in this event in Leon, Mexico.
Q: How do you stay motivated during COVID-19
A: Sometimes I'm not motivated at all so I get back to the gym with my son, who is more motivated then me, and I paddle-board with my goats. 
All of the goats go on the paddle-board and I rotate the goats depending on which day the goat hasn't been out. 
It is good for me and it is good for the goats to be out on the water and they all quite enjoy it.
In our conversation, she mentions it is really cute when people paddle over and want to pat the goat. Shanda has five goats and also plays piano with the goats.
Q: Anything else you'd like to add?
A: Never give up; we are not defined by flat paved roads in life. 
It's climbing the highest mountains and not giving up halfway there that allows us to not only see the views but enjoy the downhills we worked so hard for.
Thanks to Christine Blanchette for our weekly Fitness Friday features and be sure to follow her on Youtube as well as Twitter.
Stay Safe and enjoy the long weekend!!