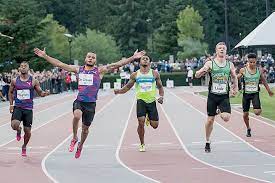 Photo Credit D. Laird Allan/Sportswave
Records can be set and some are hard to overcome, but Andre DeGrasse had one focus and that was bringing a Gold medal home as he represented Canada at the 2020 Tokyo Olympics.
His journey wasn't the easiest as he has been plagued with injuries over the past while, but injuries aside, winning Gold puts aside any pain he might be feeling.
The drought is over and it has taken nearly a century since a Canadian won Gold in the featured 200-metre race, but Andre De Grasse did. 
The Men's 200 metre final was early for those who were up watching this feat unfold and while we have watched other athletes win Gold, this one seemed extra special for Canada.
We have watched him run in recent years in Burnaby at Swangard Stadium at the Harry Jerome Track Classic hosted by Doug and Diane Clement that has attracted world class athletes.
Scarborough Ontario's Andre DeGrasse (26) ran his signature race managing to find "his extra gear" on the track while teammate Aaron Brown also qualified.
Andre DeGrasse (94), Aaron Brown (92), Toronto, Ontario
Canadian Andre DeGrasse running his signature race, finding that extra gear at the end to capture.
His PB of 19.62 gave him the Canadian National record and first place and if you remember DeGrasse won silver in 2016 Rio coming 2nd to the Jamaican super star Usain Bolt (19.78). 
This year's 200 meters was his alone to lose and he went out and did it in his style.
We are proud of him and all on the Canadian team who are representing our country
and themselves.
He won with an exceptional time of 19.62 seconds managing to break the Canadian record he alone set just a day before in the semifinal.
Kenneth Bednarek of the US came second clocking a time of 19.68, while fellow American, Noah Lyles clocked 19.74 won Bronze.
The top three runners all ran PBs.
Congrats to Andre