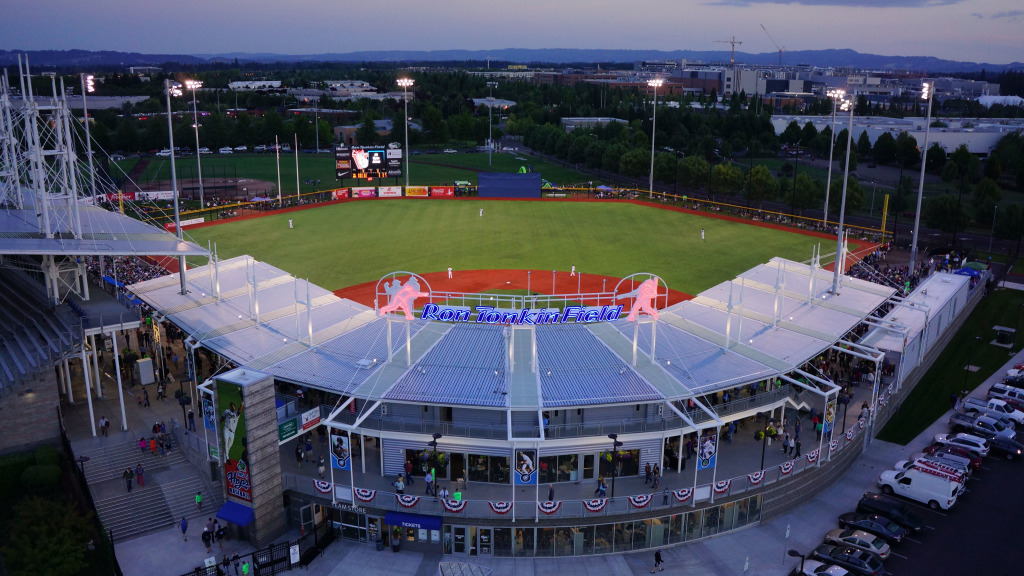 Photo Credit Vancouver Canadians Baseball
Everyone longs for the return for all sports in the lower mainland and look forward to the day when we can sit in the stands without a mask enjoying the day with family and friends.
While the BC Lions and the Vancouver Whitecaps FC recently played at BC Place in front of a sparse crowd of just over 11,000 we are looking forward to the return of the Vancouver Canadians to the Nat.
Adding to the frustration of attending sporting events this is the time of the year when parents are busy purchasing school supplies, which can be purchased at Staples in Delta for their youngsters, many of whom are eagerly awaiting the return.
Let alone the frustration of this we are now hearing through a press release was sent out to the media from the Vancouver Canadians that all remaining games will unfortunately be played in  Hillsboro.
The following is the press release sent out byTeam President Andy Dunn who will add additional information regarding the upcoming 2022 season in the next while.
From the C's
The Vancouver Canadians announced today that the remainder of the 2021 season will be played in the team's "home away from home" at Ron Tonkin Field in Hillsboro, Oregon.
The team's return to Nat Bailey Stadium has been pushed back to the beginning of the 2022 campaign.
Canadians President Andy Dunn mentioned "As we all know, 2021 has been challenging for everyone both personally and professionally, however, we have been fortunate to be able to start and now finish our season in Hillsboro."
He continued "The safety for our players, staff and fans remains our number one concern. Coupled with the fact that our season will conclude in less than 30 days, we have made the tough decision to finish the 2021 season in Oregon."
The C's were originally displaced by the closed Canadians-American border and, in concert with the Hillsboro Hops, the City of Hillsboro, and others, moved their in-season operation to Oregon's Tualatin Valley in the spirit of returning Canadians Baseball to action after nearly 18 months away from the field.
Despite the team's inability to return this year, the 2022 campaign is already coming into focus.
"Our staff have already begun the process of planning and developing what will be an exciting and memorable return for baseball and The Canadians to Vancouver and Nat Bailey Stadium beginning in April for our 2022 full season," Dunn continued. "We look forward to welcoming each and every one of our fans back home to The Nat in 2022."
For more information about the remaining schedule this season or the status of season tickets, group plans and sponsorship opportunities, please call the front office via (604) 872-5232.
Individual tickets for remaining home games all of which are being played in Hillsboro are available now at CanadiansBaseball.com.
Tune in and listen to all upcoming games with full coverage on AM650