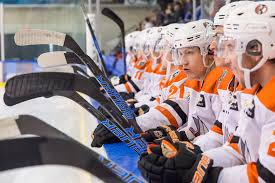 Realistically speaking it was only a matter of time that Wes Mussio would put the Nanaimo Clippers on the market mainly due the recent move to Florida.
Wes and Penny purchased the Clippers and underwent major changes to the team as well as the rink which in the long run will benefit the new owners.
The sale had been the topic of conversation around the hockey world a while with everyone speculating who the new owners might be.
Now it's official with the BCHL League Board of Governors releasing a statement that the sale of the franchise to Northern Lights Hockey Canada.
Headed by Brad Kwong, Northern Lights Hockey Canada is an investment group which is a Western-Canadian born investment professional as well as a player, executive and team owner.
He is a former NCAA Division I captain at Harvard and also heads up the group which owns the USHL Dubuque Fighting Saints as well as the former Chairman of the USHL's Board of Governors.

Kwong mentioned "The BCHL is a leader in junior hockey and we have been very impressed with the strategic plan the league and board members have in place to take things to even greater heights."
He continued "We're excited to be a part of that plan and, with our staff, we hope to establish the Nanaimo Clippers as one of the preeminent junior hockey franchises in all of North America."
The sale was unanimously following last week's vote and we are hearing that Northern Lights Hockey Canada will assume team ownership immediately.
Chairman of the BCHL Board of Governors Graham Fraser.mentioned "The Nanaimo Clippers are one of the league's most storied franchises and with their rich tradition already in place and a new ownership group coming in, we are excited to see what's in store for them in the coming years."
This past season saw the Clippers win 12 straight playoff games, putting them on route to a Coastal Conference title and the league final.
Their roster had 13 NCAA Division I committed players and dating back the Clippers are one of the longest-running BCHL teams and just celebrated their 50th anniversary. The franchise has won the Fred Page Cup five times with the last being in 2007.
The Clippers will host an event in July where fans, sponsors, media and other key stakeholders can meet with new ownership and Clippers staff.
Wes has been critical of the actions of the current NDP Government mentioning that while the NHL was allowed to start up other leagues such as the BCHL and WHL have been put on hold.
I want to personally thank Penny and Wes for assisting me in various areas in the past and wish them all the best moving forward.
One question I was asked is "Will they purchase a team in Florida, but that remains to be seen.