Three games in four days tends to lead to something between various players and this game was no different than what we have come to expect.
In conversation with various individuals prior to the game the consensus was that we should expect a physical game between two rival Canadian teams.
Given the play of the Canucks two night's prior with a 7-3 loss you knew that they would come out with much more jump than the previous game or that is what the coaching staff is hoping for.
To no surprise given the recent struggles Canucks young star Elias Pettersson was the last one to leave the ice for the pre-game warm-up no doubt in hopes of getting himself out of what some are calling a slump.
Both clubs started what could be considered their number one "tender"as the Canadians started Anahim Lake Carey Price who has played 40,418 minutes through 685 games.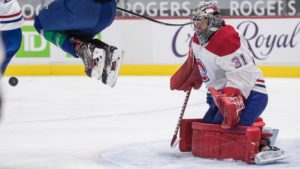 Vancouver started Lloydminster Saskatchewan's Braden Holtby who entering today's game has played 471 (27,014 minutes)
Despite being out-shot the Canucks had a variety of chances to get even on the board, but Price was up to his usual stellar self playing strong between the pipes.
After one period the Canucks were out-shoot as Montreal doubled up on them by a 10-5 margin after one period.
Vancouver came out with more jump to start the second, but continued to be hounded by the strong offense Montreal threw at them.
The new look NHL has not only fans confused, but also the players with what many call "soft penalties" for infractions like slashing, hooking and interference to name only three.
With the Canucks the only game in town, they are looking at rebounding off their current "skid" and at least take the rubber match in the three game series, but try as they might the Canadians are simply outplaying them.
Despite the aggressive play of Vancouver, for whatever reason their play lacks the aggressive and physical style we are used to seeing from past games.
Simply put from some, there is no physical play and no urgency and when it's not going the way you want, mistakes continue to grow and grow.
You can sense the frustration of Holtby when watching his body language after poor end zone play, which according to some continues happen far too often.
The Canucks had several chance in the second, many from far out and at least go even with the Canadians in the shot department each having eight for a two period of 18 for the Habs and 8 for Vancouver that saw the Habs out shooting Vancouver by a 18-13 margin 
Vancouver came out with much more jump in the third and managed to get the first of the period and first of the game at 3:50 that saw Pettersson get his first of the season with helpers going to Boeser and Benn.
To the shock of Montreal, the Canucks continued to press and got their second of the game at 6:08 with Hoglander getting his second of the season with Horvat and Schmidt each collecting an assist tying the game at two.
Just  as the Canucks had their sights set on a possible win, Montreal popped one in only to have  Vancouver use a coaches challenge on a possible off-side.
After a short review the officials determined the play was on-side, so Vancouver was issued a minor for delay of game, which shocked everyone in the media booth.
Montreal's third goal was simply enough and they allowed them to march in and get their fourth at 12:44 with Drouin putting them up by two.
For some they might question this, but no one has more questions than the players and coaches alike, which seem to add to their frustration level of play.
With time against them and Holtby pulled for the extra attacker, Montreal grabbed possession of the puck 40 feet inside their blue-line Montreal's Edmundson got possession and drifted one down the ice only to land in the open net putting them up by a 5-2 margin.
Vancouver has a chance to regroup with a day off followed by a three game series against Ottawa with games Monday (7 pm), Wednesday (5 pm) and Thursday with the face-off set for 7 pm.
Say what you will, it's time for the leaders to step up and have a heart to heart talk with the players as they move forward.
Final shots in the game saw Montreal out-shoot Vancouver by a 33-25 margin, which is an area Vancouver needs to improve on.