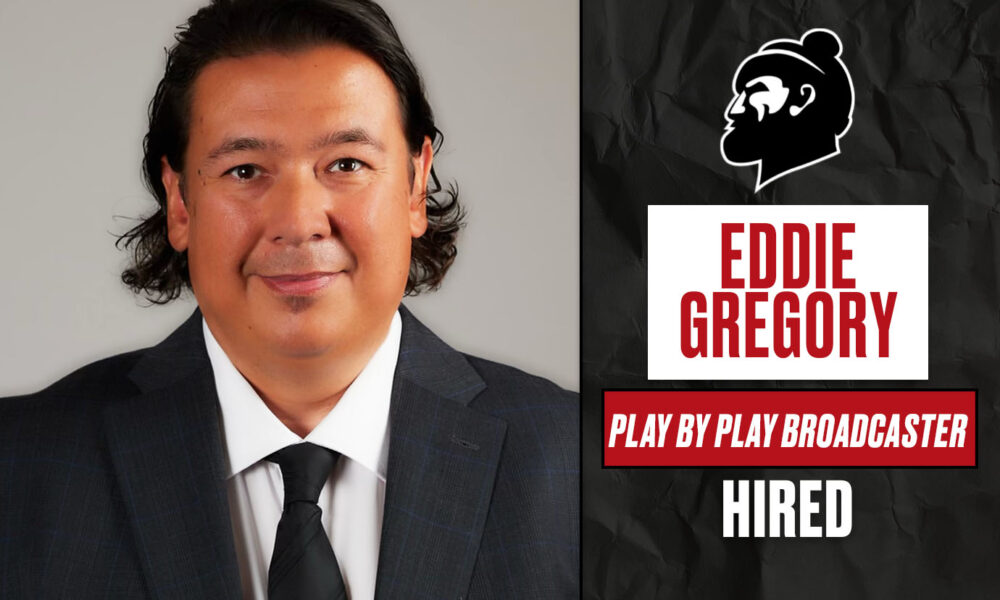 Photo Credit Vancouver Giants
Given the recent departure of Dan O'Connor from the broadcast booth to UBC the Vancouver Giants were searching for someone to take over the mic duties.
There is no doubt that the one sitting in the chair next to broadcast veteran Bill Wilms will be one who has an understanding of the game.
The search was on and no doubt there were probably many who felt that they can take on the task, but whoever it would be will have a workload of duties.
I am pleased to mention that good friend and former Columbia Academy student Eddie Gregory (40) will be the one taking over the duties.
The past seasons he has been the voice of the Coquitlam Express for the past 16 seasons and has learned much from the first time he was behind the mic.
Learning is something that no broadcaster can ever stop and the day he or she feels they know more than they actually do, it's time to take up another job.
Learning is an on-going job, but along with that they must have a passion for the game and I remember hearing Jim Robson saying "Your are the eyes of the listener and it's important to be able to convey this to them."
Jim was a true professional and took his skills from his early years of broadcasting baseball to having the broadcast booth named after him at Rogers Arena.
I spoke to Eddie in the parking lot at the Ladner Leisure Centre when we were both entering the rink for day two of the Vancouver Giants Training Camp and he was like a "kid in a candy shop."
Personally I'm excited for Eddie on new venture and mentioned that if he needs any assistance I along with others are here to help him – it's a journey and he's not alone.
Vancouver Giants VP, Operations Assistant GM Peter Toigo mentioned "Eddie is an experienced and well-connected individual in the Vancouver sports media scene; we feel that he will be a great asset as the voice of the Vancouver Giants organization."
Eddie Gregory adds, "I'm really excited to be making the jump to the Giants and the WHL. I'm grateful to the Coquitlam Express for my time with them to develop my passion and take this next step in the hockey ladder."
He continued "It's a great honour to follow in the footsteps of my friends Dan O'Connor and Brendan Batchelor here with the Giants. I'm eager to get going real soon."
Jamison Derksen has now been promoted to the role of Director of Media Relations.
In addition to hiring Eddie they released the following press release
Giants Hire Seabrook
Giants GM Barclay Parneta announced today that Brent Seabrook (Delta, B.C.) will be joining the Vancouver Giants as a Player Development Coach.
Seabrook debuted as a Western Hockey League coach during a stint this past season assisting Keith McCambridge behind the bench while Michael Dyck was away at the World Juniors.
"We are pleased that Brent is returning to the Giants this season," said GM Barclay Parneta. "His experience in the game is incredibly valuable and his input can have a massive impact on our culture."
Brent Seabrook won three Stanley Cups in Chicago (2010, 2013, 2015) and served as an alternate captain for five seasons.
He scored 103 goals and 361 assists for 464 points in 1114 career NHL games with the Chicago Blackhawks adding 20 goals and 39 assists for 59 points in 123 playoff games.
During his junior career, he played parts of five seasons with the Lethbridge Hurricanes of the Western Hockey League.
Seabrook managed 176 points in 264 games and was selected 14th Overall by the Blackhawks in the 2003 NHL Draft.
"I'm excited to rejoin the Giants after getting involved last season," adds Brent Seabrook. "I look forward to sharing my experiences with the players and helping develop them as players, and as individuals within the Giants organization."
Seabrook also wore the maple leaf for Canada six times in his career and medalled five times – three Gold Medals (2010 Winter Olympics, 2005 World Juniors, 2003 World Under-18's) and two Silver Medals (2004 World Juniors, 2001 World Under-17's).