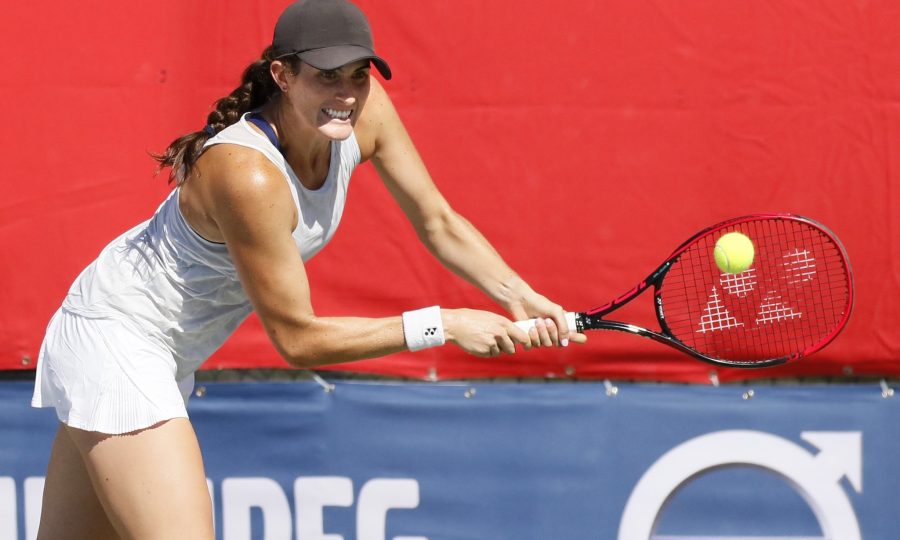 Photo Credit Odlum Brown VanOpen
The Odlum Brown no sooner wrapped up with the attention turning to the US Open being played in front of record numbers.
Canada's Rebecca Marino has a stellar showing in the first two rounds but was eliminated from further play following the 6-2, 6-4 loss.
China's Zhang Shuai was trailing 2-1 in the first set but shocked Marino by winning the next five games that had many wondering what went wrong?
Zhang with up 5-2 in game 7 then managed to convert her set point on the serve in the deciding game managing to go up 2-0 in the second set.
She got her match point in a match that took one hour and three minutes managing to stop Marino three times on eight chances moving on to face either Madison Key's and Coco Gauff, both of the US.
Marino is only competing in the third round for only her second time in her short career, noting that this is her first since the 2011 French Open.
The Men's side will see Richmond Hill Ontario Denis Shapovalov (23) advancing to the third round following a 6-4,4-6, 6-3, 6-2 win over Roberto Carballes Baena.
He managed to hammer 11 aces winning 66 % of his first serve points getting through the third set winning four of the five final after the match was tied at two.
If you want to catch tennis at it's best tune in and catch the action, you won't be disappointed.
It is worth mentioning that Rafael Nadal cut himself after his racket bounced off the ground hitting him and cutting him on the nose after a long shot.
The match was delayed for roughly 5 minutes which was listed as a medical timeout in the fourth set which saw him go on to win by scores of 2-6, 6-4, 6-2, 6-1 against Fabio Fognini.
Following the match he was asked if he had ever had that happen before and he smiled mentioning "With a golf club but not with a tennis racket."
Nadal has won four of his 22 Grand Slam titles at the US Open with the most recent being in 2019/
Showing how frustration can get the better of anyone Ukrainian player Marta Kostyuk refused to shake hands with Victoria Azarenka after the three-time US Open runner-up from Belarus defeated her in a match at Flushing Meadows.
Poor display of sportsmanship or in this case poor display of sportswoman-ship, which does nothing to show today's youth how a loss should be treated. Sad!!
All matches are played at the Arthur Ashe Stadium