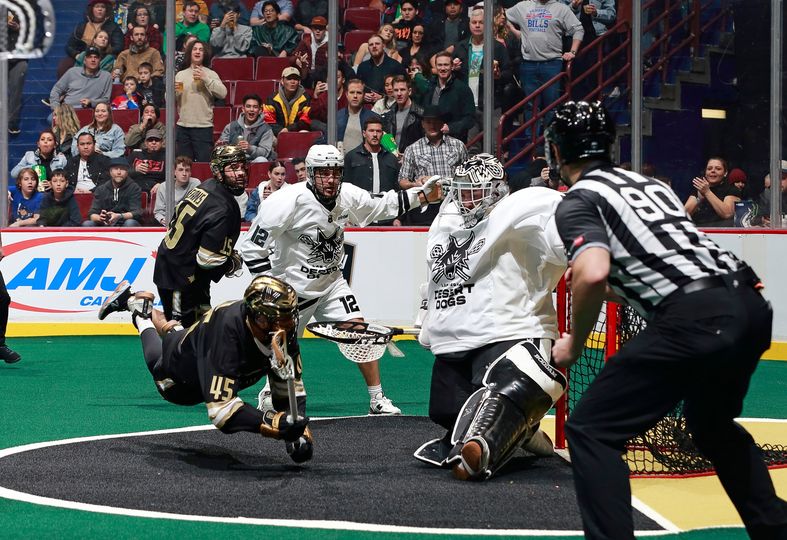 Photo Credit Warriors FB Page
The Warriors enter the game in desperate need of a win playing the league's newest expansion club the Las Vegas Desert Dogs in front of 8,483 fans.
Despite the "heat" that has been placed on the Warriors of late one could only assume that they would come out with more jump than in past games.
Was it the fact that they are being outplayed, out worked or out coached which created early losses on the season to date, but the momentum was about to change.
One has to wonder if the Vegas owners Wayne Gretzky and Steve Nash were at the game, but no sighting yet.
So a fast start is what they were hoping for but this match saw Vegas grab the first two followed by three in a row from the Warriors given that the game wasn't five minutes old.
The visit north is the first north against the Warriors who currently have a 0-4 record that saw both teams manage a loss this past week that will see one team get their first win of the season.
Despite a 0-3 loss so far this season the Dogs have allowed the fewest shots against per game allowing 63.67 per game for their opponents.
The Dogs also have eight different players score in their last game while the Warriors continue to struggle with consistency but never say never.
Let's not forget that Delta's own Jon Phillips is dressed and playing for the Desert Dogs in tonight's contest knowing that he has family and fans in the building supporting him.
Other BC players for the Desert Dogs include Tyson Roe (Duncan), Garrett McIntosh (Coquitlam), Griffin Hall (Victoria), Conrad Chapman (Prince George), Tor Reinholdt (Port Moody) and Coquitlam's Reid Reinholdt.
In conversation with some prior to the game they mentioned that it was going to be nice to see Logan and Mitch play against Jon given that they are all friends and all from Ladner, which alone sets up a good game.
Tonight's game featured what the Warriors were calling College night in hopes of attracting either alumni or current students from either UBC, SFU or just maybe TWU.
For the Warriors one might think that changes were indeed needed given that they were up by a 14-8 after two quarters of play..
The third quarter started that looked like Vegas on a comeback grabbing a pair that had them within four only to have Vancouver get wo back taking a six goal lead by the 6:45 mark of the third.
Their 16th goal was set for video review as they felt that Jones was in the crease after making an impressive diving play from behind the net only to have the goal overturned causing questions from Mitch Jones himself.
Vegas scored their 11th of the game that saw another coach's challenge the Warriors only to have it overturned causing the Warriors to lose a timeout.
Vegas got their 12th after a bad clearing pass only to have Greer knock it down and capitalize on a Warriors mistake to get one seconds later making it 17-12 after three quarters.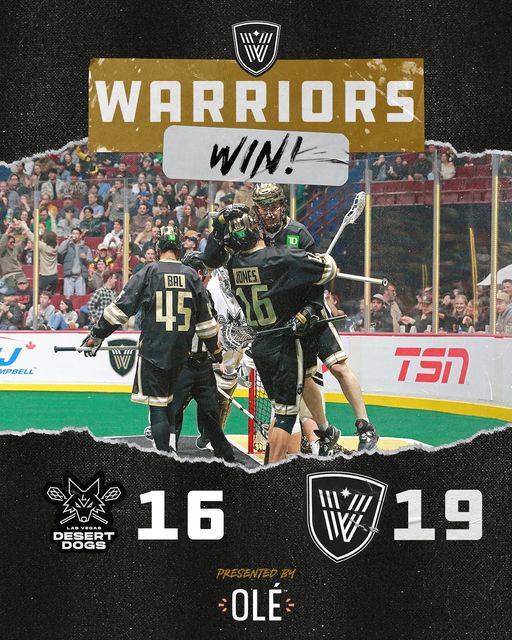 With the fourth quarter winding down it was looking like the Warriors would drop another only due to the aggressive play of Vegas that saw them pull within three given that there was six minutes remaining in the fourth.
Warriors "tender" Aden Walsh grabbed his first win as a pro, making 37 saves, some that tested him from various angles on the floor.
The win see's Vancouver climb out of the Western Conference basement with only their first win of the season and now look to pull out win number next week in Vegas with all bets on the Warriors.
The Warriors next home game is January 28th at 7 pm against Panther City followed by one February 3th against the Saskatchewan Rush..
Mark the dates on your calendar and plan on attending one of the upcoming games.
Things to ponder!!
There are NO OFFSIDES, NO ICINGS, NO FACEOFFS except after a goal and the start of each period also noting that there is a change box for line changes, which hockey should adopt.