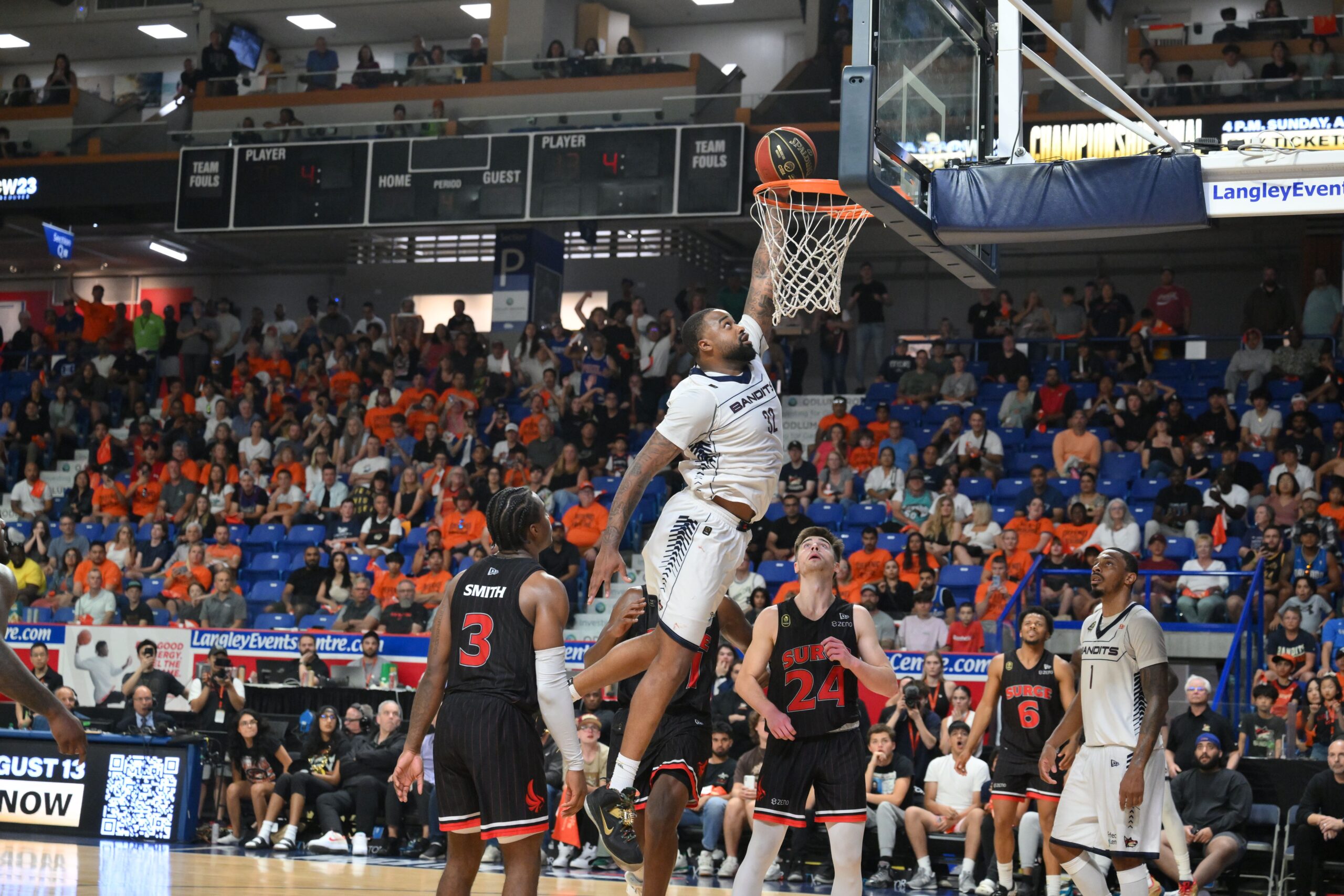 Photo Credit Vancouver Bandits
The long and winding road has come to an end for the Vancouver Bandits who fought a hard fight in hopes of advancing to the 2023 CEBL ChampionshipHeld at the Langley Events Centre in front of a sell-out crowd.
The Championship started mid-week with four teams competing for the championship but as we all know there can be only winner despite the fact that making this championship is a win for all teams and organizations.
We had other obligations to cover but we did pick it up on the replay that saw the Bandits down in the early part of the game that saw them fight back narrowly missing the win that saw Calgary win on a last minute bucket.
We got the following from the Vancouver Bandits so enjoy the read.
A slow start and a pair of late turnovers proved costly for the Vancouver Bandits as they saw their season end one game earlier than they had anticipated.
The Bandits fell 77-75 to the Calgary Surge on Friday night at Langley Events Centre in the Canadian Elite Basketball League Western Conference Final.
"I just don't think we had our best stuff today at all. Start to finish, I thought they were the aggressor, and we were just playing catchup," said Bandits head coach and general manager Kyle Julius.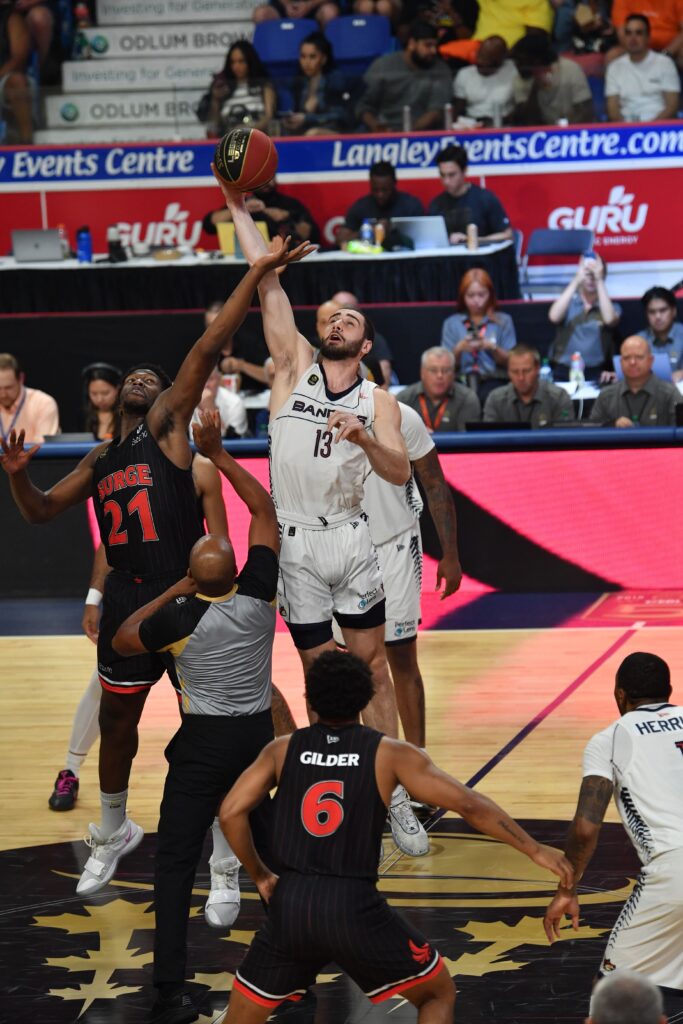 Vancouver was 8-12 in the regular season – and 2-1 against Calgary – but did win three of their final four games. As the host team for the CEBL's Championship Weekend, the Bandits were guaranteed a spot, but it meant the team went 12 days between games.
The Surge opened up a 14-5 lead in the first quarter and Vancouver was in catch-up mode the rest of the game.
"I totally expected something like that. Twelve days with no games, they are playing and practicing at game speed, it is tough to motivate a group for 12 days," Julius said. "You can only practice against yourself for so long at this time of year."
"You could tell (Calgary) had energy and motivation that we didn't have, and it makes sense (as) they played just a few days ago."
Calgary led 22-15 after a period and 38-33 at the half before the Bandits finally took their first lead in the third quarter and were ahead 53-51 entering the final frame.
The fourth quarter was back and forth with the score tied three times – including at 67 entering Target Score time – and seven lead changes.
The final lead change came with the Bandits ahead 75-74 – and after a pair of Vancouver turnovers – when Calgary's Stefan Smith sank a 3-pointer to end the game.
On the winning play, Smith caught the ball at the top of the arc with Nick Ward covering him.
"Give credit to (Ward, he was moving his feet really well on the switches when I was trying to get downhill. I think he probably thought I was going to attack him again and I just wanted to get a little hesitation and as soon as I (rose) up, I knew he was too far to contest that shot," Smith said.
It was his lone make from beyond the arc in six attempts.
"That shot is just the culmination of my hard work and my teammates and my coaches believing in me, the organization believing in me. When you have that confidence, it is not too much thinking, you just shoot the ball," Smith said.
Smith led his team with 25 points while Sean Miller-Moore and Mason Bourcier each scored 15.
Vancouver was led by Ward's 21 points while Alex Campbell had 18 points, which included five 3-pointers.
"I know he is heartbroken over that turnover, but we are not even in this game if it weren't for Alex. For a captain, in a do-or-die game, what a way to show up and make plays and make shots," Julius said.
"We knew it was going to be a battle. Veteran team, well coached. We just had to stay the course and take it one possession at a time," said Surge coach Nelson Terroba.
"We knew it wasn't going to be easy (and) Alex Campbell just went on an unbelievable heater."
Julius also spoke to the disappointment of losing in front of their home crowd and what he called a tremendous fanbase.
"I couldn't be prouder to be a part of it. An honour and a privilege to coach here and play in front of these fans. The BC Basketball community is strong. It is what every basketball community should be across Canada," he said.
"Others don't have the communal togetherness that B.C. has, it is really special. And when they come out and support you like this, it is so painful, heartbreaking, not to reward them with a win. This one will burn for a long time with our team for sure."
With the victory, the Surge will now face the Scarborough Shooting Stars on Sunday, August 13 in the CEBL Championship Game at Langley Events Centre with a 4:00 p.m. PT start time.
Championship game playoff tickets are available for purchase at this link.
Individuals interested in learning more about playoff tickets for Sunday's CEBL championship game are kindly asked to call (604) 455-8881 or email [email protected].
Can't get enough CEBL action? Season ticket deposits for the 2024 year of Bandits Basketball are now on sale.
Click here to learn more and score your seats. 
More information is available at thebandits.ca and @vancouverbandits on Instagram and TikTok, as well as @vancitybandits on Facebook and Twitter.