Gymnastics takes various twists and turns and for those setting their sights to hone their skills there is no better way in which to develop your entire body.
We hear stories from various Clubs or Associations, many of which are fabrication by some individuals clearly made up and not true.  
Gymnastics teaches today's youth various insight to develop body muscles, flexibility as well as   learn the importance of strength and conditioning which builds muscle that helps prevent injury.
It should be noted that Nutrition also plays an important role to your recovery during any injury which minimize your time away and helps  regain your body strength far faster than normal.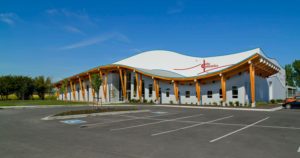 Delta is fortunate to have the local Gymnastics Club located in Ladner directly behind the Ladner Leisure Centre, home for the WHL Vancouver Giants and the PJHL Delta Ice Hawks.
The staff at Delta Gymnastics are well versed in not only teaching but training today's youth to better themselves for any future sport they wish to participate in.
The upcoming that will see four individuals from the club attend might be a life changing experience for Thorstein Fischer (Assistant coordinator – Men's Artistic Gymnastics), Gymnasts Alex Shilvock, Lucas Liu and Owen Aubey.
The two-week trip started Dec. 4 and is considered to be an experience for both culture as well as Japanese Gymnastics..
While there he (Fischer) will also be judging at the Annual Toyota International Gymnastics Competition being held in Aichi.
He mentioned in a statement "The trip is designed to increase their knowledge of Japanese culture as well as grow the athlete's understanding of how gymnasts train in other countries" also  indicating that "Gymnastics culture in Japan is huge, much larger than in Canada."
While in Yokkaichi they will group be home-stayed or billeted and will involve themselves in the Japanese culture as well as their way of life.
The four are scheduled to train at the home of world champion Floor Gymnast Kenzo Shirai located at the University Nittaidai in Yokohama.
It's reported that Kenzo Shirai has more skills than any other male Gymnast competing in the sport, three each on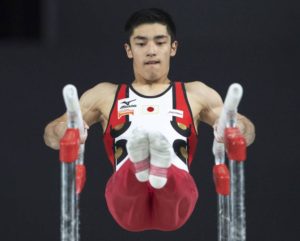 floor and vault.
Ironically all six (6) are officially named after him as he was the first to successfully complete them at a major international competition.
Aubey mentioned "We are so excited to meet him (Kenzo) and see the different styles of training as this will be important for us as we hope to incorporate new styles into our own training."
We look forward to their return and will have a full report upon their arrival at Delta Gymnastics club.
Sportswave  and our friends at Nordel Barbers wish them all the best on the "trip of a lifetime"!!!