Officiating any sports leaves questions that surround the individuals understanding of the sport, how to call the game/match and how their view can be related to being completely impartial.
Many question the judging of figure skating, gymnastics to name only two, but many parents, coaches, teams or management simply do not have an understanding of what it takes to be not only an official/judge, but also one that commands respect by being consistent with each and every call.
Now we are hearing that the International Gymnastics Federation and Fujitsu Limited have adopted and implemented a new judging support system that will be implemented at the 2019 World Artistic Gymnastics Championships.
A huge bold move for a sport that has had many questioning the impartiality of the judges, but the new system is developed by a leading Japanese technology company and it's only a matter of time if Delta Gymnastics will be given info on this new system?
They started  to work jointly with others  in 2017 to create a judging support system that is "fair and accurate" and all data was collected at the 2017 Artistic Gymnastics World Championships in Montreal.
It's  interesting to note that Canada to assist with this and it's reported that It will now be tested at a yet-to-be determined World Cup event.
The new system is supplementing the visual observations of judges by capturing the gymnasts' movements with 3D laser sensors, while also providing numerical data and if this is successful the system will be featured at the 49th FIG Artistic Gymnastics World Championships in Stuttgart Germany next year.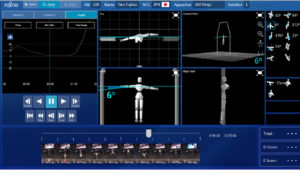 The FIG and Fujitsu have created a new partnership programme aimed to promote the deployment of the new system to all continental unions and member Federations at their competitions.
They will continue to work together to advance the use of technology in Gymnastics which will be used as performance data for Athletes and/or Broadcasting content information for spectators watching the event, in person, TV or on the web.
Fujitsu teamed up with the Japan Gymnastics Association in May 2016 to conduct research into potentially and possibility using robots to help with scoring at the Tokyo 2020 Olympic Games.
Controversy surrounded the Athens 2004 Olympic Games that prompted then-FIG President Bruno Grandi to oversee a scrapping of the "perfect 10" score.
This event saw American Paul Hamm win Gold in the Men's "all-around competition" at the Games, but only after South Korean Bronze-medalist Yang Tae-young was incorrectly given a start value of 9.9 instead of 10.0 in the parallel bars portion of the all-around event final.
The 0.1-point discrepancy by the judges dropped Yang from Gold to Bronze, that saw three of the judges suspended as a result of the error.
Let's see if this helps the sport out, or is this just a way to quiet those complaining from not being the top contender?