For Peter Butler running is his way of life and in doing so he started at the early age of 19 that saw his strides led him to compete in the 10,000 Meter race at the 1983 IAAF World Championships in Helsinki, placing 11th.
His strides have taken him to various places and the end goal was only to finish and regardless of which direction he went all roads led him into the Canada West Hall of Fame.
He set a Canadian Junior record with a time of 29:10 in the 10,000 metre at the 1977 IAAF World Junior Cross Country Championship in Germany that stood for 43 years and finally broke in 2010.
He was the Canadian champion for both the 5,000-metre and 10,000-metre races where he placed 11th in the 10,000-metre at the 1983 IAAF World Championships in Helsinki.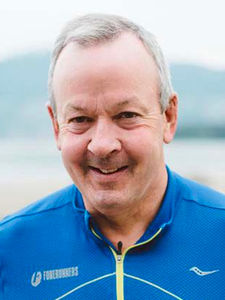 He qualified for the 1980 Moscow Olympics, but was unable to compete due to Canada taking a stand and boycotting the Summer Games.
In 1985 he changed focus and transitioned to marathon racing, winning the 1985 California International Marathon setting a course record of 2:10:56 as the second fastest marathon time by a Canadian.
Along with his Wife, Karen they founded Forerunners which is a specialty running shoe store, in Vancouver to which they expanded to having two locations.
Butler was announced as the conference's latest Hall of Famer on Friday, as Canada West runners eagerly await the return of the sport's standalone conference championship.
The CW Cross Country Championships are held in Calgary (October 26th) and for the first time in almost three decades the Canada West event.
Dating back to the early 1990s, the sport has awarded its conference champions based on results at the national meet.
His Canada West career was short lasting from 1978-80, but regardless he topped the conference each season capturing a National Gold in 1978 and 1979.
HIGHLIGHTS OF HIS CAREER
Three-time Canada West XC champion
CIAU cross country gold medalist in 1978 and 1979
Canadian junior men's record holder in the 10,000m for over three decades
Quite a feat for a career so short!!!