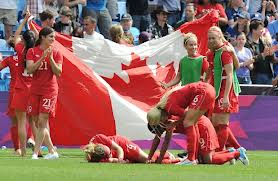 Playing in a situation that wasn't ideal and out of the running for the tournament title, Canada's Women's National Team showed a lot of character to end the 2014 Cyprus Cup on a high note.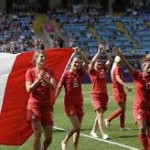 Playing against the Republic of Ireland for fifth place in the tournament as a result of going down 2:0 to England in their previous game, Canada had to dig themselves out of a further hole when they conceded a shock goal to Ireland.
Despite going up against a stiff resistance from the Irish, Canada picked themselves off the canvas and showed a great deal of resolve to pick up the 2:1 victory.
"In the second half we showed our class and I'm glad we got that goal because we deserved something," said Head Coach John Herdman. "We started brightly and they seemed to catch us like the English did."
With Ruesha Littlejohn giving the Irish the lead 13 minutes in, they were able to drop numbers behind the ball and attempt to defend for their lives in what would have been a landmark win for them in their first meeting against Canada at the senior level.
And while Canada couldn't find a goal facing a similar task against the English on Monday, they persisted and got the two goals they needed and deserved and with the amount of possession and chances they created, it could have been more.
The Irish were opened up thanks to a perfect pass from Robyn Gayle in the 56th minute that allowed Diana Matheson to get her second goal of the tournament and Matheson turned provider for Sophie Schmidt's third of the tournament in the final minute of the 90 minutes.
"The second half was phenomenal from Canada," said Herdman. "That's how we can play. We know we can play like that. I thought the girls showed that kind of passion and spirit and an ability to play the game the way we want them to play."