Montreal continued their strong play on route to Lord Stanley's coveted trophy managing an amazing comeback over the top team in the North Division. 
The Leaf's were defeated in game seven on home ice in front of over 500 healthcare workers in what many are calling a dismal finish to what was an otherwise remarkable season.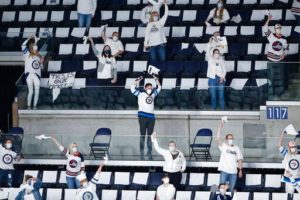 The Canadians win sees them advance to the second round taking on the Winnipeg Jets their fourth straight postseason win pulling off an impressive 5-3 win which was marred by an act of stupidity near the end of the game.
 Montreal started strong, scoring twice within a minute and forty seconds with goals by Jesperi Kotkaniemi at 3:30 and Eric's Stall goal at 5:10 jumping into a 2-0 lead over the well rested Winnipeg Jets who swept the Oilers in their opening series. 
Winnipeg's Adam Lowry got them on the scoreboard at 11:52 when he stole the puck off a Habs D-man at the Jets blueline blocking a shot going one on one beating Carey Price making it a  2-1 game. 
Montreal restored the two goal lead with 2:46 remaining in the first when Joel Edmundson and Cole Caulfield set up  Nick Suzuki who beat Jets Connor Hellebuyck  after one.
The second was scoreless but featured great scoring chances at both ends of the ice between Montreal's Carey Price and Jets Connor Hellebuyck after 40 minutes. 
 Derek Forbort pulled the Jets to within one at 9:22 but Delta's Brendan Gallagher fired a Shea Weber rebound past Connor Hellebuyck of the Jets at 11:04 making it a 4-2 Habs lead. 
The Jets continued to press getting within one making it 4-3 that saw Kyle Connor beat Carey Price from the face off circle at 10:38 giving the Jet's the much needed aggressive play to close out the game.
The Jet's pulled Hellebuyck for a sixth attacker in hopes of getting the equalizer with a minute left in regulation time, dumping the puck in the Canadians zone in hopes of capitalizing but it seemed too little, too late.
Habs Jake Evans got the insurance MT net goal on a rush play going deep rounding the net sliding it in the open net on the wrap-around for the 5-3 win.
Long before Evans (25) who was celebrating his 25th birthday was unable to look up, when Scheifele hammered him with a crushing hit at 19:03 rendering him unconscious when medical personnel rendered medical attention.
Call it frustration or sheer stupidity Jets forward Mark Scheifele skated directly at Evans delivering what many are calling it senseless, late and the hit of a loser who is unable to control his emotions.
Delta's Gallagher mentioned in a post-game with Scott Oake "We've all played this game long enough. (Scheifele) knows better than that. I know him, and I don't want to comment too much, we were told to let the league handle it. We trust that we will, but I don't know and it's brutal. Didn't need to happen, wrong play. He knows better."
Joel Edmundson was less diplomatic and less forgiving saying "It was a dirty hit, but the league's going to take care of it. If he gets back in the series, we're going to make life miserable for him,"
Being honest and of course Jets fans won't understand, which is no different from when the Canucks   were ousted from the Stanley Cup that saw the group of low-life's riot causing major damage that came with a cause.
Simply put there isn't any hockey rationale to the hit to which he (Scheifele) received a Major for Charging plus a Game Misconduct which saw Evans taken off on a stretcher.
As the Officials moved the players away that gathered behind the net and with Evans still on the ice unable to move it; was Jet's Nikolaj Ehlers who stood between the scrum and Evans holding his arms out to the side protecting him from further injured while the Medical staff attended to him.
The act by Ehlers show nothing but sign of respect for Evans while indicating to me that he clearly had a solid upbringing from his parents at an early age.
This alone is something that not only the NHL, but the broadcasters should feature in one of their promotional articles indicating respect for a fellow player; while indicating that minor hockey needs to focus more on RESPECT!
The league is holding a phone interview with him on what his rationale was for the hit and since it's a phone call, It's going to be extremely difficult for Scheifele to convince anyone, the DoPS more pointedly, that he was making a clean hockey play.
What are automatic suspensions?
Automatic suspensions are independent of Supplemental Discipline imposed by the Department of Player Safety. A Player can receive Supplemental Discipline for a game misconduct; however, that particular game misconduct would not count towards his total for the relevant category. Players are automatically suspended if they incur multiple game misconducts in these categories:
General Category

Abuse of Officials Category

Stick Infractions Category

Physical Fouls
Separate from the categories above, these infractions carry automatic suspensions without the accumulation of game misconducts:
Three Instigator penalties in one Regular season

Two Instigator penalties in the Playoffs

A Player who receives an Instigator penalty in the final five minutes of regulation time or at any time in overtime

Physical Abuse of Officials

Leaving the Bench for the purpose of starting an altercation