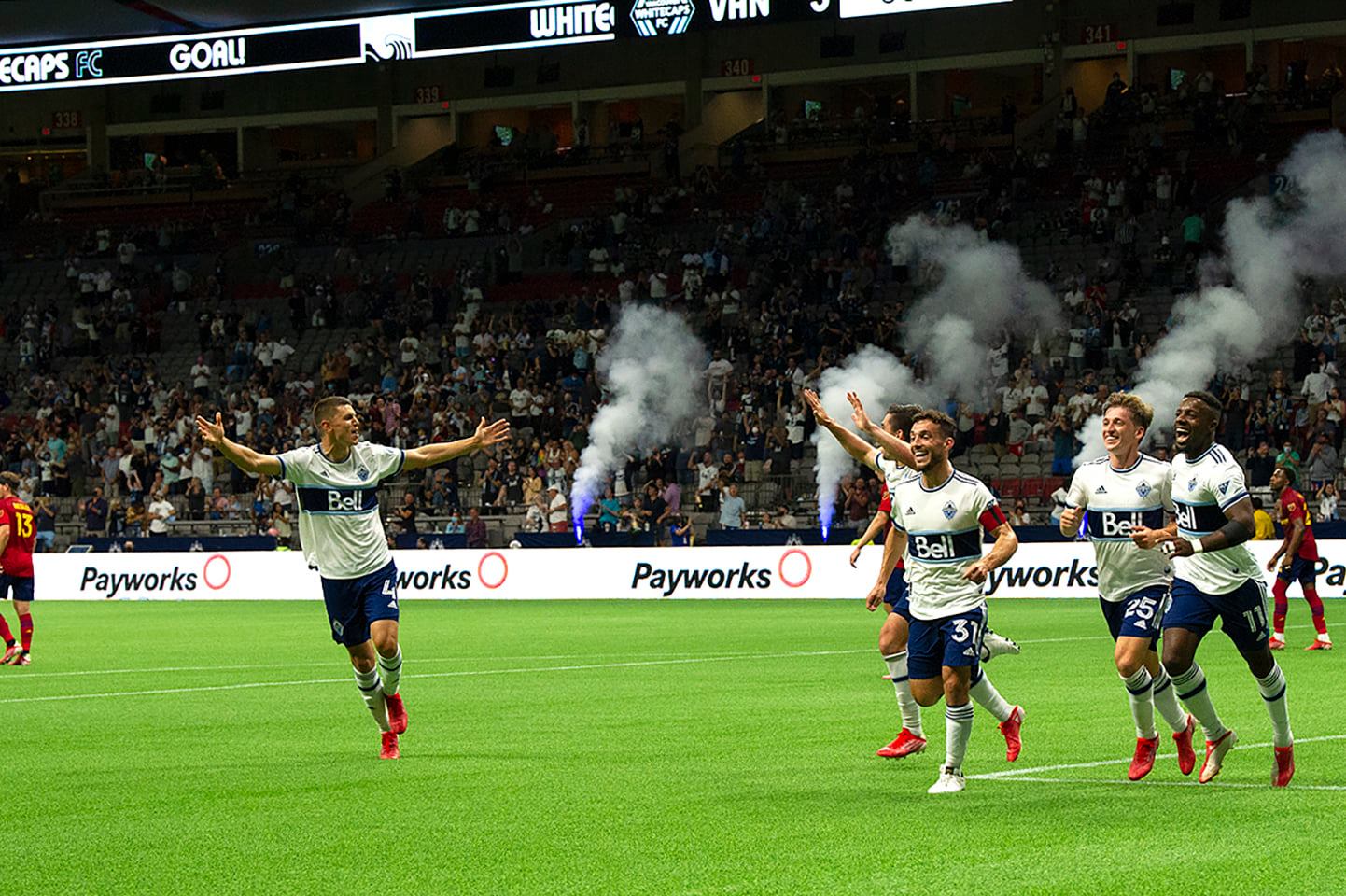 Photo Credit D. Laird Allan/Sportswave
Change brings a new lease on life for the Caps that saw them show a more aggressive style of play at both ends of the pitch in the opening half that at times resembled more of a hockey game.
In conversation with various reporters in the press box the feeling was that we would see a new look team that would show more of a desire to play a full ninety minutes rather than only forty-five, which is welcome news for the small size crowd on hand.
Some were wondering why the Caps were playing at seven rather than a four start time which possibly could be better for not only the fans, but also for their flight home.
Say what you will, the Caps continued their aggressive, yet disciplined play showing no signs of fatigue forcing Real Salt Lake to change their system, which did not work until the 62 minute, in a somewhat PlayAmo moment, which relates as the best way to win.
While the roof is open and the surrounding outside lights are Whitecaps blue there's nothing blue on this night.
Mom used to say that good things come when you least expect it and the newest Whitecaps player Ryan Gauld who seems to have generated more of a belief in themselves.
Vancouver played host to Real Salt Lake for the third meeting of the season, but this time they managed to pull out a 4-1 win which extended their winning streak to three it saw goals from Brian White, Ryan Gauld, and Florian Jungwirth as well as an own goal from RSL in the first half.
While the first half was all Whitecaps the second half saw them continue managing to not only outscore, but also outplay their opponents from south of the 49th.
If this win doesn't bring fans back to the stadium, I'm not sure what it will take but let the record book state that the Whitecaps U-23 managed a 4 nil win over the Fraser Valley Mariners in May 2012.
New interim acting head coach Vanni Sartini seemed more like an expecting Father pacing the side-lines that saw him start a 4-3-2-1 in the contest in a match that also saw him make four alterations to the starting eleven, which was a different set up from Thursday in Victoria.
Jungwirth started his very first match for the Caps, while Bruno Gaspar got his first start dating back to May 22 in a match and it wasn't until the 33rd minute that saw the Caps take the early lead on a RSL own goal from Marcelo Silva.
The Caps continued their strong play in the second half that saw Brian White jump on a rebound in the 53rd minute putting the Caps up 2 nil.
Newest fan favorite Ryan Gauld put the Caps up 3-0, which was his second in his MLS career after taking a cross pass from Javain Brown that brought the crowd to their feet.
As if that wasn't enough, Caps newest sensation Jungwirth got his first as a Whitecaps making it 4 nil sending it in off another header, which seemed to be the call of the day.
Some sitting in  front of the press box were mentioning that they hoped that Crépeau could get a shutout and obviously hockey fans who went home happy they attended.
No sooner does someone mention the word "shutout" and bingo the other team gets on the scoreboard and that was the case in the 90-minute as RSL's Anderson Julio scored making it a 4-1 contest.
Vancouver returns to action Saturday, September 4th in the home stand at 4 pm,
MATCH DETAILS – Thanks to Whitecaps media
GE Appliances VWFC Player of Quality: Ryan Gauld
Referee: Ramy Touchan
Scoring Summary
33′ – VAN – Marcelo Silva (own goal)
53′ – VAN – Brian White
64′ – VAN – Ryan Gauld (Javain Brown)
69′ – VAN – Florian Jungwirth (Ryan Gauld)
90′ – RSL – Anderson Julio
Statistics
Possession: VAN 48% – RSL 52%
Shots: VAN 11 – RSL 8, Shots on Goal: VAN 5 – RSL 2
Saves: VAN 1 – RSL 3, Fouls: VAN 10 – RSL 13
Offsides: VAN 2 – RSL 0, Corners: VAN 10 – RSL 1
It's as tho the Caps have started a new tradition as following every home game they face the SouthSiders and sing "Stand By Me"