Vancouver (20-8-11-1) enters tonight's game with 17 points the Jets (16-9-6-1) who have 19 points also having played two more games than the Canucks.
Vancouver are coming off an impressive 5-1 Wednesday in Calgary in what some have labeled an all-round team effort that saw them get solid play on the back-end from Holtby who stopped 35 shots allowing only one.
Vancouver starts a four game home stand beginning tonight and Sunday against Winnipeg, followed by a pair against Edmonton Tuesday and Thursday with many wondering who will start between the pipes each game.
While many in town are talking about how the Canucks can turn things around others are more concerned about the play of Abbotsford's Jake Virtanen and wondering if any other teams have an interest in his talent?
This game has Demko starting (11-4-6-1) having 38 GA and a SV% of. 895 through 649 minutes, while the Jets are starting Laurent Brossoit (2-1-0-0) with 9 GA and a SV% of .918 playing 182 minutes.
Brossoit is initially from Port Alberni but grew up in Surrey must be wishing he can play against the Canucks more often as he now has two career shutouts, ironically both against his hometown Canucks. 
The very first was Dec. 22, 2018 that saw him manage a 1-0 win for the Jets and strange as it sounds he stopped all 40 Canuck shots that night for the win.
The game's slow start saw both teams trade chances, but for Canuck fans it was Scheifele who notched an unassisted marker putting the Jets on the board first scoring his 9th of the season. 
Edler was unable to control a poor drop pass that bounced over his stick and the race was on but Edler was outraced and Demko gave up the games first marker of the night. 
The first ended with the Jets scoring the lone goal on Canuck Retro Jersey Night that saw Demko face 15 shots, stopping 14, while Brossoit stopped all nine he faced.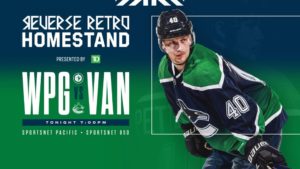 The second saw the Canucks have more of a jump in their stride but unable to finish with quality shots allowing the Jets to control the play utilizing their cross-ice passes.
Demko came up with some impressive saves while the Canucks were trying to set up the long stretch pass feeding Pettersson, Horvat or Boeser on feed's from the back-end.
Passes are either too far in front of or behind the intended player, but they continue to set up the same cross-ice play.
The only solid chance the Canucks had was with 2:46 left in the second that saw Schmidt go one on one unable to beat Brossoit from the angle
The second was a battle of angles with neither having an advantage only to be turned aside at each end of the ice with the shots 11-8 for Vancouver that saw Winnipeg out-shooting Vancouver by a 23-20 margin.
The third saw the Canucks come out with more jump, but still unable to manage any strong chances against the Jets, while passing wasn't as crisp as you would think it should be for this level of play.
While Vancouver continues to show signs of life the topic of conditioning was brought up earlier in the day and at times it seemed to show in this game but mostly on line changes.
I for one can't blame the long pass to the forward as they were simply off target with no chance for anyone except Superman to catch up with the play.
Not even his x-ray vision could read the play.
Demko was pulled for the extra attacker with 2:28 that saw Hughes send a long 120 ft pass to Miller who was unable to finish the play.
The third saw Winnipeg have more quality chances that Vancouver, but the home town squad continued to press every chance they were given, but managed to come up short allowing to get an empty net goal pulling off a 2- 0 win.
Strange as it might sound there was a scuffle or as they mentioned in the old western movies a "Dust-Up" at 19:18 that saw a scrum ensue that saw the Jets assessed a minor for Holding while Canucks Jake Vertanen assessed a minor for Roughing. 
With only 42 seconds remaining in the game both players were also assessed as announce Misconduct penalties and given the way this finished we could see some fisticuffs next game.
The game finished without further incident that saw the Jets secure a win and two points for home town Laurent Brossoit.
The one sad note for the win is that no one was able to watch in person the shut-out victory for the local boy.
Winnipeg managed 8 shots in the third finishing with 31 while Vancouver managed 10 in the third for a three period total of 29.
The two teams hit the ice again Sunday for a re-match with the face-off set for 7 pm
Three stars
3rd Mark Scheifele (Winnipeg)
2nd  35 Thatcher Demko
1st 30 Laurent Brossoit