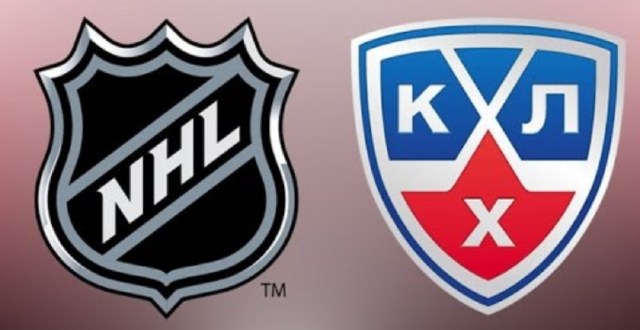 Photo Credit SLN
Rumor has it that in light of the recent problems with Russia that the NHL has finally jumped on board mentioning that they have cut all ties with the KHL.
This after Russia's invasion of Ukraine, telling their teams to cease contact and suspending the memorandum of understanding between the two leagues.
Reportedly; Bill Daly told clubs in the memo that they will now "have only limited contractual information regarding players who are currently or last played in the KHL."
All teams are now required to go through the Central Registry to request any contract information on a player's contractual status.
In addition they will have to produce "independent written evidence" that confirms that a player is entirely free of KHL obligations, before signing them for the 2022-23 season.
In the past both leagues did not operate under a transfer agreement but had an Memorandum Of Understanding which indicated they would respect contract terms.
It's reported that the NHL told the KHL that it continues to respect any and all existing and future contracts, though communication will now be cut off.
This will drastically complicate not only free agency but the upcoming draft, which was currently in discussion and given the possibility that young Russian athletes would be denied or refused work visas to enter.
Both Canada and the US were expected to be near the top of the 2022 draft but are presently under Magnitogorsk for the 2022-23 season at least.
Baring any on-going communication, it's hard to know and believe any NHL team that might draft him will be able to even speak with the young forward, though the memo does indicate that teams are still allowed to work with North American-based agents.
There are also several pending KHL free agents like Andrei Kuzmenko were expected to sign after the KHL playoffs are completed. Kuzmenko was drawing the attention of many NHL teams around the league after an outstanding season, where he managed 20 goals, 53 points in 45 games.
At press time it seems uncertain ifr his future is in North America or he might re-sign in Russia and stay with SKA.
Other KHL news:
Remembering Abbotsford's Jake Virtanen (25) and former Vacouver Canuck, well now he's a former Spartak player who had his contract terminated by the KHL club.Moscow-based KHL team.
In light of his leaving the club it's reported that he'll have to pay two-thirds of the remaining amount of the contract for violating the terms of the agreement,
At press time it's not clear why he (Virtanen) had his contract terminated, but given on-going speculation it's a possibility that it's related to the war in Ukraine, considering that the federal government has advised Canadians to leave Russia while they still can.
As one might expect he isn't alone in leaving the KHL considering the fact that Markus Granlud as well as Philip Larsen have also left.
Virtanen was selected by the Canucks sixth overall in the 2014 NHL Entry Draft and this season has seen him score 16 points (9-7-16) in 36 KHL games, which placed him ninth in scoring among all Spartak players.
The Canucks placed him "on leave" May 1st and had his $3.4 million contract bought out by Vancouver in July. 
This after an investigation by the VPD for an incident that took place September 26th, 2017.
Buying him out frees up cap space that was used to re-sign restricted free agents in Elias Pettersson and Quinn Hughes, as well as their newest pair – namely Conor Garland and Jason Dickinson.
FYI:
Only due to his age allows the Canucks to buy him out at a mere one-third of his $3 million base salary which counts as $50,000 against next season's cap and $500,000 in 2022-23.
Alex Ovechkin switched hockey stick models ahead of Thursday's game against the Carolina Hurricanes
Ovechkin scored his 763rd career goal using a JetSpeed FT4 stick made by CCM.
The change was spotted by several hockey gear accounts including Geer Geek and Everything Pro Stock.
Many are wondering what type of reception he'll get this weekend when the Caps visit Vancouver?