Photo Credit PJHL
On the heels of the CHL Prospects game hosted by the Vancouver Giants we are pleased to mention that hockey fans in Port Coquitlam will once again have a team to support.
Hockey doesn't have to be either the WHL or the BCHL, but locally we have some exceptional young players playing in the Pacific Junior Hockey League which until now consisted of 13 teams.
Given the continued growth of hockey in the Tri-Cities area of the lower mainland the best kept secret conducted its own official face-off.
Given the recent re-fit, upgrade or rebuild whatever you wish to mention the PJHL held an afternoon press conference at the Port Coquitlam Community Centre.
The newly named arena is officially called the Jon Baillie Arena and seats 780 spectators making the franchise the leagues 14th which will now balance both conferences.
The league currently consists of two conferences named the Tom Shaw Conference and the Harold Brittain Conference.
With the exception of the Surrey Knights one might assume that the Harold Brittain Conference is made up of teams from the Fraser Valley, while the Tom Shaw Conference consists of teams from the lower mainland.
This season saw the league increase the number of games played from 44 to 48 that has each team play each other four times, twice on home ice and twice on their opponents ice.
While the league has undergone name changes dating back to the 70ties with one team based in Seattle and called the North West Americans.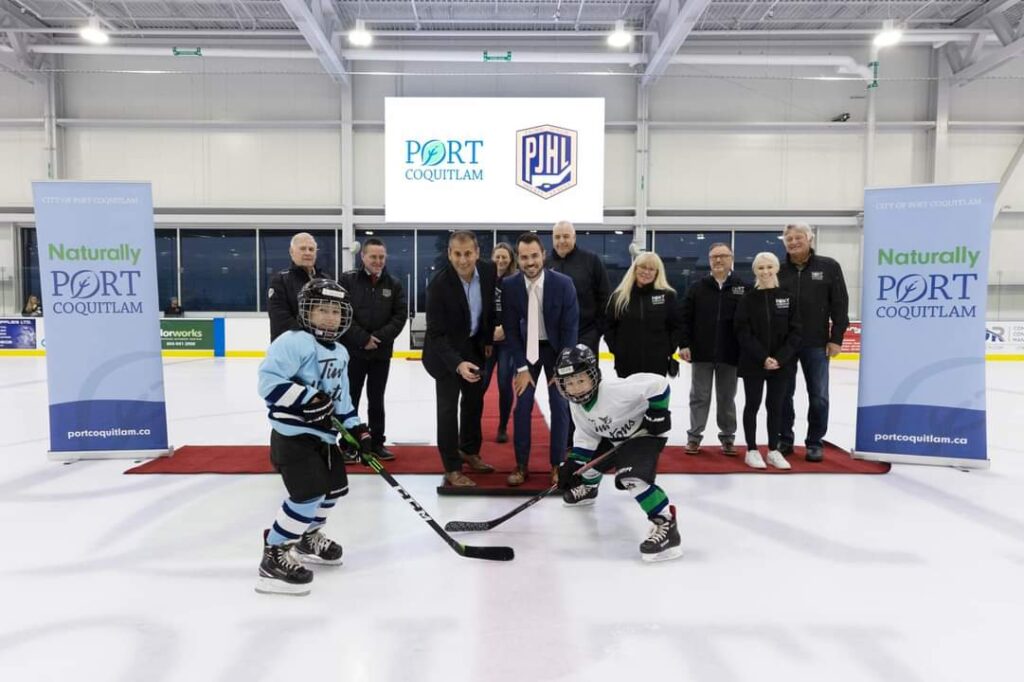 With no teams south of the 49th and having a location set between Junior A franchises placing a team in Port Coquitlam or Po. Coq as it's commonly known makes sense – at least to me!!!
Fans are looking for a viable alternative to pro sports and it goes to say that there is no surcharge or upcharge other than the price of a ticket.
With the move that saw the Vancouver Giants from the Pacific Coliseum to the Langley Events Centre this location was a prime fit for the PJHL and the new franchise.
Coming off the CHL Prospects game which drew a sell-out crowd of just over 5,200, I am not saying that the building will attract those numbers, but they will sell out many games.
The Ownership group headed up by Rob Toor who is a local resident and this wasn't a wim that began last week, but began dating back to 2022 with a proposal to bring and welcome Junior hockey back to Port Coquitlam.
Ownership has been working diligently since they put their proposal forward and it's obvious that they have a strong focus which the PJHL's Board of Governors felt adding this new franchise will strongly be of benefit to the league, the players and the community.
League Commissioner Trevor Alto mentioned "We are proud to welcome a new franchise in Port Coquitlam to our league and Rob and his partners have shown us they are prepared to do what it takes to run a successful team so it made sense to offer Junior hockey to players and fans in that community."
Rob Toor mentioned "We want to provide further opportunities for hockey players in the area wanting to play Junior and higher levels of hockey and our mission is to develop everyone within our organization from players to coaches to volunteers; our vision is to ensure each home game is an event to bring the community together."
Besides being a hockey dad and coach, Rob first started the thought process shortly after he saw the PCCC play in front of a packed building while coaching U18 Rep hockey.
Po Coq had a franchise years back as Delta TV covered the league All-Star game and the team then was called the Poci Buckeroos and operated from 1990 to 2006.
Following their tenure in Po Co they moved to Port Moody where they were and still are known as the Panthers.
Port Coquitlam Mayor Brad West mentioned "We are very excited about this great opportunity for the City of Port Coquitlam and for hockey in our community. I know our residents will be looking forward to cheering on this new team in our state-of-the-art facility."
He continued to add "We look forward to showcasing our local hockey community, our great facilities and this amazing city."
I for one know that they are in search of a name as well as a logo, so if you have any ideas please let me know and I'll pass them on for.
After having a conversation earlier in the day with some hockey fans in the area and knowing what they might be looking for, I'm hoping that they connect with BCIT and utilize their students who are looking to get into the broadcast industry, be it camera or play by play.
Sportswave wishes them all the best as well as success moving forward.
Welcome to the PJHL!!!!