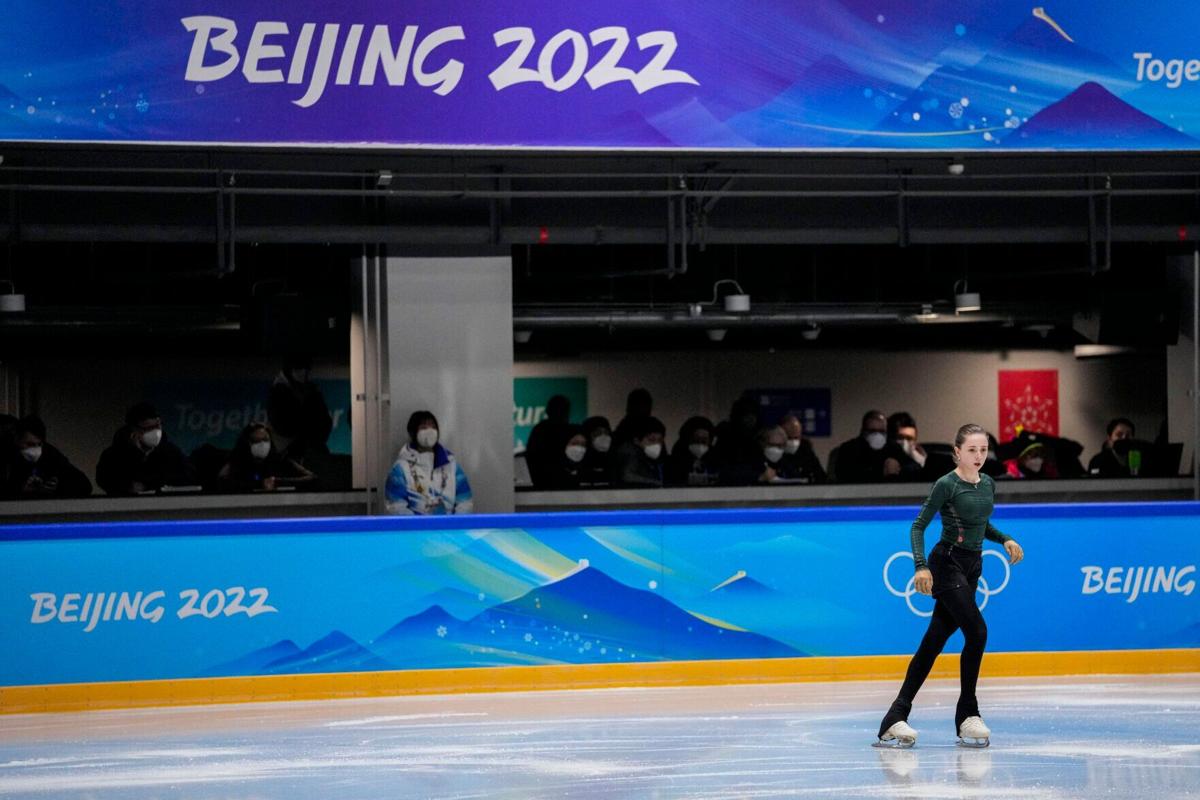 Photo Credit Natacha Pisarenko – staff, AP
Does it really surprise or shock anyone that there will be no medal ceremony for the figure skating team event or the women's individual competition event if Kamila Valieva earns a podium finish.
Reportedly the 15-year old tested positive in her drug test and according to the International Olympic Committee Executive reached the decision after the Court of Arbitration for Sport (CAS) refused to re-impose any suspension.
As expected by many in the sport of figure skating they aren't overly shocked by the decision as it appears that this isn't the only time they have backed down regarding a doping scandal.
Valieva testified by video at an appeal hearing that will decide if the 15-year-old Russian star can still compete at the Beijing OIympics despite an ongoing doping case.
The hearing started Sunday evening in Beijing and lasted until after 3 a.m. Monday morning. Court of Arbitration for Sport director general Matthieu Reeb said a ruling in the case that has caused havoc with one of the Olympics marquee events will be announced Monday
As expected the decision allows her (Valieva) to compete in the women's individual event, but any decision on an anti-doping rule violation or wrong-doing is in the hands of the Russian Anti-Doping Agency.
In a released statement from the IOC it mentions the inconclusive situation led to the IOC holding initial consultations with the National Olympic Committees, which led to the decision of not holding ceremonies.
The statement read "In the interest of fairness to all athletes and the NOC's concerned, it would not be appropriate to hold the medal ceremony for the figure skating team during the Olympic Winter Games in Beijing 2022 as it would include an athlete who on the one hand has a positive A-sample, but whose violation of the anti-doping rules has not yet been established on the other hand."
As many know Valieva was played an important role as a member of the ROC Gold medal winning team who helped lead the Women's singles standings in both the short program and free skating./
She performed a quadruple jump twice, a skating maneuver that has never before been landed successfully at the Winter Olympic Games.
The US finished with Silver in the event and depending on the outcome of a possible suspension could be in line for Gold.
Japan took home bronze, while Canada finished fourth, but should things change the US, Japan and Canada could move up on the podium with medals.
The shock for many and according to a report from the US, they are frustrated as they will leave Beijing without their medals.
Mind you – when that day comes – WOW WHAT A CELEBRATON THEY'LL HAVE111