Legends in sports come and go and some of us are extremely fortunate to have watched them play the sport that several began playing at an early age.
Some were influenced by their Mom or Dad, while others grab onto a sport simply because their friends play and they don't want to miss out on any of the excitement.
When it comes to sport quite often it's one of their parents who coached them at an early age trying not to push them too far too fast so as to deter them from continuing to play.
Today the baseball world sadly lost one of the great pioneers who revolutionized the game only as he could.
Hank Aaron (86) was born February 5th, 1934 in Mobile Alabama in an area named "Down by the Bay" to Herbert Aaron, Sr. and Estella (Pritchett) Aaron and was one of seven (7) siblings.
The family like many at that time was not rich and simply could not afford baseball equipment so he used whatever he could such as bottle caps and sticks and often made balls and bats out of things he found on the street.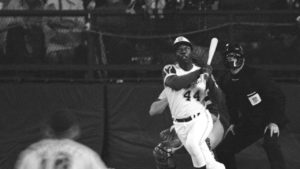 Like many in that era his idol was Jackie Robinson spending his time attending Central High School as a freshman and a sophomore and also a proud member of the Boy Scouts of America
As you can imagine during that time period for many of the high schools, there was no organized baseball to speak of which was hard to understand for someone so you who loved the game.
His boyhood idol was Jackie Robinson so when he could play he chose to play in both the outfield and third base playing with the Mobile Black Bears, which was a semi pro team. 
As a right-handed batter it was hard to understand his style of hitting so he learned to bat cross-handed that saw his stance positioned with his left hand above his right was once advised by an opposing catcher that he should hold the bat with the trademark facing upward so he could see it. 
It was at the young age of 15 (1949) that he got his first tryout with an MLB franchise, the Brooklyn Dodgers but failed to make the team.
This letdown saw  him return to school where he managed to finish his secondary education at a private high school called the Josephine Allen Institute which was located in Alabama and also attended Central High School in Mobile in his junior year. 
His first team that he joined was the Pritchett Athletics, which was followed by the Mobile Black Bears, which was an Independent Negro league team.
When he played with the Bears, his pay was an impressive $3 per game, which would be equivalent to $99 in today's world which was a dollar more than he got while playing with the Athletics
He played 23 seasons in the major leagues, 21 with the Braves franchise, first in Milwaukee, where he made his debut in 1954 then Atlanta, from 1966 until 1974. 
He returned to Milwaukee for his final two seasons, joining the Brewers of the American League before retiring in 1976.
Terry McGuirk, Braves chairman, released the following statement "We are absolutely devastated by the passing of our beloved Hank where he was a beacon for our organization first as a player, then with player development, and always with our community efforts."
He continued "His incredible talent and resolve helped him achieve the highest accomplishments, yet he never lost his humble nature who wasn't just our icon, but one across Major League Baseball and around the world.  
His success on the diamond was matched only by his business accomplishments off the field and capped by his extraordinary philanthropic efforts."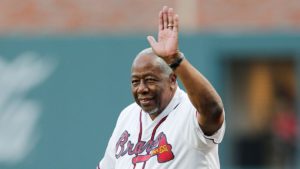 Tony Clark, MLBPA Director stated "This is a profoundly sad day for baseball and indeed for our entire country. On the field, off the field, for 23 remarkable playing seasons and beyond, Hank Aaron was a Hall of Famer in every sense of the phrase. Generations of players have walked, and will continue to walk, on a trail that Hank Aaron blazed with his determination, courage, singular talent and grace. We send our deepest sympathies to his family, friends and legion of fans throughout the game."
He reached the majors at age 20, when he hit .280 with 13 home runs and finished fourth in the National League rookie of the year voting quickly established himself as one of the game's most dependable sluggers. 
In only his second season, he drove in 100 runs for the first time and made the first of a record 21 consecutive All-Star Game appearances.
He became known as "Hammerin' Hank," hitting at least 30 home runs in 15 different seasons and driving in at least 100 runs 11 times.
Henry Louis "Hank" Aaron, the Baseball Hall of Famer who broke Babe Ruth's all-time home run record and lived a life as an ambassador to the game,
Sad to lose a legend, but we know he'll be hitting home runs in another league in the sky!
/RIP Hank – YOU'LL BE MISSED.