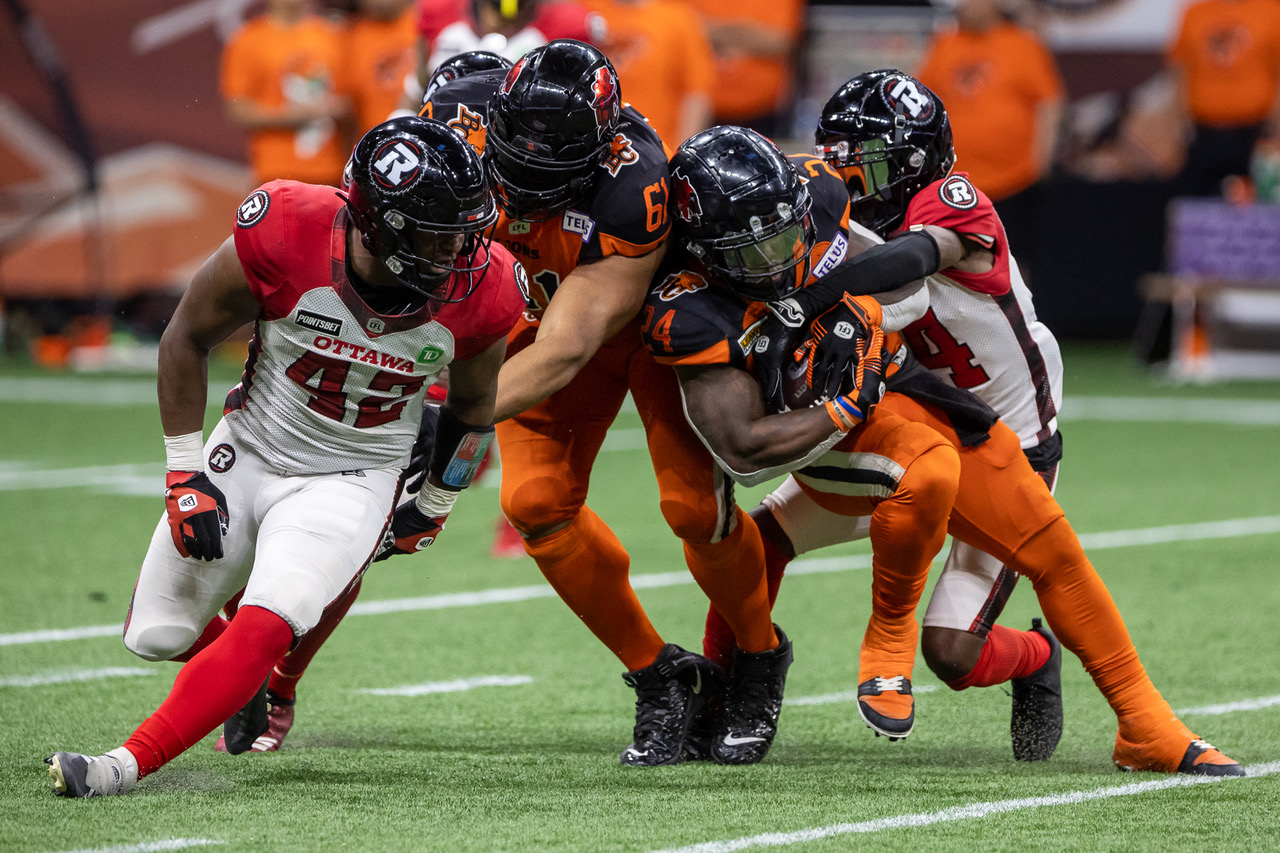 Photo Credit Mark Steffens
Given the success the Lions had on the field only to come up short they did manage to capture the hearts of numerous fans in the area.
Some made the trek from the Interior as well as the Island to be entertained by a team that simply never quit at times shocking many in the stands.
They managed to attract additional fans at the majority of their games, which included their home opener with a pre-game concert June 11th with One Republic; which I must say was very entertaining.
With the season coming to an abrupt end no one knows what the future holds for players, coaching staff as well as other team personal.
Some say they were waiting to hear about what would happen with Lions "star QB" Nathan Rourke who was announced as the winner of CFL Most Outstanding Canadian at the CFL Awards show.
We'll get to the other changes in the next while but we are hearing aht they have extended the contact of co-general manager/head coach Rick Campbell and his entire coaching staff for the 2023 season listed below:
Offensive Coordinator Jordan Maksymic
Defensive Coordinator Ryan Phillips
special Teams Coordinator Don Yanowsky
Receivers Coach Jason Tucker
Offensive Line Coach Kelly Bates
Running Backs Coach Trysten Dyce
Linebackers Coach Travis Brown
Defensive Line Coach John Bowman
Defensive Assistant Tanya Henderson
Video Coordinator/Special Teams Assistant Derek Oswalt
Bios Below:
Maksymic
He returns for a third season running the Lions offence after helping lead a breakout performance in 2022 that saw the Lions lead the CFL in key categories such as net offence (384.6 yards per game) and offensive points (28.3 per game).
The offence also finished second in the CFL with 56 touchdowns in 2022.
Phillips
Returning for a 15th season and a third as a member of the coaching staff entering his second campaign as defensive coordinator.
At 22.5 points allowed per game, the Lions' defence was third in the CFL this past season while three of Phillips' defensive backs- Garry Peters, Loucheiz Purifoy and Marcus Sayles- were voted as CFL and West Division All-Stars.
Yanowsky
In his fifth decade of coaching in both the professional and college ranks returning for a third season under Campbell as special teams coordinator.
'Yano' guided the dynamic duo of Sean Whyte and Stefan Flintoft who helped the Lions finish tops in the league in field goal percentage (92.3) and tied for second in punting average (47.5 yards), respectively, in 2022.
Bates
This is season 15 for Bates with the Lions and his eighth as a member of the coaching staff.
The offensive line enjoyed a vast improvement in 2022, helping James Butler become the first Lion to rush for over 1,000 yards since Andrew Harris in 2015 and Nathan Rourke record a remarkable 3,970 passing yards in ten contests.
Tucker
He is known as 'Tuck' to everyone and will be back for a 12th season in the pro coaching ranks and third with the Lions.
Despite missing Bryan Burnham and Lucky Whitehead for long stretches of 2022, the receiving corps. was in good hands as Dominique Rhymes (1,401 yards) and Keon Hatcher (1,043 yards) both established career-highs while Whitehead eclipsed the 1,000-yard mark for the first time in his career. Rhymes was voted as a CFL and West Division All-Star.
Dyce
He previously was with the Manitoba Bisons and returns for his second season with the Lions' staff and first as running backs coach.
Dyce worked with the position group in 2022 when Butler finished with the most yards from scrimmage by any back and was second overall in rushing yards.
Brown
He returns for a third season guiding the club's running backs. This season saw the emergence of Ben Hladik as a starter while Bo Lokombo, Jordan Williams and rookie Manny Rugamba made contributions at a position that also provided great depth.
Bowman
He is a nine-time CFL All-Star and was in his first season in the coaching ranks as David Menard (9), Mathieu Betts (7) and Obum Gwacham (5) all racked up career-highs in sacks while the unit limited CFL-rushing leader Kadeem Carey to 43 yards in the Western Semi-Final victory.
Henderson
He was named the first full-time female coach in CFL history last March, Henderson worked closely with the linebackers in 2022 and will once again play a big role in defensive game plans and breaking down film.
Oswalt
Now gets to add the role of special teams assistant after his first season as the club's video coordinator in 2022.
He previously worked under Campbell in video and coaching roles with the Ottawa REDBLACKS before spending 2021 with the Edmonton Elks.
In addition to the above there should not have been any speculation that they would re-sign Sean Whyte (37) in his role as kicker who calls White Rock home.
He returns for his 15th CFL season and fifth overall as a member of the Lions who led the CFL in field goal percentage at 92.3 while making 36 of 39 attempts over 18 regular season games.
He also has a stretch run that saw him make 17 consecutive field goals between August 6 and October 8.
Mr. Automatic also finished the regular season making 54 of 55 convert attempts. In two playoff games, Whyte was a perfect four-of-four on-field goals and hit on all five convert attempts.
Whyte was also the Lions' nominee for the Tom Pate Memorial Award given to the player who best demonstrates good sportsmanship while making significant contributions to his team, community and association.
After playing junior football with the BCFC Surrey Rams, Whyte first joined the Lions as a territorial exemption in 2007 and spent most of his time on the practice roster before debuting in place of an injured Paul McCallum on July 16, 2009 and appearing in a total of 11 games that season.
Whyte was traded to the Montreal Alouettes with whom he played from 2011-14 making an immediate impact earning the East Division nomination for CFL Most Outstanding Player in his first season.
He then moved on to Edmonton from 2015-21 where his accolades included a Grey Cup victory in 2015 while also earning the club's nominee for Most Outstanding Special Teams Player in 2019.
Whyte sits in 13th spot on the CFL's all-time scoring list with 1,734 points, having recently surpassed Noel Prefontaine. Calgary's Rene Paredes (1,908 career points) remains the only active player higher on the list in tenth spot.
Interesting to note that a few years back he was actually my color person for a BCHL game in South Surrey.
Thanks to Matt Baker for the press release!!
Great signings for the BC Lions and we look forward to 2023.