Photo Credit HockeyFeed.com
While sports are all competitive; accidents can and will happen when we least expect it and now I am hearing that a young grade 10 hockey player from St. Lukes School in New Canaan died Thursday evening after an on-ice collision.
This accident is far too close to me as I had this happen a while back in Abbotsford and I am hearing that Teddy Balkind was cut on the neck by the skate of another player during a game.
Games are competitive and fast paced with things happening in a split second, but I see far too many parents trying to live their "dreams" out through their kids thinking more about winning and safety never crosses their mind.
Sad state but rules are put in place with wanting both Girl's and Boy's playing fair, but most of all in a safe environment.
Each year BC Hockey put on various referee clinic's for all officials for the upcoming year and the numbers continue to drop all due to the abuse directed at them by parents, many of whom have no understanding of the rules, continuing to shout abuse to these young officials.
I ask you "Would you want a parent shouting at your young Son or Daughter not thinking of how this affects how they think let alone what they think" and we wonder why we continue to lose officials.
In a recent chat with a good friend who is one of many who run and assist in the overall development of the officials, he tells me the numbers are shocking, but how can this change?
As one can expect the accident to this young boy was nothing other than an accident with the other player completely unable to stop forcing the two players to collide at mid-ice that saw paramedics rush Balkind to Greenwich Hospital.
As a result of the serious injury he (Teddy) succumbed to the injury and eventually died as a result of the accident that happened around 5 pm that had the Junior Varsity team play St. Luke's School from New Canaan.
St. Luke's Head of School Mark Davis released a statement about the tragedy:
"Our community is mourning. Yesterday, we lost a precious young man in a tragic accident. Both St. Luke's School and Brunswick School are in shock as we work to support our students and families. St. Luke's singular focus at this moment is to care for our devastated community. Thank you for your concern and for respecting our need to grieve."
Members of the Brunswick School community are also coping after the tragedy.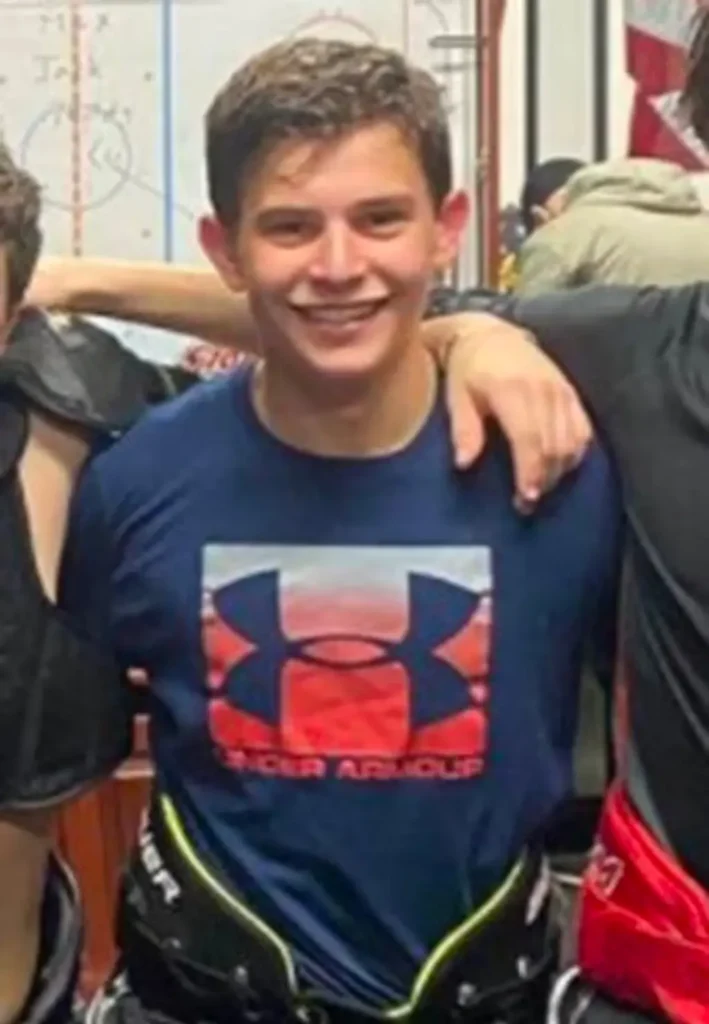 Brunswick's Head of School Thomas W. Philip told the media "We are devastated; an unimaginable tragedy."
He continued on to mention "I have, of course, met with the Head of School at St. Luke's and have contacted the boy's family to offer whatever help, support, or assistance we can during such a challenging time," he continued. "Please keep all concerned in your prayers."
No classes were held on Friday because of a snow storm, but St. Luke's Head of School Mark Davis said the building would be open in the afternoon so that the community could gather to grieve.
He continued "There are no words adequate to this moment, and I know all of us will support each other as best as we can."
While this is indeed such a tragedy I continue to see players on the ice with no neck guard or worse yet wearing it "tucked in" below their sweater.
The neck guard is there for a purpose and having this happen once to me personally, is far too close to home.
This isn't the first time an accident has happened and if you remember think back to March 22, 1989 when Clint Malarchuk was injured when another player's skate severed his jugular vein in a game between St. Louis and the Sabres.
Players, Coaches and most of all the Parents
THINK SAFETY FIRST – IT CAN HAPPEN IN A SPLIT SECOND!!
The incident that happened in the game I was officiating is one that never goes away and is something that will linger in my mind forever – and some wonder why I continue to talk about player safety!!