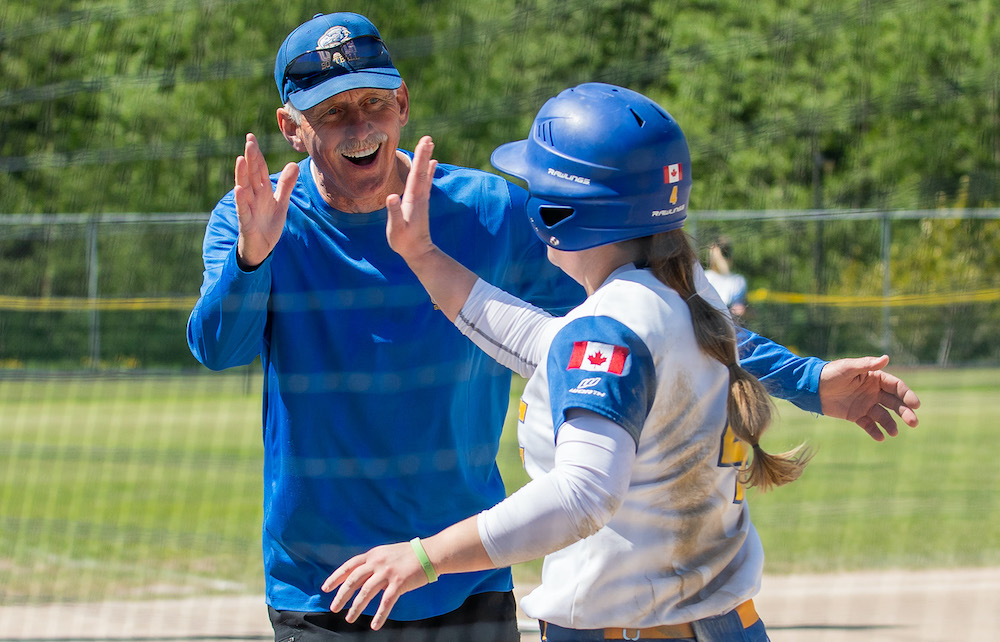 Photo Credit Richard Lam/UBC Athletics
Delta continues to take centre stage in the world by continuing to utilize the numerous volunteers who want nothing better than to help make the world better for our young up and coming athletes.
One such individual whom I have had the privilege of working with and getting to know is Delta resident Gord Collings who has been involved and known to some as being the backbone of women's softball at UBC for close to a decade.
Gord Collings was on hand when the UBC Thunderbirds made it official, having him throw out the first pitch at the new field appropriately named after him.
Respect was given when it was indeed earned on this night as UBC played host October 2nd to rival Simon Fraser University.
The diamond with the new upgrades to the diamond is located at the campuses south end located in Westbrook Village after first being located in South Surrey
The result of the game was secondary to the celebration for a program that now gets to play right at the Point Grey campus after being based out of Softball City in South Surrey.
Gord has both played and coached the game for decades and for the former Delta School District principal and teacher it's long overdue to someone who has been coaching softball at all levels of the game watching many players advance to the next level.
Upgrades to the ball diamond, located at the south end of the campus in Wesbrook Village, includes new dugouts, fencing, bullpens as well as a state of the art bullpens.
The project, appropriately named Collings Field was made possible with support from the university, the Collings Stevens Family Foundation and a fundraising campaign spearheaded by volunteers from the softball community.
When asked he mentioned "It was totally unexpected and it's such a numbing experience to be recognized like that and it's a game changer, not only in terms of the athletes being able to play in front of other students, but for the administration and staff to see and get an exposure to our game too."
He went on to mention "It's difficult to drive out to Softball City on a Friday afternoon. Practicing and playing on our own field will be huge, and now when we are recruiting, we can bring them out to look at our park and tie it all in."
He continued "We've got the support of the administration with president Ono and vice president Kennedy so having them onboard and the support of the departments too is just huge," he said.
Gord first kicked off a program at Douglas College managing to spend years as the coach of the Delta Heat as well as the South Delta Invaders then moved on to become the head coach of the T-Birds in 2013.
He has also been the bench boss at the Canada Summer Games for Team BC including being able to not just raise, but also coach his three daughters in the sport.
For those who are old enough to remember there was a point in his career that he had to fight to continue the tenure and playing of the program after a sport review of the varsity athletics program that recommended women's softball be dropped.
In conversation a couple of years back we spoke at Softball City about this issue and he mentioned "We decided to fight back and it took a while but we finally got recognized as a varsity sport.
There is no doubt that COVID-19 took its toll on not just this program, but all other programs from minor to the pro level, but in conversation with various individuals they feel we have to be understanding of what the overall outcome could be.
While the 2020 schedule abruptly ended it's hoped that next season will be a full season of ball on the Gord Collins field.
Congrats Gord – WELL DESERVED!!!!!