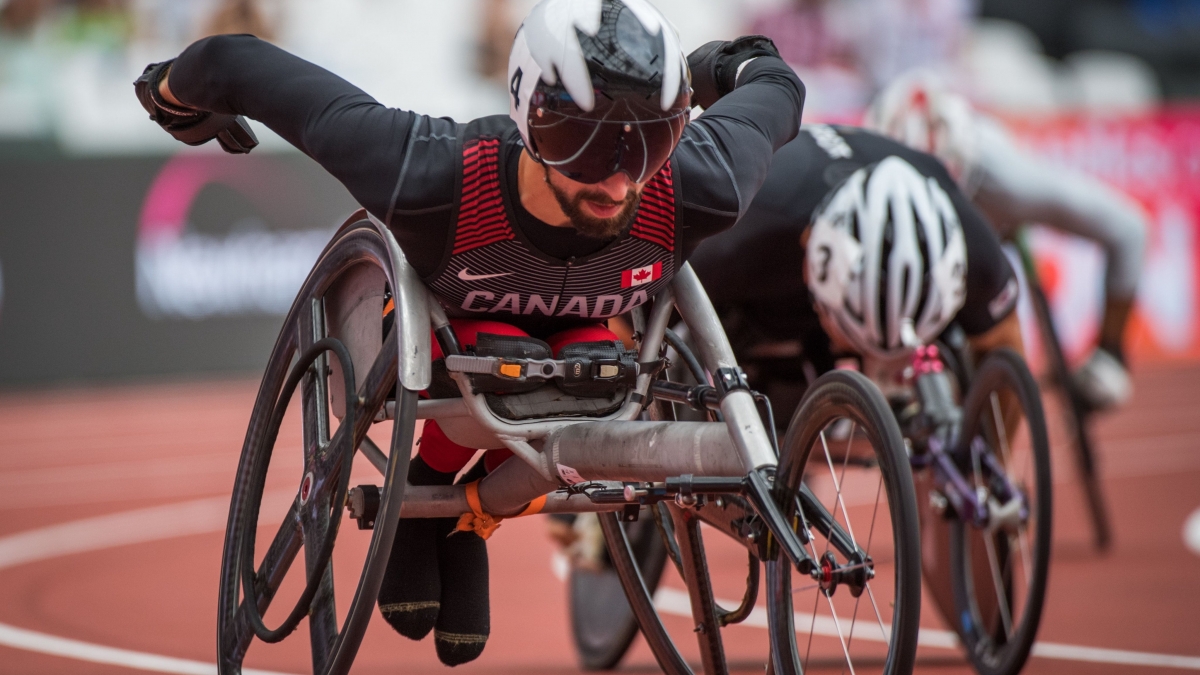 Photo Credit Paralympics Canada
There are far too many nay-sayers in today's world who take life for granted, while other have to push for everything they achieve which is the case for Canada's Paralympic Athletes.
Having spoken with several individuals over the past while, I am driven to a sense of disbelief as to how they treat their fellow person.
We all know that there's enough unrest in the world and throughout the globe, but really – in our own backyard!!
Having friends who are athletes and not just any athlete, but Paralympic athletes that are confined to a wheelchair due to accidents that were in some cases caused by others have them going through life being treated like second class citizens.
I for one am appalled at how society treats them and realistically speaking – it's time to put any and all respect issues aside.
Such is the case of Brent Lakatos who is currently competing in the Paralympics and was injured in a hockey accident at the young age of six.
As a result of him hitting the ice it caused a blood clot to form in his spine, which led to his paralysis.
Canada is represented by special individuals who are currently competing in the 2020 Paralympic games and representing Canada extremely well.
We are hearing that Dorval's Brent Lakatos earned his eighth career Paralympic medal, taking silver in the men's T54 5,000 metres managing a time of 10:30.19. 
He (Lakatos) mentioned "This one is quite different and is my first medal in the T54 category and it's my first medal in a long distance race and it's great to get out there and race against those guys and with such a competitive field anyone can win it.".
He continued "It was a great race. I had tons of fun out there. It was really strategic. I got myself in a great spot and gave myself a great chance to win and it almost happened."
For those who are not aware there is a slower, strategic part to the race that saw Lakatos take the lead with about 1,600 metres to go managing to set the pace for a couple laps that saw him push the pace into the last lap.
Switzerland's Marcel Hug waited until the last 200 metres to make a move on the outside passing Lakatos who finished in second place, but for him there's no rest as he competes the following day in the T53 400-metre heats.
Lakatos mentioned "We have a great team here and lots of great athletes with great chances and I'm sure they will come along and I know they're going to do really well."
Guillaume Ouellet was a force to contend against as put a scare in the field earlier in the day, setting a solid pace crossing the finish line in a time of 14:47.47, putting him fifth in the men's T13 5,000 metres. 
It was another hot, humid day in Tokyo. With the race taking place in the sun of the morning session, it was a challenge for Ouellet and the entire field.
Ouellet mentioned "The weather was brutal the last 600 metres, but the Athletics Canada team prepared us for the weather with a good cooling procedure, so I was really prepared for that."
"It's sad that nobody can come to Japan, but I really felt all the positive attitude and encouragement from everyone in Canada, and everyone in Victoriaville and Quebec City. I'm looking forward to seeing them again and enjoying a few weeks away from running." 
Sportswave congrats all of Canada's Paralympics and wish them much success!!