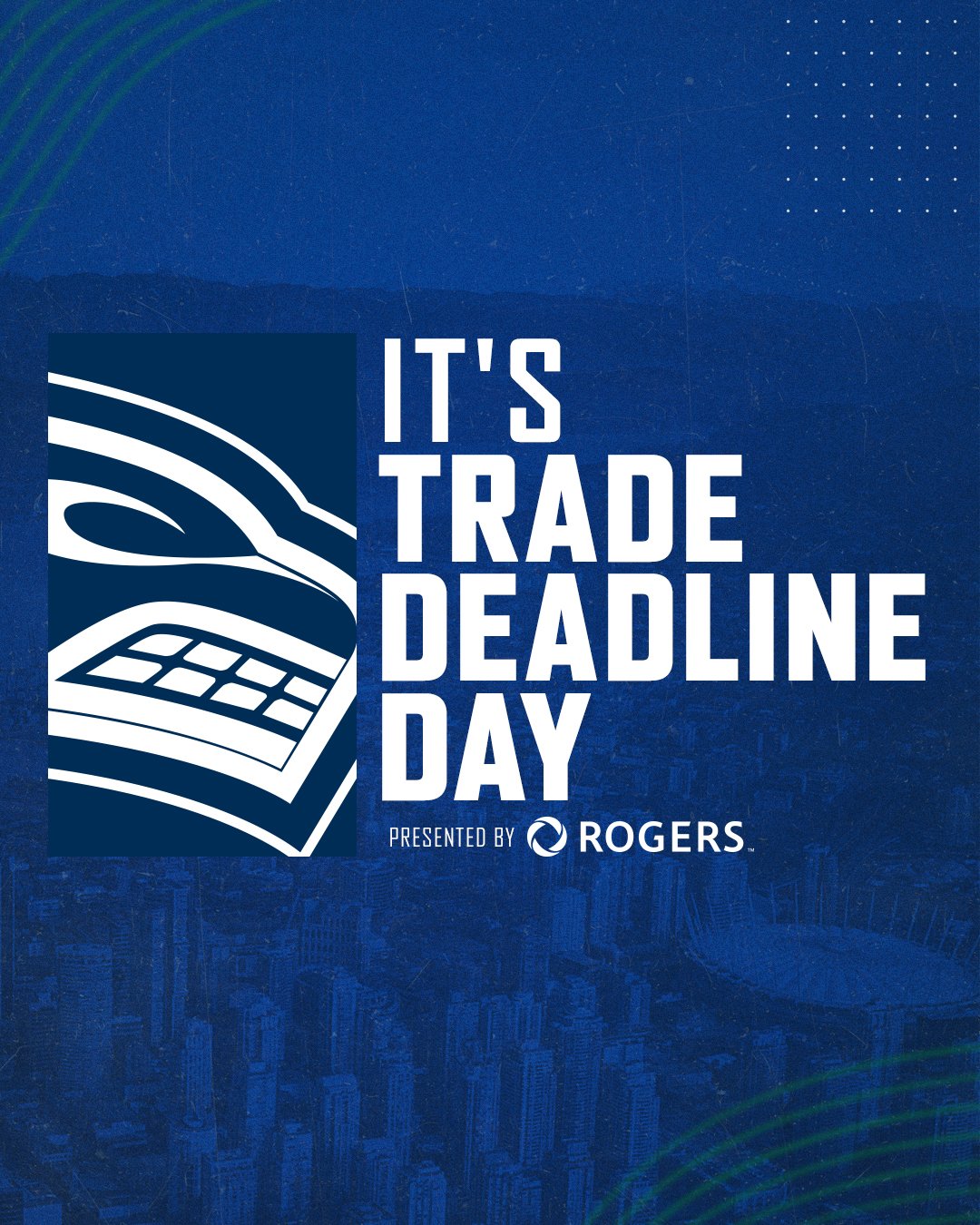 Trading deadline is always on the mind of the players and say what you will, in today's sporting world it's all about money and not a long-time relationship with one club.
Locally the conversation revolves around the Canucks and what moves they might make to get the club into a playoff contender, but that's an uphill climb.
Trading deadline is extremely worrisome for the players and they all understand that it's clearly a business decision which in some cases frees up cap space.
While the cap space continues to grow, players salaries don't get any less for any team and if for no other reason all teams are looking at bringing home Lord Stanley's coveted trophy
Locally the only sports station we currently have and if you ask anyone we clearly need another one were working hard to sort out who the Canucks would move out as well as who they would bring in to fill that player's stall.
Nothing transpired early in the day and as tradeline was coming close the Canucks made it official by announcing that "D" many Tyler Mott had been dealt to the Rangers for a fourth round pick.
Many feel they could have gotten more for him but given his size and how he has played of late he has grabbed 7 goals and 15 points in 49 games this season and is in the final season of a two-year, $1.225 million deal.
Partick Allvin the 12th GM of the Canucks mentioned to the media "We would like to thank Tyler and his family for their dedication to the Canucks organization and the city of Vancouver over the past five years." 
He continued "Tyler's involvement in the community and his willingness to speak out about mental health has made a lasting impact on the organization and the game of hockey as a whole."
The Canucks now have seven selections in the 2023 Draft across the following rounds: 1st, 2nd, 3rd, 4th, 4th (via NYR), 5th, 6th.
Thanks to the Canucks media department for the above press release.
Cap hit plays a key role as it's important to remember that he carries a $3.64 million cap hit and becomes an UFA this July for someone who was drafted 104th in 2013 by the Jets.
For everyone who remembers the name Domi it's interesting to know that Columbus moved Max Domi (26) to Carolina.
This season he has managed 8 goals good for 21 points in 36 games and has played with the Canadians, Arizona getting a career-high of 28 goals in 82 games with the Habs in 2018-19
Many feel the trade of the day surrounded Chicago who acquired a 2022 conditional first round draft selection from the Wild for Marc Andre Fleury.
Hawks GM Kyle Davidson mentioned "We are in a better position at the 2022 Entry Draft that gives us a pick that will land early in the draft and are better than we were yesterday."
A key point for the trade is that the Hawks receive Minny's first round pick in the 2022 draft and if this condition isn't met, Minny will instead transfer their own second round pick in the 2022 Draft.
Closer to home we hear that the Kraken moved Marcus Johansson to the Capitals for Daniel Sprong (25) who is a fourth-round pick in 2022 and a 6th-rounder in 2023.
Many wonder who Sprong is and in 47 games he has 8 goals and 6 assists who earns $725,000 against the cap and becomes an RFA compared to Johansson, who is a UFA.
When asked about the trade Sprong mentioned to the media "I'm an offensive threat — I think I've got a pretty good shot, and I think I can be a threat offensively and. the puck hasn't really been going my way this year, but there's been a lot of chances and good opportunities, and I know I can score and produce in this league."
Seattle also claimed Derrick Pouliot (28) was drafted 8th overall by Pittsburgh in 2012 and claimed off waivers who played Junior with the WHL Portland WinterHawks.
The NHL saw other trades, some of significance others not so, but those living on the west coast and mainly looking to see if the moves gives the Canucks more of a "push" as they head down the stretch run.
Trades of interest for those living on the coast last week we saw former Canuck and Richmond Minor Hockey player Troy Stecher come to town with the Wings and today his next trip to Rogers Arena will be with the LA Kings following a trade earlier in the day.
With everything going on in the world our thoughts are still with those in Ukraine.