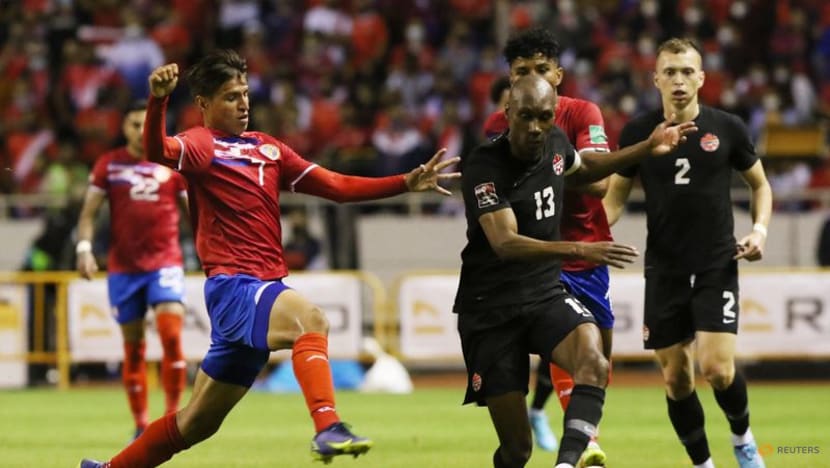 Photo Credit Mayela Lopez/Reuters
Canada's road trip to San Jose City saw them drop a match that would have seen them advance in the CONCACAF World Cup Qualifying match by a 1 nil contest against Costa Rica.
Let's remember that Canada's men kicked off their World Cup qualifying campaign a year ago this week playing in front of an empty stadium in Florida, in what was called one of COVID's lowest times.
As with any sporting event discipline plays a key role in any championship game or such in the case with soccer in the 18th game of Qatar 2022 World Cup qualifying played in front of 35,000 fans Estadio Nacional de Costa Rica.
Canada (7-1-4, 25 points) entered the match in first place having an undefeated record (7 wins, 4 draws and no losses) through 11 game's in the final round of advancing to this year's tournament November – December 2022.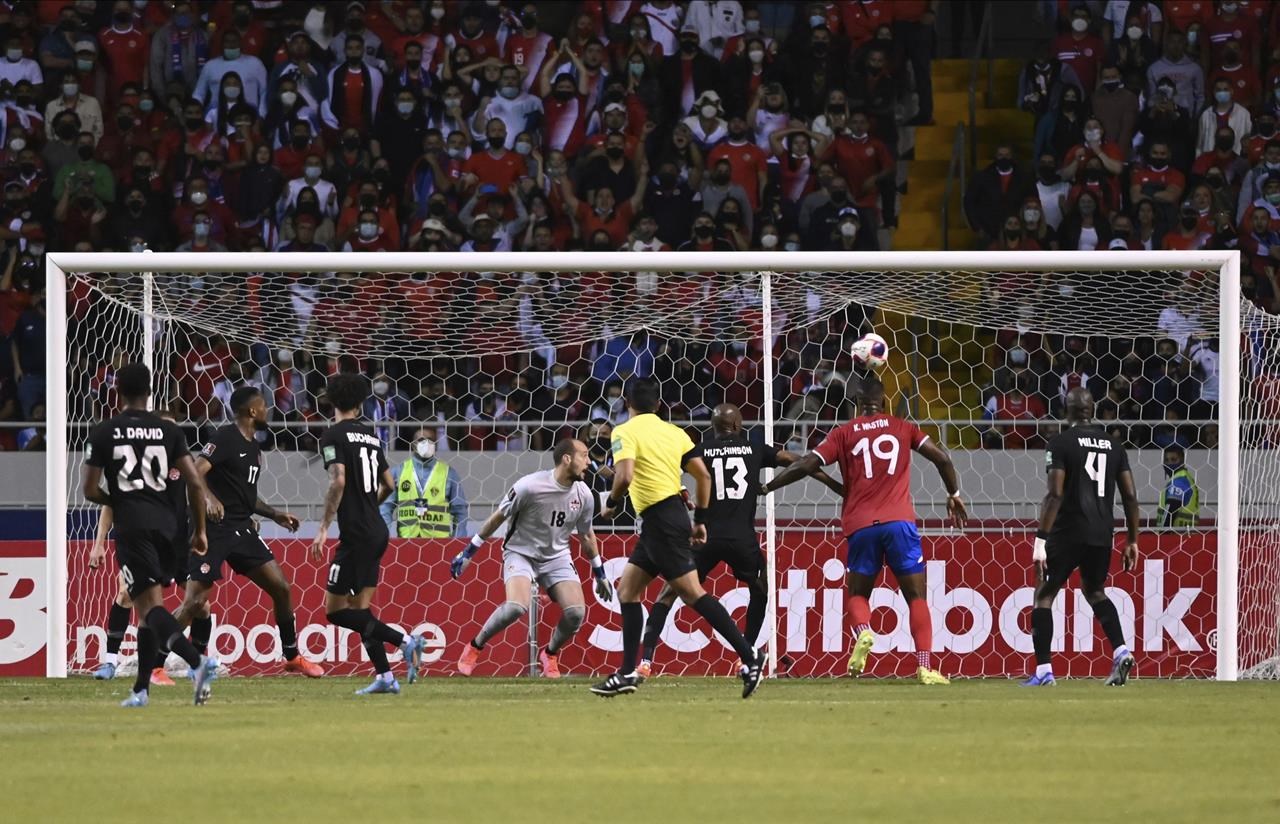 The match saw Costa Rica as the overall favorite given the location of the match, but there was however a strong but small contingent of supporters for Canada.
Costa Rica came out with a "jump" and tested Canada early in the opening 20 minutes of play getting some excellent chances to open the scoring but unable to hit the back of the net keeping the match scoreless.
Costa Rica Celso Borges (midfielder) gave them the lead in first-half of stoppage time after Canada was unable to clear a free kick.
What some might consider a bit of bad luck Canadian "Keeper" Milan Borjan hit or rather punched the ball away only to have it go to Costa Rica's Gerson Torres and following a series of three passes Borges got above Stephen Eustaquio heading in a Torres cross.
Discipline Costly For Canada
We continue to harp on discipline and in a match of this significant level of play being self disciplined became Canada's nightmare for the remainder of the match.
Canada was reduced to 10 men after midfielder Mark-Anthony Kaye was sent off in the 34th minute for a second yellow card and was subsequently cautioned in the 15th minute for a challenge on Ronald Matarrita.
This alone saw Kaye catch Matarrita who was acquired in a huge trade from NYCFC (FC Cincinnati) on the lower shin that forced referee Said Martinez to the pitch-side monitor to review the play but elected to stick with the yellow card.
As if one yellow card isn't enough Kaye received his second yellow card making it a red card in the 34th minute and was ejected forcing Canada to play with 10 men for the remainder of the match.
"After that (ejection) the response was amazing," said Herdman. "I thought these players did their country proud tonight and all that we missed was that final effort, that goal. And I think they did everything to take it."
Herdman continued to tell the media "The lad's devastated. Absolutely devastated," knowing that he (Kaye) will be suspended for Sunday's game.
The second half saw Canada play a more aggressive match controlling the play as well as pressing Costa Rica, testing their squad from every angle only to have them come up short.
Controlling the possession Canada saw them hit four crossbars and five goalposts in the second half with some solid build up leading to the chances as the final stats showed and shots as well as the key stats in the match.
Canada hit four crossbars and five goalposts in the second half and could have scored at least five goals if it weren't for their goalkeeper who was the driving force in their victory.
Let's Get-er Done!!
The good news for Canada is that they can punch their ticket to the 2022 World Cup for the first time since March 27th, 1986 when they host Jamaica at Toronto's BMO Field before 40,000+ fans.
Should Canada manage either a win or a draw it will punch their ticket as the top seed in the CONCACAF Group.
Canada defeated Costa Rica (1-0) in November in Edmonton and 2-0 this past July in the Gold Cup quarterfinal in Arlington, Texas.
Canada are 7-8-9 all-time against Costa Rica, including 2-3-2 in games in Costa Rica.
Prior to the match it was Alphonso Davies who took to Twitter in support before the game saying "Good luck to my teammates tonight. Let's take care of business this week and make history.
Wish I could be there with you guys. LETS GO!!" said the Bayern Munich speedster, who is working his way back from myocarditis after a bout of COVID-19.
"Good luck tonight boys! Massive opportunity, the entire country is behind you," tweeted Canada women's captain Christine Sinclair, who has played at five World Cups.
According to the Last Word On Sports.com Costa Rica has been to five FIFA World Cup tournaments. Their first-ever trip was in 1990, in Italy, immediately punching their ticket to the Round of 16.
They failed to make it out of the group stage (2002 and 2006) and failed to qualify for the South Africa tournament in 2010.