For Canada's short track speed skating team, the end of an era and the beginning of a new one has been on display at PyeongChang 2018.
Canadian veterans and up and coming youngsters won medals on the short track that saw Kim Boutin (23) won her third medal at the games capturing Silver in the women's 1000m in her first ever Olympic Games.
This was followed by Charles Hamelin (33) winning his fifth career Olympic medal at only his fourth Olympic Games, that saw him help  the Men's 5000m relay team capture Bronze.
When asked Hamelin told the media "What we can remember is that we gave everything we got to win the gold and we left everything on the ice to make it happen."
Short Track Speed Skating is a sport that can at times be unpredictable mostly due to moves made by your opponent that can cause any racer to go off the tracks that adds a more degree of difficulty when racing in the relay such as the one exchange in the final laps that caused the team to lose ample ground.
Hamelin now has five (5) Olympic medals in his career, including this Bronze which makes him as Canada's most decorated male Olympian – ever!!
He failed to skate for any individual medal wins, but winning this Bronze in the relay captures a remarkable career ending fun for Hamelin.
Reflecting back to photo memories of Vancouver 2010 was one that saw him (Hamelin) jump into the arms of girlfriend and fellow short track speed skater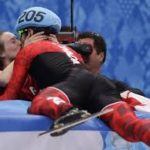 Marianne St-Gelais.
Both skaters are veterans on Canada's squad that has some up and coming future young stars for future Olympic Games.
Samuel Girard (21) is the mentor that Hamelin picked up his second medal winning Bronze in the relay, while the Women's side see's St-Gelais inspire many upcoming Canadian speed skaters.
Boutin became Canada's first triple medallist of PyeongChang collecting one (1) Silver and two (2) Bronze.
St-Gelais on the other hand is a three-time Silver medalist and heads home failing to collect a medal, but her legacy in the sport in Canada will list her as one of Canada's great short track speed skaters.
Suzanne Schulting of the Netherlands won Gold, while Italy's Arianna Fontana took home Bronze.
A win and it has everyone cheering but this Olympic year see's short track rally with excitement as well as disappointment for the Canada team.
Rumor has it that this might be the final Games for some of Canada's exceptional skaters and if so this marks the beginning of a new era of Canadian racers.
Up and comers who attended for the first time were Pascal Dion, who played a part of the Canadian relay team with Hamelin as well as Girard and Charle Cournoyer.